"I love this dish the way it's done in Venice, with the liver in small pieces," Francesco says. "But when Americans come into Remi, they want the liver medium-rare and that's impossible, so I started making it with big pieces of liver."
This is another of those dishes that Adam Tihany cites as evidence of the Chinese connection. It's simply a stir-fry. Another theory connects the small pieces of meat to the fork, a utensil first used at the table in Venice. Fynes Moryson, the early-17th-century visitor from England, marveled that Venetians do not touch their meat; they are served small pieces to be taken up with the fork.
The liver in small pieces with golden onions, is one of the most superb dishes on the menu of the Hotel Cipriani.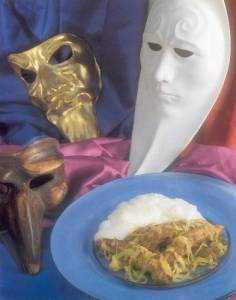 Venetian Liver - Fegato alla Veneziana
Ingredients
1

cup

(125 ml) water

12

(375 g) calves liver, in ½-inch (1.3 cm) slices

4

servings white polenta

1

tablespoon

Extra Virgin Olive Oil

2

large sweet onions

sliced thin

3

oz

bay leaves

Salt and freshly ground black pepper to taste

1

cup

flour

1

tablespoon

vinegar
Instructions
Heat the oil in a large, heavy skillet. Add the onions and bay leaves and cook over medium-low heat until the onions are golden. Season with salt and pepper and add the water.

Remove from the heat.

Transfer the onions to another dish, draining as much oil as possible back into the pan and set aside.

Lightly dust the pieces of liver with the flour.

Heat the oil remaining in the skillet to medium-high. Add the pieces of liver and stir-fry until they are seared.

Return the onions to the skillet, remove the bay leaves, and reheat the onions and liver together.

Stir in the vinegar, season with salt and pepper, and serve with white polenta on the side.