Simply roasted racks of lamb are an excellent foil for many of the potato and vegetable dishes typical of Venice. Francesco recommends spezzatino di verdure, or vegetable casserole, with the racks of lamb. His mashed potatoes are excellent as well.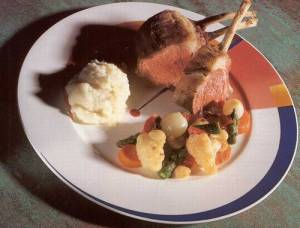 Roast Racks of Lamb
Ingredients
2

racks of lamb

Frenched (ask butcher to do this)

2

tbsp

herbed salt

1

tbsp

freshly ground black pepper

Vegetable casserole

Mashed Parmesan potatoes made with 3 potatoes
Instructions
Preheat the oven to 400°F (200°C).

Sear the racks of lamb over high heat in a heavy skillet.

Mix the herbed salt and pepper together and use to season the lamb.

Place the racks of lamb, bone sides up, in the skillet or in a roasting pan and bake for about 30 minutes for medium-rare.

Transfer the lamb from the roasting pan to a platter and let stand at room temperature for 10 to 15 minutes.

Carve into chops and serve.

Serve with vegetable casserole and mashed potatoes.