The pastry for this tart is given extra flakiness by folding it several times before rolling it, similar to the way French make puff pastry.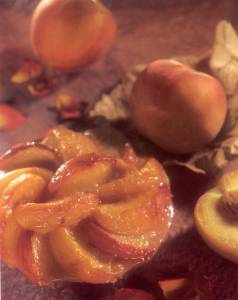 Fresh Peach Tart
Ingredients
1

cup

(185 g) flour

Salt

10

tbsp

(160 g) cold unsalted butter, in small pieces

3

tbsp

(45 ml) ice water (approximately)

30

gr

plain cookie crumbs

2

tbsp

(30 g) soft butter

6

ripe peaches, pitted and cut into slices 1 inch (2.5 cm) thick

1

cup

(90 to 125 g) sugar
Instructions
Combine the flour and salt.

Cut in the cold butter by hand or in a food processor until the mixture is mealy.

Add enough of the water, stirring lightly, just until the mixture can be gathered into dough.

Wrap it in plastic and chill it 1 hour.

Remove the dough from the refrigerator, flatten it with a rolling pin, then roll it into a rectangle ½ inch (1.3 cm) thick.

Fold the rectangle like a business letter, roll it until ½ inch (1.3 cm) thick, fold it again, and refrigerate about ½ hour.

Preheat the oven to 425°F (220°C).

Roll the dough to fit into a tart pan 9 inches (23 cm) in diameter.

Sprinkle the crumbs over the bottom, then arrange the peach slices on top. Dot the peaches with the soft butter and sprinkle with sugar, using more or less depending on the sweetness of the fruit.

Bake 15 minutes, lower the oven temperature to 375°F (190°C), and bake about 45 minutes longer, until the dough is lightly browned and the peaches are just beginning to brown along the edges. Remove from the oven and allow to sit for 2 to 3 hours before serving.