Semifreddo, meaning "Half cold," is kind of a frozen mousse that is extremely popular in Italy. It is easier than ice cream to prepare because it requires no churning as it freezes. This one is made with a zabaglione base and the seasoning, cinnamon and orange, recalls the days when Venice was at the crossroads of the spice trade. "It sounds unusual, but put on the chocolate sauce and everybody loves it." Francesco says.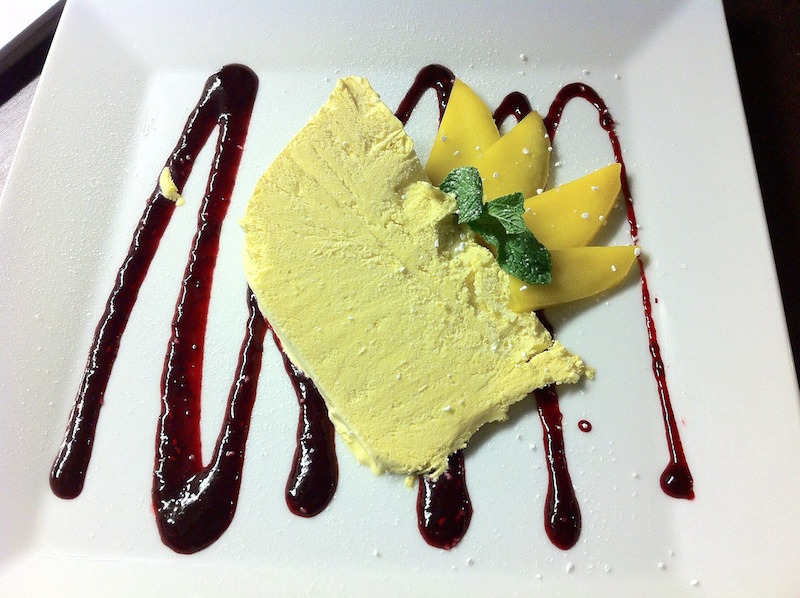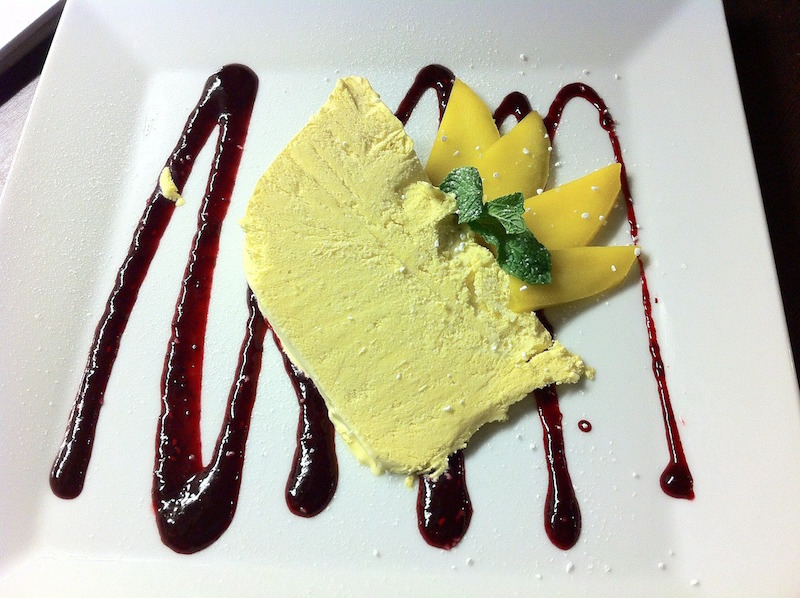 Cinnamon Semifreddo
Ingredients
9

large egg yolks

1

cup

(375 g) sugar

1/3

cup

(80 ml) dry marsala

Ground cinnamon

1

tbsp

fresh lemon juice

2

tbsp

grated orange zest

90

gr

finely chopped candied (glace) orange peel

1

cup

(375 ml) heavy (double) cream, whipped

3

tbsp

(22 g) unsweetened cocoa powder

1

cup

(250 ml) water

125

mg

light corn (or golden) syrup

4

ounces

(125 g) bittersweet (dark) chocolate chopped

6

tbsp

(90 g) unsalted butter
Instructions
Select a metal bowl that will fit cradled in a saucepan without falling in. Do not use a standard double boiler because the container should have a rounded bottom.

Place the egg yolks in the bowl, add ½ cup (125 g) of the sugar, and beat with a whisk or a hand-held mixer until they become frothy. Beat in the marsala.

Fill the saucepan with water to a level just below the bottom of the bowl, bring to a simmer, and place the bowl in the saucepan.

Continue beating as the mixture gradually warms and keep beating until it turns light and very thick, about 10 minutes. It should be cooked enough so it is fairly warm, with steam barely beginning to rise from it, but be careful not to overheat or you will have scrambled eggs.

Remove the bowl from the heat, place it in another bowl filled with ice, and add the cinnamon. Continue beating until the mixture is cold.

Beat in the lemon juice and orange zest. Fold in the orange peel and whipped cream.

Line the bottom and sides of a 10-inch (6 cup [125 cm]) loaf pan with waxed paper, allowing the paper to extend over the sides of the pan. Spoon in the semifreddo, cover with waxed paper, and freeze for at least 4 hours.

Mix the cocoa and remaining sugar together in a saucepan, add the water and corn syrup, and simmer until the mixture is smooth.

Remove from the heat and stir in the chocolate, stirring until it is melted. Stir in the butter bit by bit. Set aside or refrigerate until ready to use.

To serve, unmold the semifreddo and peel off the waxed paper.

Cut into slices 1 inch (2.5 cm) thick and drizzle the chocolate sauce around each slice. The dessert is best served on chilled plates.