Interior decorating in the Tuscan style
Tuscany is one of the largest regions in Italy, and over this large geographic extension there are many types of interior decoration, ranging from the magnificent interiors of the palazzi or castles of Florence or Siena, to the majestic decorations of manors of the rolling countryside and hill towns; to the sober interiors of stone farm houses to the ultra-modern furnishings found in many medieval buildings nestled in the villages and this historic centers. Obviously, it is difficult to speak of a "Tuscan style". And yet this is the case because there is an underlying inspiration that unites all of the various home decorating solutions that one can encounter in this splendid region.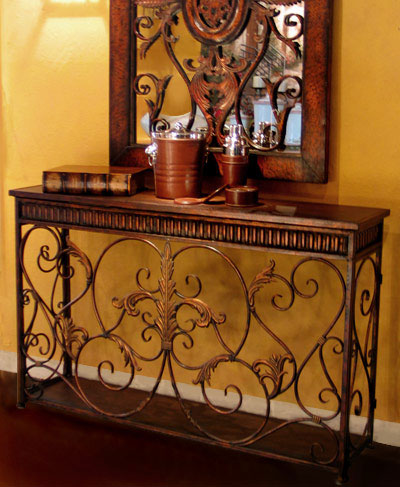 Tuscan Style Decor in Italy
The following article will discuss some of the uniting themes and characteristics of Tuscan interior decorating. Even if you are not located in Tuscany, you can draw on these characteristics to inspire your home decorating solutions because they have a universal appeal that can be applied in the most varied circumstances. This article will focus mostly on solutions that are adopted in interiors other than those of the various palazzi because the latter often draw their inspiration from wider boundaries as their owners traveled around Italy, Europe and the world.
Stone is widely used in Tuscan interior decorating. One of the reasons for this is that the medieval houses and the farm houses dotting the Tuscan landscape were all built in stone. Tuscans have a tremendous respect for the past, and do not consider that all that is old should be discarded. Instead, they cherish the vestiges of the past. Many a stone wall in the interior of a home is left free to be seen.
At most, it is repaired from time to time, but such walls are regarded an important testimony to the efforts of past generations to build their futures and their fortunes with hard work and with faith in the benevolent forces of nature. There are stone walls in houses that date back two or three hundred years and that are retained as a central focus in home decorating solutions.
In many of the medieval homes, after a period when some of the older parts of buildings were covered with plaster to meet a misconceived idea of "modernism", there is now a distinct trend to uncover the old parts. Thus, one now finds splendid old brick arches or window frames emerging from what used to be a non-descript plastered wall.
Obviously, if one's home does not contain the vestiges of the distant past, this is an interior decorating solution that cannot be adopted. However, the use of stone around a fireplace or in a country kitchen or even for a wall in a bedroom is an interesting and highly decorative solution.
The floor material that is most widely used in Tuscany is the terracotta tiling. Again, these tiles evoke the past, and although one can purchase newly produced products, these are available in a wide range of natural tones, ranging from the dusty brown to the leather-like red hues. Moreover, there are also tiles with antique finish, including those that seem to have the chips and irregularities caused by time.
First of all, the main uniting theme is the respect for natural decorating materials. Most Tuscan interiors make generous use of wood and stone. The woods are normally of oak, chestnut or cherry, and they are usually characterized by a dull wax finish. It is rather rare to see a shiny mahogany piece of furniture or dining room table. Instead, you will see natural colored pieces that have darkened over time and usage. The maximum treatment given to these pieces is to occasionally pass them over with a slightly tinted liquid wax that is quickly absorbed leaving the wood with a rich and velvety finish.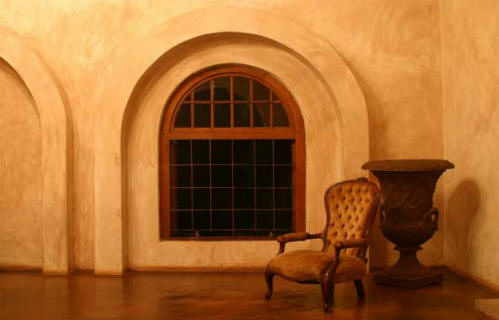 Tuscan Paint Scheme, Italy
Another feature of interior decorating Tuscan style is the use of natural colors in the basic decorating schemes. All of the colors used evoke images of the harmony of the home in relation to nature. Starting with the colors used for the walls, these are normally a stark white that make a wonderful contrasting background to the rich woods of the furniture or to the stone accents. Other colors that are often used in more sophisticated decorating solutions are tones of burnished orange or light terra cotta. These colors recall the earth of the Tuscan hills and they complement the rich tones of wood.
The furniture used in Tuscan style interior decorating draws heavily on the past. This does not mean that one needs to have a home filled with antiques. Rather it means that one makes heavy use of pieces constructed using the criteria of the past, although a few period pieces are always well represented. In Tuscany, furniture inspired by tradition continues to be manufactured by present-day artisans who take pride in replicating the styles of the past. Thus, one can find wooden tables of all sizes and shapes, or the traditional country chairs with the woven straw seats, or the cabinets used to store tableware or collections of porcelain, iron headboards for beds continue to be produced, as are stone and iron tables, or iron chairs with soft cushions covered with natural fabrics.
By Paola