The "Primi", Italian for "first courses", are my favorite dishes for many reasons: quite often they are easy to prepare, you can create endless types of sauces to have with your pasta, they are incredibly tasty and healthy.
A meal is not really such if there is no "primo", and if I have only one course, I'd prefer it be a primo, not a "secondo".
I have listed here my 10 favorite Italian "primi". It was quite difficult, I had to cut out some other dishes that I love, like "pasta pasticciata al forno" and "tortellini".
1. LASAGNE AL RAGU – meat lasagna
Made with ragù (minced meat), bechamel sauce and lasagna (layers of pasta), and baked in the oven, this is one of my favorite of all Italian dishes. It's very important that all ingredients are of good quality and fresh.
Usually when I prepare lasagna I make more than what I need and I store it in the freezer. If you have no time to cook it on the day you want to serve it, you can prepare in advance and store in the freezer before cooking in the oven (a part from bechamel sauce and meat that must be already cooked when you make the layers); the day before serving you can take it out of the freezer and put it in the fridge. The lasagna needs to be baked in the oven for an hour or more and needs to rest about half an hour before serving.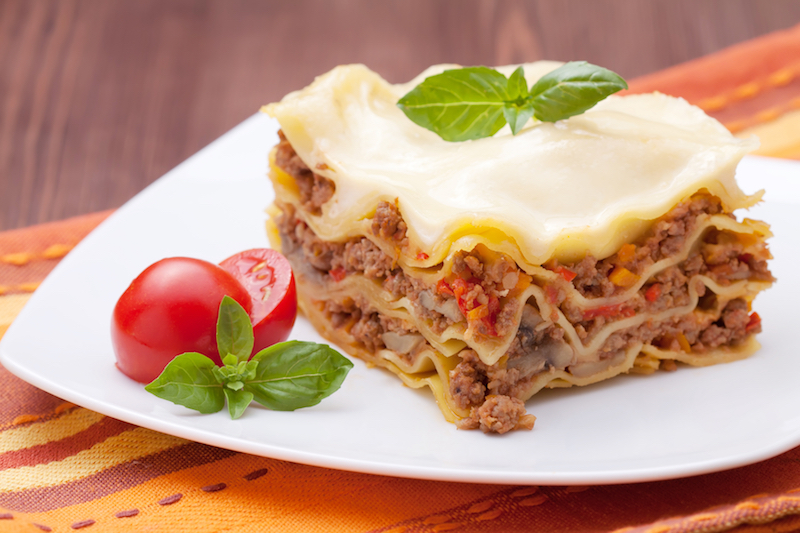 2. PARMIGIANA DI MELANZANE – Aubergine Parmigiana
Parmigiana di Lemanzane. This is a Summer dish, because you should use fresh aubergine/eggplants, preferably from the garden. The procedure is quite long, because you first need to fry or grill (for a lighter version) the aubergine (if you also peel them the parmigiana will be softer). Then you make layers of tomato sauce, aubergines and cheese (mozzarella cheese or any other cheese you like; the aubergines are quite spicy themselves, so I prefer a mild cheese).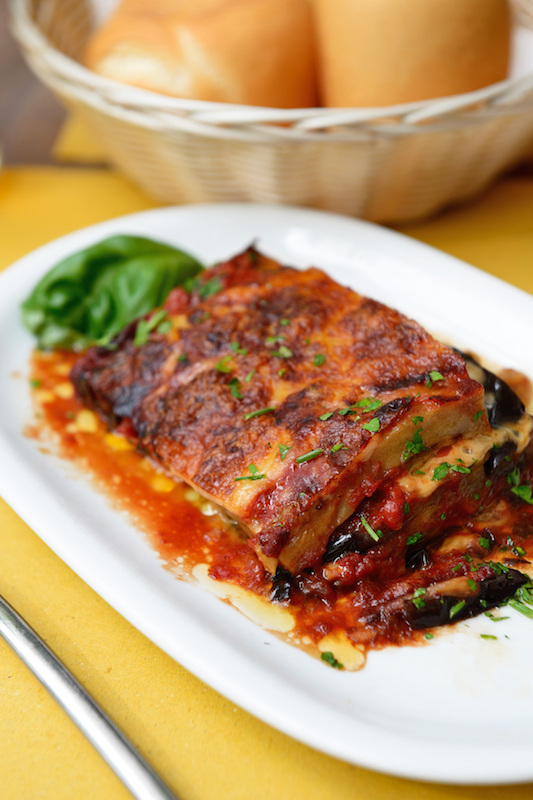 3. MACCHERONI AL RAGU
The ragù is a sauce made with minced meat. You first fry some chopped onions, carrots and fennel, then you add the minced meat. You can also pour in some wine and let it evaporate. At this point I add a bunch of rosemary, sage, one or two cloves of garlic and some clove. I let it cook slowly and after 30 minutes I add some fresh tomato (or you can leave it "white", without tomato). I adjust with salt and pepper. It takes a bit longer than another sauce, but it's easy to prepare and delicious. The egg pasta enhances the flavor of the ragù; my favorite are maccheroni with ragù.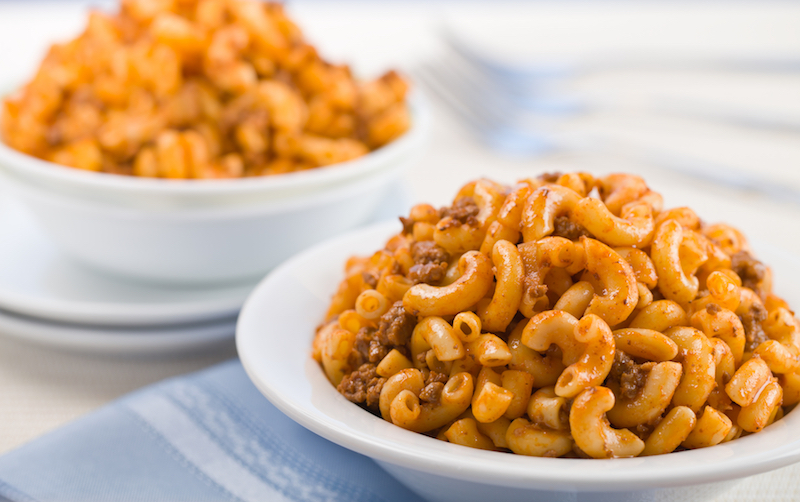 4. SPAGHETTI AI FRUTTI DI MARE
These also are a favorite of the summer. The fish obviously has to be fresh, but I sometimes use the frozen mix and it's also quite good. One simpler version, with vongole (clams) only, is also very good. I like my spaghetti ai frutti di mare both with or without tomato sauce. Cooked with garlic, to be served with parsley on top and a glass of chilled white wine.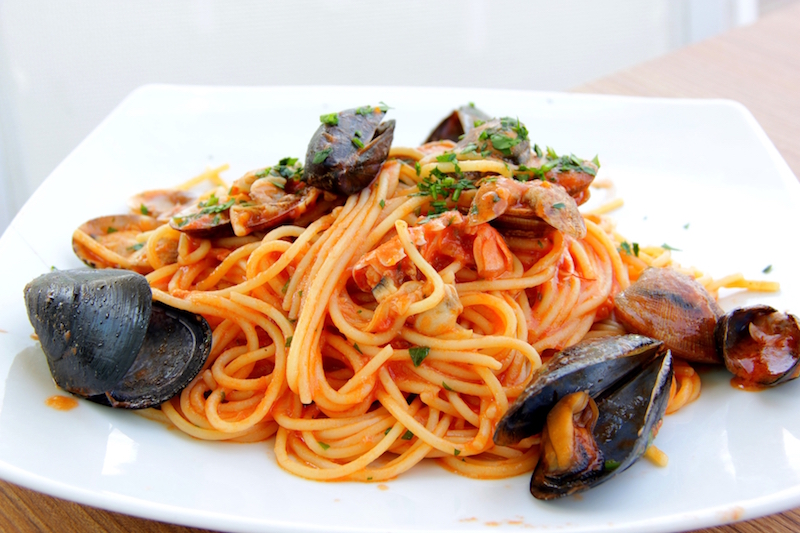 5. CANNELLONI
The cannelloni are another great primo. They are made using the same "lasagna" (pasta layers) used for the meat lasagna, just rolled. The filling can be anything: ricotta and spinach, ragù, radicchio and cheese, green peas and soft cheese, etc. They are baked in the oven.
6. Bucatini all'Amatriciana
One of the most famous Italian dishes, and for a reason. This pasta is very flavory and easy to prepare. The original recipe is with guanciale and no onion, but I usually prepare it with lots of onion and bacon (it's easier to find it where I live). This sauce can also be used with other types of pasta, preferably something like "penne", that trap the pieces of meat.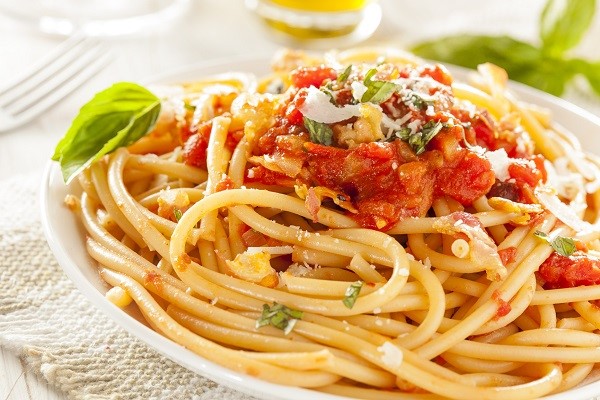 7. Risotto
The risotto needs some dedication because you have to stir endlessly, but the results will repay the effort.
The secrets for a good risotto are: cook the rice in the onion or the sauce before adding the broth, and maybe pour some wine and let evaporate; add the broth little by little and keep stirring; at the end add parmesan cheese and butter to make it creamy (mantecare). I love risotto with any sauce: vegetables, ragù, cheese, radicchio… there are plenty of options, just like a pasta dish!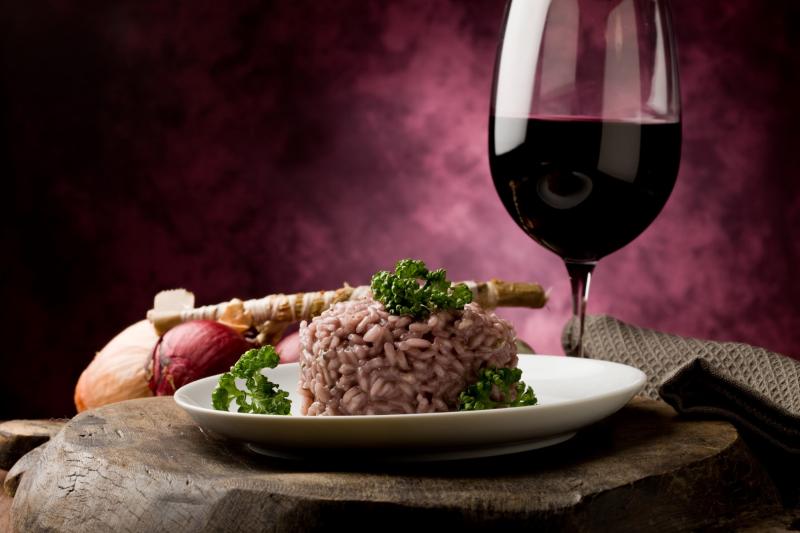 8. Pasta with fresh tomato
This is a summer dish, because only in summer you can find fresh tasty tomatoes. It's very simple, cooked with only some onion and basil, but delicious. The feeling of the flesh of the tomato in your palate is unique. Sometimes to vary I add some chopped mozzarella at the end.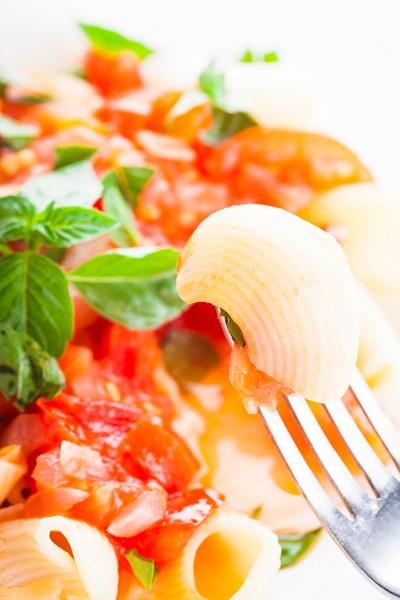 9. Spaghetti alla carbonara
Again, this recipe has many variations. It can be made with guanciale or pancetta (bacon), with or without garlic. You can add milk to the egg. The egg has to be added at the end and it's cooked for only a minute or two. You can watch this video with our Cristina and Elisa to see how to cook a great carbonara (and at the same time you can learn Italian).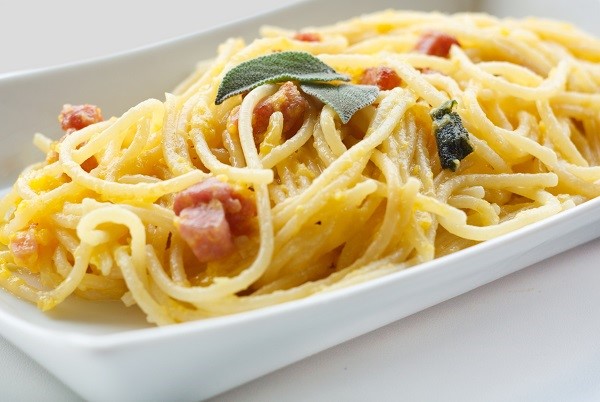 10. Gnocchi
Potato gnocchi are another special dish that I love. I don't eat it very often because it takes some time to prepare the gnocchi (I don't like to buy them). The tradition in my family is to have them with tomato sauce, sugar, grated parmesan cheese and cinnamon (I can't recollect any other recipe in which we use sugar and cinnamon, unless it's for a cake!). But you can have them with any sauce. The gnocchi are special to me also because when I was little it was my granny who made them, and she always asked me to help her to shape them with the fork.