C'era una volta, once upon a time, seems to be the most fitting of all expressions to describe what the simple yet, at the same time, lucullian beauty of traditional Sunday meals in Italy used to be. Today, only a handful of families in small villages probably still dedicate time and effort to organize what once was a staple of Italian society, the pranzo domenicale. Grandmas, nonne, with the help of other women of the family, would prepare amazing, delicious traditional meals, in what can fully be considered a true cultural ritual.
Each part of Italy had a special menu for this day,  but there was a common idea underlying them all: cooking since the early morning, and spending the day all together with the family. Gnocchi and tagliatelle were traditionally prepared everywhere in the country, but there are also some dishes associated to particular geographical areas. If you want to make for example gnocchi al forno or gnocchi ai quattro formaggi, those are something the whole family would love!
Polpette, meat balls with tomato sauce: cooked a lot in the south of the country, nonne used to, and some still do, cook them with some meat and veal braciole, rolled meat with herbs, so that the sauce could also take the flavor of the meat and be tastier. Then several types of pasta could be chosen in order to have the traditional maccheroni al sugo as primo piatto; in Campania, they used to cook a local pasta called ziti, which were shaped like a small pipe, roughly rolled and cut by hand.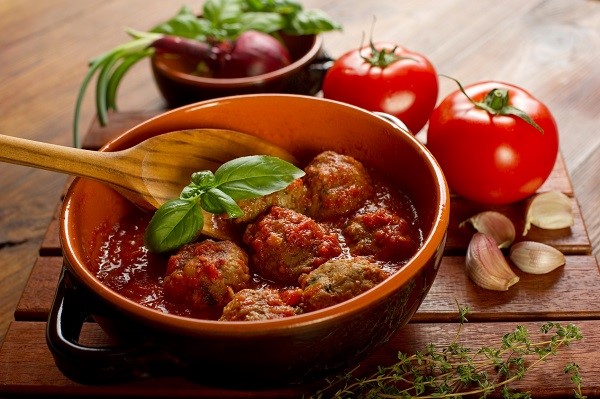 In the area of Lazio spuntature di maiale, ribs, were usually associated to the Sunday lunch, cooked with tomato sauce and eaten on top of pasta.
Ragù was a must at nonna's house and, as elderly women would say, it had to be cooked from the very early morning, or even the day before eating it. Soaking some bread in it stealthily was something grandchildren would always do.
Lasagne was another dish to many associated with traditional Sunday meals. A variation of it would be maccheroni al forno, baked pasta, which is a dish often personalized with different ingredients, although tomato sauce, mozzarella cheese, meat and eggs are certainly among the more popular.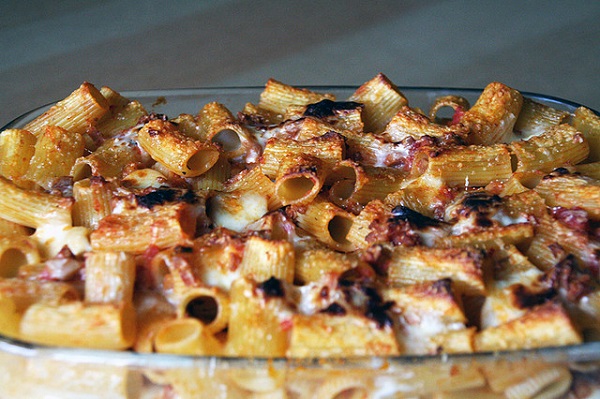 Some areas of the country would serve dishes inspired by and prepared with local produce, such as pasta with basil pesto, potatoes and green beans in Liguria, or saffron risotto (risotto alla Milanese), ossobuchi or cotoletta alla milanese and potatoes in the area of Milan.
Arrosto, roasted meat, or sausages were a not-to-be missed secondo piatto on Sundays, and potatoes, usually roasted, or mashed with butter, milk and parmesan, were a perfect side dish to both.
In some southern parts of the country, however, melanzane alla parmigiana, fried aubergines with tomato sauce and mozzarella cheese, then baked, were prepared almost ritually on a Sunday instead of meat by many housewives.
Pastarelle or paste dolci  were always included in the Sunday menu: a member of the family was often in charge of buying puffs and cakes as dessert at a pasticceria, bakery, and disputes always took place for the last cream puff left on the tray, especially -but not exclusively!- among children.
No matter the food cooked, Sundays were spent in a similar way all over Italy: families gathered around the table, often that of one grandparents', sharing heartwarming routines filled with tradition. People would eat and chat, in a true example of the power of conviviality. Streets everywhere were filled with the flavours and smells of Sunday cooking.
Today, this beautiful tradition has lost a lot of its importance. Pranzi domenicali at home are less frequent and people tend to eat at a restaurant and go for short day trips instead. It is a sign of times, and maybe also a sign of a declining sense of family tradition taking over great part of the country. There are still, however, some people still happy to keep up with tradition, some streets where the scent of a beautiful pranzo domenicale can still be enjoyed.
By Anna De Filippo
Edited by Francesca Bezzone