If you ask a Neapolitan pizzaiolo which pizza you should eat in the city where pizza was born, he will answer pizza margherita. It is indeed quite common to believe this traditional pizza, made with tomato sauce, mozzarella cheese and basil – rigorously fresh- will deliver the authentic flavour of the dish. Pizza is, however, one of the most versatile foods around, with dozens of different toppings to choose from. Let's face it: don't we all have more than one favorite pizza?
But pizza isn't popular in Italy only, it's baked all over the world, each country adding a sort of "national" twist to this italian classic: sweet pineapple and succulent ham is added in UK favorite Hawaiian, pepperoni and loads of mozzarella to US's own pepperoni pizza. Chicken and spicy prawns are number one toppings in Japan and China fills its pizzas with plenty of colorful vegetables and tasty mixed cold cuts. Burger meat, cheese, bacon, onion and bbq sauce are the essentials for another peculiar concoction, cheeseburger pizza. 
Yet, you know what? None of these pizzas are popular in Italy.
"Of course," you may think, "Italy is a country of tradition, heritage and food snobbery!" and you may be right in part: we're attached to our way of doing things, especially in the kitchen and slow to embrace change. With pizza, though, we Italians have been accepting the unusual for a while and have been introducing more and more toppings to the nation's favorite list.
Even when experimenting, Italian pizzas remain traditional, as they tend to favor fresh and flavorsome ingredients, rather than highly processed food (with a couple of notable exceptions, as we'll soon see).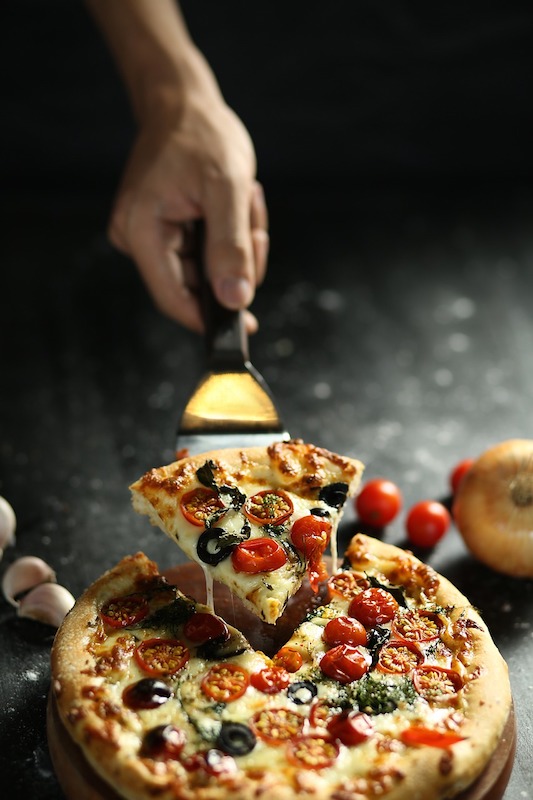 Popular yet unusual
Italian kids have a favorite: pizza with chips (one of the exceptions to healthy and wholesome ingredients I mentioned above!). Chips can be added to any type of pizza, but are particularly good on margherita or frankfurters pizza. A variation of chips pizza is the kebab pizza, usually topped with kebab meat and sauces.
Rich and creamy toppings have become popular in recent years, too. Béchamel sauce is often added to mushroom, ham and cheese pizzas, and used instead of tomato. Tuna, onions, cheese and tomatoes are a well-loved combination, often found also in Northern Europe.
But Italy does its best at creating new pizzas when looking into its varied and rich culinary tradition: amazing is the all-neapolitan pizza with sausage and friarielli (bitter greens, usually fried and eaten with sausages as a stew); a classic is, today the rich and creamy pizza ai quattro formaggi (four cheeses pizza), a white pizza topped with four traditional italian cheeses.
– pizza quattro stagioni, four seasons, and pizza quattro formaggi, four cheeses, are so loved by Italians that they do not represent an alternative anymore and they can be considered to be part of the traditional pizza menu. The first is topped with ham, olives, small artichokes, mushrooms. The second with several types of cheese (among which you'll always find mozzarella cheese and gorgonzola).
Some other pizzas are typically eaten during the summer months, when people like to dine on something 'fresh':
– pizza with parma ham, rucola, and parmesan. Quite often a focaccia, with neither cheese nor tomato sauce, is first baked, then prosciutto di parma, rucola and scaglie di grana are freshly served on it;
– pizza with mozzarella cheese, pomodorini and rucola.
For those who like fish, there's pizza with frutti di mare. It is a pizza with a tomato sauce and oregano base, topped with seafood, including mussels, shrimps and squid.
These pizzas are highly demanded by Italians when they go to pizzerias. At the moment, new trends coming from abroad are influencing Italian pizzaioli in the creation of new pizzas: mixing typically Italian recipes with foreign ones to create new tastes is the new hot trend in pizza making; some of the concoctions are so strange that none of the traditional pizzaioli of yesteryear would make one. Pizza topped with kebab meat, for instance, has become quite popular, especially in the pizza al taglio parlors.
Finally, a thought for those who have a sweet tooth: the calzone with nutella. This is a tasty recipe often eaten as dessert instead of cakes. Served with a bit of zucchero a velo, powdered sugar, on top, it is a perfect combination symbolizing what is the authentic philosophy of the 'made in Italy' on tables. If you are a fan of Italian food you cannot resist this sweet temptation.
These are only some of the pizzas Italians often eat when they decide to go for something more exotic than a usual margherita. However, when going to Italian restaurants, you can choose the toppings you want and mix them up as you like, creating your own favourite pizza: you'll never know, you may create a new trend!