Helpful Guide to Finding Places for Sale in Italy
If you set your heart on buying property in an Italian city, there are a couple of things you may like to remember.
As anywhere else in the world, real estate in a city or town centre, especially in in fashionable areas, can be quite expensive. If you're seeking a place in the centre of Rome, you'll spend more than, let's say, you would on a house of the same size in the centre of a provincial town such as Rieti or Frosinone. Prices for real estate in smaller villages around major cities tend to be considerably lower, so that'd be a good option to look into. This doesn't come as much of a news, as it's very much the same in the US or anywhere else in the world.
It may be useful, however, to get an idea of which areas of the country could be best to invest in a property. As a general observation, we must say that real estate value has decreased in the past years, due to the economical crisis. The average buying price in March 2015 is of 4160 euro x square metre (4600 USD) in city centres, and  2521 (euro x square metre outside of city centres (2800 USD). We're talking averages, however: if you aim at a place in a major tourist spot, prices are bound to rise. The historical centre of Rome, for instance has a property price in between 6000 and 6600 euro x square metre, much higher than the national average. Its wealthy suburbs, or the centre of Milan, would run around 4800 euro x square metre.
Recent research has shown that coastal areas, Alpine areas (such as Trentino Alto Adige and Valle d'Aosta) and, of course, major cities are the priciest locations to buy (or rent, as a matter of fact). The line running from Bolzano to Rome, which passes throughTrento, the Garda Lake, Bologna, Florence and the whole Tuscan coast, touches the most expensive areas of the country, at least when it comes to real estate. To these, we must add Milan, Turin, the already mentioned Valle d'Aosta and Sardinia's Costa Smeralda. If you're planning to buy in these areas, by ready to fork out quite a lot. However, keep in mind these areas are always in very high demand, which is extremely important in case you're planning to rent your property or in case you need to sell it in the future.
There are some nice surprises, though. Breathtaking regions such as Calabria, Basilicata and large parts of Sicily and Sardinia are still reasonably priced. Piedmont is also a good alternative to both Tuscany and Valle d'Aosta, as it has amazingly beautiful rolling hills (the Langhe are here) and the Alps, but property costs notably less.
Lazio has very expensive areas, namely, Rome, but the rest of the region, which is beautiful, is more reasonably priced.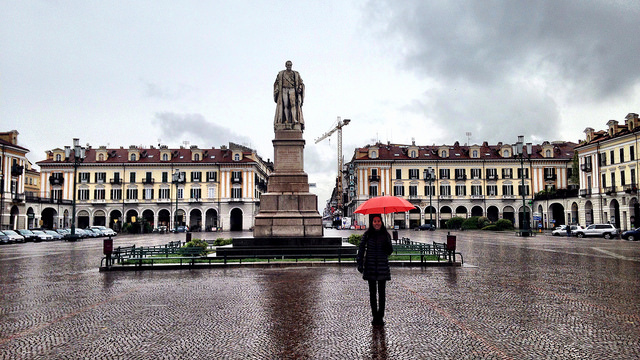 The economy and buying real estate in Italy
Italians tend to trust real estate investments, as they are considered more stable and secure than, for instance, the stock market. Only in recent years, just before the economical crisis hit the world in 2008,  had this distrust begun to dissolve, and  Italian investors started to timidly play the market. However, this experimentation came to an abrupt halt as a result of several events, including the general weakness of the international stock markets after 2008, the default of Argentina which caused massive losses to Italian investors, as well as a string of financial scandals involving major Italian companies such as Parmalat.  As a result of these events, Italians have been investing in "bricks" again, and many years will pass before they again consider financial markets as a possible alternative for investment.
But what is the situation of the property market in Italy, in particular if you are interested in buying real estate in cities?
Real estate prices have been falling for the good part of 5 years, mostly because of the 2008 (and still ongoing) economical crisis, which hit Italy quickly and heavily. However, the property market has been showing signs of amelioration since 2013. According to specialists, house prices in Italy will continue to fall for another 2 years and increases are seen as unlikely for at least 1 to 3 years after that. The property market is expected to get better this year, in 2015.
This may be, from a global economy point of view, a good moment to buy property in Italy. The attractiveness of investment in housing reinforces the basic aspiration of all Italians to own their own home. So if you are thinking of buying a house in Italy, this can be a good investment, as long as you buy in attractive areas which will continue to be in demand. Consider paying a bit more for a house or apartment in an area where values will continue to escalate and where you will have no trouble in reselling if you decide to return to your home country.
If you decide to go ahead and buy property in Italy, there are however a couple of things you may need to keep in mind:
The Euro – US dollar exchange: the exchange rate needs to be monitored closely, to understand when it's more convenient to buy in euro. To make things easy to understand: buy when the dollar is strong against the euro, because this means your US money will go further. The closer the exchange ratio gets to 1:1, the better. However, irrespective of exchange rate movements, buying property in Italy can be a very attractive investment.  The property market shows remarkable growth over the long run, running well ahead of inflation rates, and all signs point to continued strength in the housing sales market.
Prices are, indeed, getting attractive if you're thinking to buy, but in case it is your intention not to move into your newly acquired home, but rather to rent it to a third party, remember that the rental income tax is very high in Italy and it is applicable to non-resident, too. At the moment, it ranges between 23% and 43%.
If you decide to rent your property in Italy, take a good look at Italian legislation about the landlord-tenant relationship. Laws are strongly pro-tenant, who have the right to controlled rents and steady, long-term rental contracts. Rents can be negotiated before the signature of the contract, but increases under contract are strictly regulated, just as the ending of the contract is. Keep this in mind if you're thinking to rent out your newly purchased property.
As an aside, one explanation about how Italians manage to buy houses despite their low salaries and the relatively high costs of housing is that Italians actually save a much larger share of their income than, say, Americans. Buying on credit is much less developed than in the US, although it is growing rapidly and the "indebtedness" of families is rising. In addition, Italians often have more than one job, particularly the government employees who work until 2.00 p.m. They take on all sorts of additional jobs which bolster family and personal income.
Finally, there is reportedly a certain amount of fantasy in reporting income for fiscal purposes.
Whatever the truth may be, one thing is certain: the Italian real estate market is alive and thriving and is likely to continue to be a star performer in the future.
Financing your Investment
(For more information of how to buy your property, check our article on mortages in Italy).
Of course an obvious way to finance your purchase is by renting your property, as we mentioned above. While it is important to keep in mind what we said about rent taxation and legislation, renting out real estate remains major source of income, especially in Italy: if you buy an apartment in a major city like Rome, Florence, Bologna it will be quite easy to rent it, as long as it is well located. The apartment can be rented all year around. You will have to consider anyway  some periods when the apartment will be vacant and of course a rental agency fee will take a percentage of the profit. Websites just like this will be able to show your rentals, but you will still have to handle keys, cleaning, and anything that might be required.