Alessandro Manzoni is an Italian poet and novelist best known for his lyric poem Il Cinque Maggio, which is an ode on the death of Napoleon, and his novel I promessi sposi or translated as The Betrothed.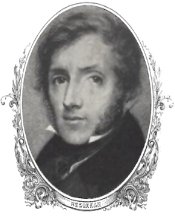 Manzoni was born in Milan on March 7, 1785 to Pietro Manzoni and Donna Giulia. His father Pietro was a fifty-year-old rich landowner with an estate near Lecco and his mother Giulia was a 26-year-old daughter of a famous Italian writer Cesare Beccaria. Alessandro's parents separated in 1792 and Alessandro stayed with his father and grew up in Milan. He went to the University of Pavia for a short time but in most of the school Manzoni attended he was considered a dunce until when at 15 he became passionate about poetry. In 1805 after his father's death, Manzoni went to Paris to live with his mother. Here he spent two years talking with 18th century literary idealists and became friends with Claude Charles Fauriel. He also became acquainted with the anti-catholic creed of Volitarianism and adhered to its ideals.
In 1806 Manzoni wrote In morte di Carlo Imbonati; translated this poem is entitled On the Death of Count Carlo Imbonati. This elegy is in blank verse. Manzoni and his mother gained a large property as a result of the death of Count Carlo Imbonati. This property included the villa of Brusuglio, which became Manzoni's principal residence. In 1808 Manzoni married Henrietta-Louise Blondel, whose father was a Swiss banker. Blondel was Protestant, but joined the Catholic Church in 1810 shortly after the marriage to Manzoni. Manzoni joined the Catholic Church as well and his writings began to exhibit the ideals of Catholicism, and patriotism. Manzoni and his wife settled down in Milan, where Manzoni stayed for the rest of his life. He took only one visit outside of Milan to Tuscany in 1827 to study Tuscan Italian.
In 1818 Manzoni had to sell his father's estate near Lecco because much of his money had been lost to a dishonest agent. Manzoni who is considered characteristically generous cancelled all of his peasant's heavy debts to him on the spot and even told them to keep the income from the coming maize harvest.
In 1819 Manzoni published his first tragedy, Il Conte di Carmagnola. This work openly violated classical conventions which had been the ideal through the renaissance. Il Conte di Carmagnola excited a controversy and was severely criticized in a Quarterly Review article. This began Manzoni's rise to fame in the literary world. In 1821 Napoleon died. His death inspired Manzoni's to write Il Cinque maggio, the most popular lyric in the Italian language. Many of Manzoni's friends were imprisoned, Italy's political world was in upheaval and these things bothered Manzoni greatly. From this, came the famous lines of the poem.
In 1821, Manzoni began work on one of the most highly regarded novels of the 19th century, I promessi sposi (The Betrothed). The novel is set in 16th century Milan and is the story of peasant lovers who through their faith overcome all obstacles to be together. The story was written under the influence of Sir Walter Scott who later regarded the novel as the greatest romance of modern times. The novel was completed in September of 1822 and then turned over to friends for revisions. The novel was revised from 1825-1827. It was published shortly after he finished it, but Manzoni continued to revise the novel and in 1840 released a new version in Tuscan Italian. The work was extremely popular and by 1875, 118 editions had appeared, and the novel was widely translated. This work had an incredible influence on the emergence of consistency in Italian prose. Many writers following Manzoni praised him for his work, one example is Giuseppe Verdi who wrote Requiem for the first anniversary of Manzoni's death.
In 1833, Manzoni's wife passed away followed by many of their children and Manzoni's mother. Manzoni married again in 1837 but outlived his second wife Teresa Born. Between his two marriages Manzoni had nine children, only two of them lived longer than their father. With the occupation of Rome in 1870, Manzoni was made a Roman citizen; for unknown reasons he never went to take his seat as a senator. On April 28, 1873 Manzoni's eldest son Pier Luigi died. Manzoni was devastated and immediately became sick. After his death on May 22, 1873 the country mourned their loss and gave him a huge funeral where many of the royal princes and officers of state were in attendance.
Manzoni's works include:
Il Trionfo della Libert (1801)
In morte di Carlo Imbonati (1806)
Urania (1809)
La Resurrezione (1812)
Il Nome di Maria (1813)
Il Natale (1813)
La Passione (1815)
Osservazioni sulla morale cattolica (1819)
Il Conte di Carmagnola (1820)
I Promessi Sposi (1821)
L'Adelchi (1822)
Il Cinque Maggio (1822)
Storia della Colonna infame (1840)
Dell' Invenzione (1845)
An essay on the unity of the Italian language (1868)