Finding historical buildings for sale and buying real estate in Italy is a dream for many: from beautiful apartments in the historical centre of the country's most famous cities, to charming little houses in characteristic rural towns and large, painting-like farms, Italy offers something for all tastes.
Some, however, may be dreaming big (and have a bank account that goes with it!) and would like to become proud owners of something more special: castles, real estate treasures, rich in beauty and history, become available on the market on a regular basis. Windmills and churches, old monasteries and refurbished tower houses, all have appeared at some stage on the property market in recent years.
It is, indeed, the history itself of Italy that allows for such a wealth of opportunities. Cradle of the arts, but also home to greatly influential families throughout the centuries, the vestiges of such a past of beauty and power remained standing for all to admire and enjoy. Time passes and things change, however, and many of these historical buildings are today empty: some in need of repair, others ready to be loved and relished by their new owners, all carrying within the charm, allure and timeless grace only history can grant.
Italian castles for sale
Among all types of historical properties available, castles are probably the more numerous. Mind, though: when we say castles, we do not mean necessarily quintessential medieval manors, with defense walls and cranellated roofs, but also beautiful countryside estates, lakeshore palaces, large "cieloterra" in the city. Castles, we all call them, because of their past and their historical role, but they do come in a variety of shapes, sizes and architectural styles. Even when it comes to their century of construction, variety is a key term: from the low Middle Ages, to the dawn of the 20th  century and its inspiring art déco creations, from renaissance residences, to smaller, fortified country dwellings typical of the rural lords of the same era, all have at some stage been on the real estate market.
These breathtaking, majestic properties often lay empty for large portions of the year, or are only minimally enjoyed by those who inherited them or currently own them, but they deserve more. These are not simple houses, not simple buildings, they carry within a grain of the essence and the history of Italy itself. Do not they deserve to be loved, cared for, enjoyed and made alive with light and warmth all over again?
A quick search on the net will show you there are dedicated sites to the sale of historical properties, especially in the Tuscany area. Plenty of residences are available also in Piedmont and Emilia Romagna. Of course, buying a castle is the same, from a bureaucratic point of view, as buying any other property, so make sure you follow the iter with care and obtain all contracts and documentation necessary for the property transfer to take place. As we are talking about historical buildings, any type of renovation and restoration will very likely be more severely regulated than it happens for other properties, as all changes need to be approved by the Sovrintendenza dei Beni Architettonici,  which may limit in style and amount the type of changes you wish to bring to your new historical property. For this reason, and to avoid bad surprises, it is always a good idea to get the help of realtor in loco, who will be able to deal with all the technicalities for you.
Sometimes your choices are limited: many castles are protected historical places, subject to legal bindings and the owner cannot use it for all purposes. For particular important places, not only can you not transform the building from a house to a hotel, but you are also legally bound to keep the castle in good shape, doing – and paying for – restructuration and refurbishing work. Of course, you can simply enjoy the castle's life and use the building as your retirement home in Italy. In any case, buying a castle in Italy is a unique experience and opportunity. And, hard as this can be to believe, could even be easy to do.
What is available right now?
Castello dei Leoni, Deruta: once desired by Tom Cruise
At the moment, the historical estate market is very lively in central Italy, especially in Tuscany and Umbria, where several residences are up for sale. In the realm of dreams, and for sale just now, is the Castello dei Leoni in Deruta: a 2000 square meters piece of medieval history, with 16 bedrooms, 19 bathrooms, dancing halls, a terraced garden and a pool, all surrounded by 8500 square meters of meticulously cared for gardens. Negotiations are, of course, fully reserved, but a couple of years ago gossip about a potential VIP buyer started doing the rounds in the surrounding areas: Tom Cruise.  Probably used to castle living thanks to his permanence in a New Orléans manor, while playing Lestat in Interview with the Vampire, Cruise had shown interest in the Castello dei Leoni about 3 years ago. The real estate agency in charge of the operations promptly denied the fact and the actor never moved into the breathtaking manor.
In case you have won the lottery, the Castello dei Leoni is still up for sale. If your budget is like that of we all mere mortals, you may take the trip to Deruta anyway: it is a beautiful place, rich in history and tradition and one of Italy's most famous producers of hand painted ceramics: it may not be a castle, but a hand painted little ceramic treasure, along with the Umbrian rolling hills and the quaintness of the town itself, will make you feel like a king nevertheless.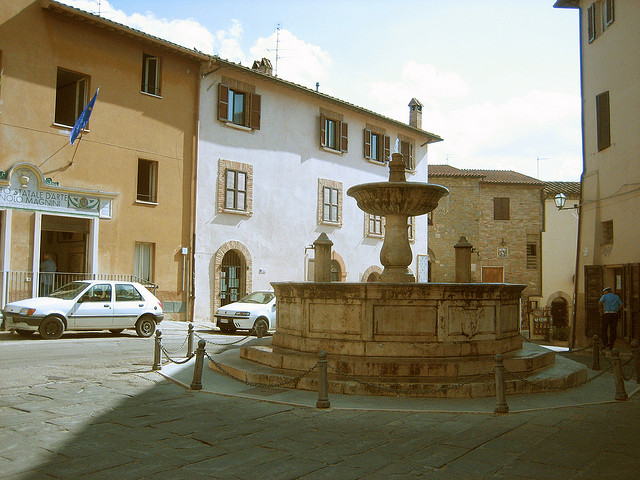 An 18th century estate on the Lago Maggiore 
If you are seeking a place by the water, then you should head up north to Stresa, on the Lago Maggiore, where a majestic 18th  century castle of 2400 square meters lays on a hill overlooking the lake, surrounded by 16000 square meters of land. The building has been recently renovated and is surrounded by other smaller buildings, all belonging to the castle's compound, including a guesthouse (in construction), stables, a glasshouse and a country house (in need of renovation). Designed by a famous Italian architect, Pietro Bottini, in a castellano style, this residence, which by the way, goes for 9 million euro (about 9.7 million USD) is marketed as a great investment if you wish to get into the tourism and hospitality business. Either you want to keep it all for yourself, or make it the investment of a lifetime, the castle is near beautiful Stresa and, from its balconies, you can admire the beauty of the Lake Maggiore. It is also a mere 50 minutes drive to Milano Malpensa, in case the in-laws decided to come visit once you are settled…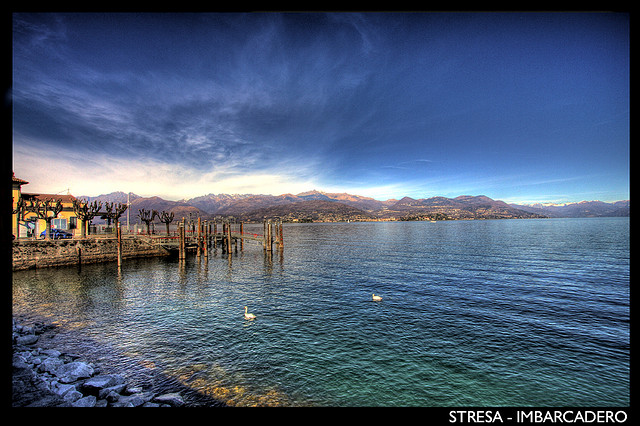 A Tuscan fortified house from the 1600s
For a more affordable – compared to the prices above, at least – 3.9 million euro (4.2 million USD), you can get a beautiful, fortified stone house in the Lucca countryside, that come complete of an original stone tower, an olive grove, an underground parking, a pool house, a tennis court and beautifully landscaped gardens. The main house (4 bedrooms, plus the master bedroom) is large and airy and cover about 865 square meters. Plenty of land surrounds it: about 2.2 hectars. I mentioned the olive grove, but you will also be able to enjoy a fruit orchard, and keep your wine in the house large cellar. This is the perfect place if you would really like to live it to the full, only surrounded by the Tuscan hills, growing your vegetables and making your own olive oil. In between a tennis match and swim in your pool, of course.
The bargain basket
It is hard, but you may be lucky and find smaller, yet still amazing castles for sale for less than 1 million euro (around 1.1 million USD). It is the case, for instance of two properties, one near Montone, in Umbria, the other in Pienza, near Siena. Both are tower houses, that castles formed by one single large tower, hence that develop vertically rather than horizontally.
The castle near Montone is on the market for 890.000 euro (957.000 USD). Its structure covers about 200 sqare meters, and it is surronded by about 400 suare meters of land and beautiful gardens. It has 3 bedrooms and 3 bathrooms and it is entirely built in stone. The original building, which is fully restored, is over 800 years old. Immersed in breathtaking nature, this would be the perfect place to retire into nature and forget about the hustle and bustle of the world. Many of the features typical of castles and tower houses have been kept, including terracotta floors, visible stone walls, cassoned ceilings.
The buidling near Pienza is just as beautiful. Another tower house castle for sale, is located just outside the village of Monticchiello, at the very heart of the Val d'Orcia. The tower house has been fully restored throughout the decades. One of its earlier modern owners has been the finnish sculptor Eila Hiltunen. Surrounded by 0.9 hectars of land, its olive grove produces about 200 kg of olives per year, which could be easily increased. The outside of this castle is absolutely majestic and still has an original drawbridge. The interiors have been freely renovated, but have kept all the original character of the building intact.
It goes for sale for about 980.000 euro (just over 1 million USD).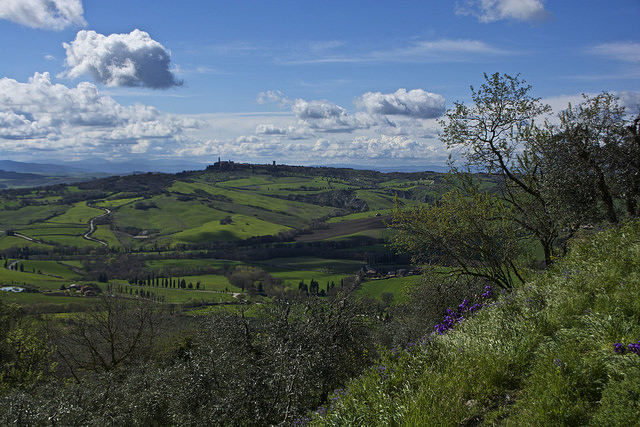 If you are after historical buildings in Italy, the real estate market has plenty to offer. Of course, prices are high, but the history, artistry and architecture of these residences, along with the large estates that usually come with them, are certainly worth the investment. Nothing is worth as much as making a piece of history your new home.