In Italy, pasta Carbonara is every student's staple food: when you are in university, you always have spaghetti, eggs, and cheese in your cupboard. Guanciale or pancetta is easy to get at the store and does not cost too much. Cheap, easy to make, filling, what is not to love about it, especially when feeding yourself is at the bottom of your daily priorities, well below Friday night parties and exam prep?
Pasta Carbonara – Who invented it?
A good pasta Carbonara, though, is a matter of art and balance: free-range eggs, good Pecorino or (Parmigiano?), great quality pancetta (or guanciale?). The egg must embrace the pasta without getting sticky and make it dry, but it definitely cannot be runny and raw.
Balance, yes … and the right ingredients, we said, but which ones? On the decades-old diatribes about carbonara's nature we have written an article: check it out to see what it is all about. Suffice here to say that yes, you may use cream, but no, you most definitely need to stir clear of ham and mushrooms.
Carbonara holds the secret to its original recipe, then, but also that of its origins. "It was invented during the years of the Carboneria," some say; "no, it was the American GIs who inspired it." Theories about who invented carbonara, and when, abounded, but nothing appeared certain.
Or so the majority of we Italians thought.
But there's another version of the history of this popular dish, that seems to be the most accurate. Apparently, it was Renato Gualandi, a chef from Bologna who, history teaches us now, invented pasta alla Carbonara. When I heard this story I was astonished, as I had never heard of him, even though he was – I have now learned – one of the most influential chefs and restaurant owners of post-war Italy.
And yes: apparently Renato Gualandi invented carbonara, guys!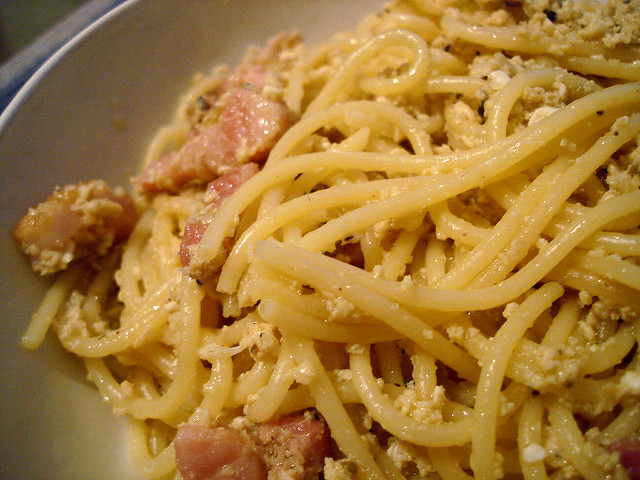 Renato Gualandi: more than pasta Carbonara
Born in 1921, Renato Gualandi started early to work as a delivery boy for one of Bologna's best-known butchers. In 1932, he was an assistant at a local deli shop, Palmirani. Aged 18, he won his first culinary prize in Catania, Sicily. Towards the end of the Second World War, he cooked both in Bologna, at Baglioni's, and Imola, at the Albergo Grand'Italia: it was in this period, Gualandi says, that he created Carbonara.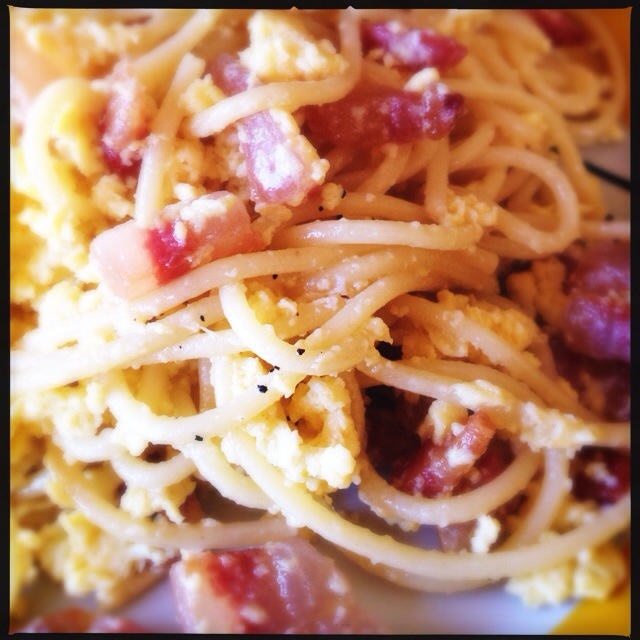 In 1952, he opened his own restaurant in Bologna, the legendary 3G. Gualandi's approach to food was quite innovative for a time when culinary trends were largely dictated by the kitchens of Europe's most famous five-star hotels. He ditched novel ingredients and complex flavors to return to the simplicity and authenticity of the dishes of his land, Emilia Romagna, and of Bologna in particular. He certainly had a lot to take inspiration from, considering the culinary patrimony of the region.
In 1959, his restaurant could sit 150 and by the time it closed, 12 years later, there were 7 "sfogline" (women who rolled pasta and pasta dough by hand) working in its kitchens. Very popular was also the 3G deli, annexed to the front section of the restaurant: with its large spit always going, this was where the bolognese went to pick up Gualandi's creations to bring home.
Throughout its glorious career, Gualandi cooked for the Queen of the Netherlands, Charles de Gaulle, Enzo Ferrari, Wanda Osiris (immense Italian soubrette, singer, and actress of the 1920s-1940s), Pier Paolo Pasolini, Tyrone Power.
Until his departure in 2016, Gualandi kept up with his favorite pastime: he minded his vegetable and herbs garden in the hills around Misano, in the Rimini province, and loved to entertain and cook.
See below a short film about the origins of pasta. This video was made by Barilla, one of the most famous Italian pasta brands. It's really a great video!
Barilla even made a short film about the origins of pasta Carbonara
A mystery solved: Gualandi's invention of carbonara
It was Gualandi himself to tell how carbonara came to be. It was 1944 and Italy was still torn by the war. In those months, Gualandi had been working in Riccione, a seaside town on the Riviera Romagnola, today is known for its beaches and nightlife. When Riccione was freed, the Allied decided to celebrate with a banquet: Gualandi was put in charge of it.
There were quite some names attending, among them Harold Mac Millan, at the time in charge of the British forces, stanced in the Mediterranean (who was to become Prime Minister 13 years later) and UK generals Harold Alexander and Sir Oliver Leese. With such guests, and for such an occasion, Gualandi had to put together something tasty, but only with what was available in town, mostly army rations of dried foods and a little meat.
Gualandi admitted he wanted to create something new, that could bring together Italian and Anglo-Saxon cuisine; with a bit of help from Slovenian culinary tradition (he said to have been inspired by a soup popular in Isdria, called "spikrofi"), he concocted a sauce for spaghetti made of bacon, cream, processed cheese, and dried egg yolk, topped with a sprinkle of freshly ground pepper.
Needless to say, Gualandi's dish was a success!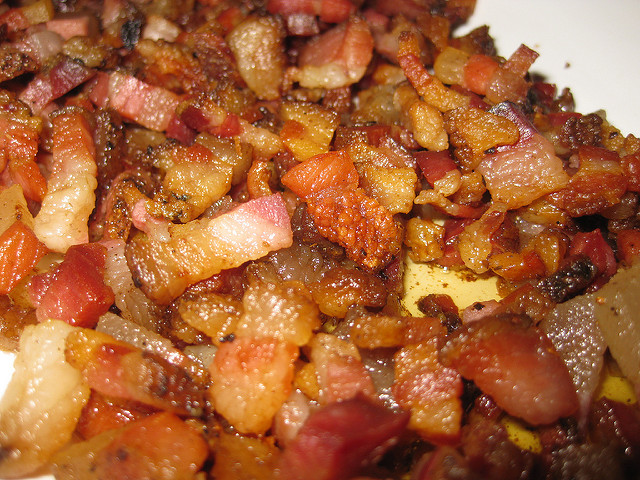 So the mystery of pasta Carbonara is solved?
Maybe, but some questions remain: many of you probably noticed the ingredients of this first, historical carbonara are not as wholesome as you may expect, dried egg yolk and processed cheese being the main culprits.
Key, here, is the time period when the recipe was conceived: the war. Fresh produce was hard to come by in towns and cities and, even when available, was often strictly rationed. Wherever the Allied arrived, they often supplied military standard basic ingredients to citizens, ingredients just like dried eggs and milk, for instance, and processed meats and cheese. No wonder, then, our first carbonara was made the way it was.
More than 70 years later, we are left with a dish that is incredible in its simplicity, tasty, filling, and satisfying: the perfect comfort food.
Now, if you allow me… it is almost dinner time: let me check if I have egg and bacon in the fridge…
Check out how to make a perfect carbonara here.
Francesca Bezzone