"Sweet and sour is a typically Venetian flavor. Fish, vegetables, meats, game, and even fruits are done this way." Francesco's taste for sweet-and-sour is truly Venetian. The preservative properties of both sugar and acid have long been recognized. In Venice the two are combined, often in a savory mix of onions, pine nuts, and raisins glazed with vinegar, a preparation called "in saor." Adam Tihany has always been intrigued by the taste of sweet-and-sour dishes in both Venetian and Chinese cooking. He likes to think of it as a legacy of Marco Polo, the quintessential culinary manifestation of the meeting of the two cultures. At Remi, Francesco's staff prepares tender, well-glazed sweet and sour shallots each day to use as garnishes, not only for salads but also for fish, meats, and vegetables, to add a mellow yet piquant suggestion of 'in saor' to many dishes.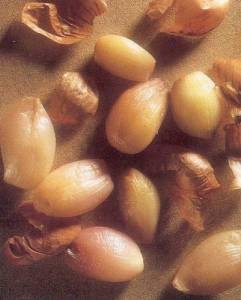 Sweet and Sour Shallots
Ingredients
24

shallots

peeled

2

cups

(375 ml) vegetable stock

1

tablespoon

(30 ml) extra virgin olive oil

1

teaspoon

sugar

6

teaspoons

(90 ml) red wine vinegar
Instructions
Place the shallots in saucepan, add the stock, and simmer gently 25 to 30 minutes, until the shallots are tender. Much of the stock will evaporate.

Heat the oil in a skillet and stir in the sugar.

Add the shallots along with any remaining stock and cook over medium heat until the shallots become brown and glazed.

Stir in the vinegar and cook a few minutes longer, so the shallots are just coated with a syrupy sweet and sour sauce.

Store in the refrigerator until ready to use.