The Austrian influence on the food of the Alto Adige, the mountainous region north of Venice, is evident in this dish, a typical bread dumpling lightened in texture and enriched in flavor by the addition of porcini mushrooms.
It makes a splendid first course served with sauteed or roasted mushrooms. "It's for winter," Francesco says. Slices of it with Parmesan cheese could even be a supper. The earthy, tender dumpling is also excellent served with roast duck, chicken, or veal.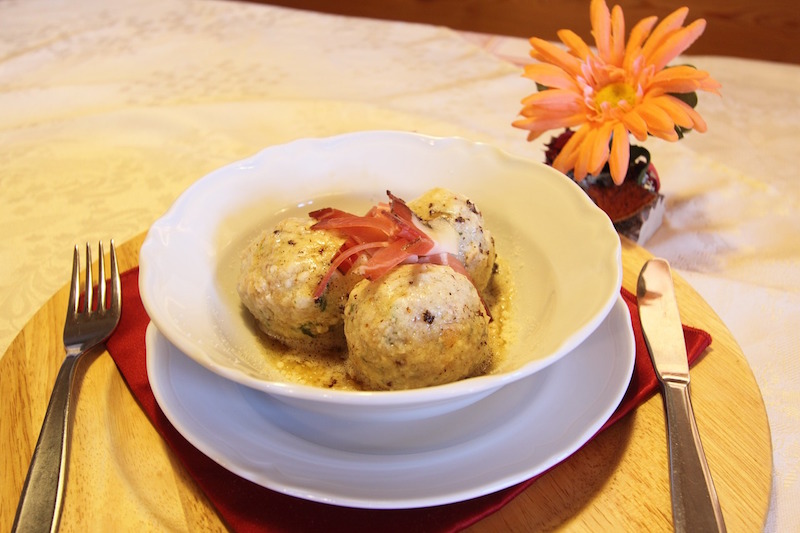 Porcini Dumplings
Ingredients
4

oz

(125 g) dried porcini

3

tablespoons

(45 ml) extra virgin olive oil

3

tablespoons

(25 g) finely chopped shallots

1

clove

garlic

crushed

1

tablespoon

finely chopped rosemary leaves

200

g

stale bread

diced

150

ml

milk

2

eggs
Instructions
Place the dried porcini in a bowl, cover with warm water, and set aside to soak for 1 hour.

Drain the mushrooms, dry them well, and chop them fine.

Place the bread in a bowl.

In a medium-size skillet, heat the oil over medium heat. Add the mushrooms, shallots, garlic, and rosemary and sautee until the shallots are tender and the mushrooms begin to brown.

Remove the garlic clove from the mushroom mixture, add the sauteed mushrooms to the bread, and mix with your hands; mix in the parsley.

Beat the eggs and milk together and season well with salt and pepper. Mix the egg mixture with the bread and mushroom mixture until well blended.

Add more salt and pepper if necessary.

Place the mixture on a clean cotton or linen kitchen towel and form it into a sausage shape about 8 inches (20 cm) long and 2/12 inches (6.5 cm) in diameter. Wrap it tightly on the cloth and twist the ends closed. Squeeze any excess liquid out of the roll. Tie the roll in the cloth with string at approximately 2-inch (5 cm) intervals, taking care to tie the ends tightly.

Select a saucepan large enough to hold the roll. Fill it with enough salted water to cover the roll and bring it to a boil.

Lower the heat to a simmer, place the roll in the pan, and simmer it for 25 minutes.

Remove the roll from the pan and allow it to drain.

Unwrap it and cut it in slices about an inch (2.5 cm) thick.

Just before serving, heat the butter in a skillet and lightly brown the slices of dumpling in the butter, turning them once to brown both sides.

Serve with Parmesan cheese.