"Seafood stews are not easy to make because you really have to cook each kind of fish separately so that nothing is overcooked," Francesco advises. The end result is fresh, light, and simple. Some tiny red potatoes, like the ones that beckon invitingly from the baskets in Venice's Rialto market, could simply be steamed, dusted with fresh rosemary, drizzled with olive oil, and served alongside the seafood stew, to be added to each dish at the table. Venetian Seafood Stew coming!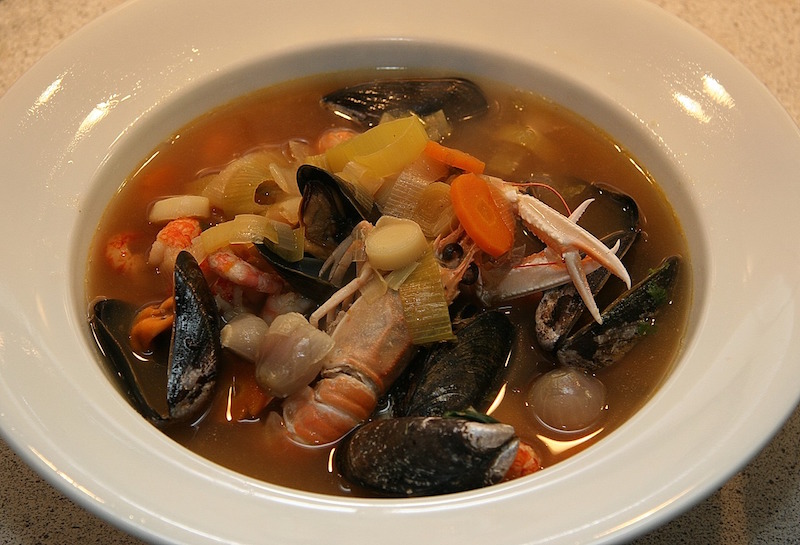 Seafood Stew
Ingredients
5

tablespoons

(75 ml) extra virgin olive oil

12

mussels

1

pound

(500 g) cockles, manila clams, or littleneck clams

4

cups

(1 to 1.25 L) fish stock

Bulb fresh fennel

sliced

4

carrots

peeled

1

cup

(250 ml) dry white wine

1

pound

(500 g) jumbo shrimp (prawns), shelled

12

ounces

(375 g) salmon fillet, in 3-inch (7.5 cm) chunks

1

bunch scallions

spring onions, trimmed to 3-inch (7.5 cm) lengths

Salt and freshly ground white pepper to taste

4

cups

(1 kg) cooked barlotti (cranberry) beans
Instructions
Heat 2 tablespoons (30 ml) of the oil in a heavy 4- to 5-quart (4- to 5-L) saucepan or shallow casserole. Add the mussels and cockles or clams, cover, and steam over medium heat until they open, about 10 minutes.

Remove the mussels and cockles from the pan with a slotted spoon, place in a bowl, and cover. Add 4 cups (1 L) of the fish stock and the fennel, carrots, and wine to the saucepan and bring to a simmer, add the shrimp. Cook about a minute, until the shrimp turn pink, then remove them with a slotted spoon. Place in a dish and cover.

Add the Salmon and bass to the pan, cook about 2 minutes, turn the pieces of fish, then return the shrimp, mussels and cockles to the pan.

Add the scallions and season the stock with salt and pepper.

Add the beans, bring to a simmer, and, if necessary, add the additional stock.

Stir in the remaining olive oil and serve in shallow bowls.