Chestnuts are such a symbol of the Fall that even the sight of them conjures thoughts of crisp evenings, warm blankets and colorful trees. But chestnuts are much more than that. It may no longer be true today, but for centuries chestnuts have given substainance to hundreds of thousands of people in Italy, especially in its northern and mountainous regions. Chestnuts, declined in all manners, from full fruit – roasted, boiled, baked – to flour, have been protagonists on Italian tables since Roman times, becoming almost essential during the Middle Ages.
The chestnut tree, too, was useful: its thinner branches, removed regularly to facilitate its growth, were commonly used to make baskets and containers. Its leaves would become a bed for farm animals and its wood was used to make utensils and furniture. Last, but not least, chestnut trees were – and still are – home to the very king of the woods, the porcino mushroom.
As the recipe we propose here demonstrates, chestnuts have also traditionally been used to create seasonal treats associated to special moments and recurrences. The pane Martino or, more correctly, pane di San Martino, is a typical Piedmontese recipe usually made to celebrate Saint Martin day, on the 11th of November. Some may contest the Piedmontese origin of this heart warming bread, because it is commonly made also in Liguria. The habit of baking a special bread in occasion of Saint Martin feast derives, many say, from the fact the holy man was known for his generosity, a fact exemplified by the time he, still a Roman soldier, ripped his own cloak in a half to cover a naked pauper.
To we lovers of tradition and good food, the pane Martino, with its deep, comforting flavor and ancient origins, is a way to bring on the table the essence itself of the season and, all at the same time, to feel closer to our past.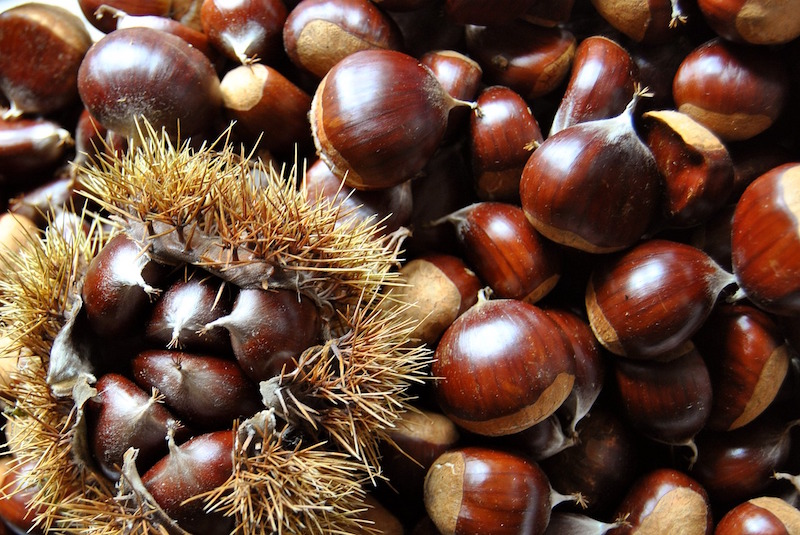 Chestnut Bread
Ingredients
2 3/4

cups

of all purpose flour

2

cups

of chestnut flour

1

sachet

(1/4 oz) of dry yeast

1

tbsp

of extra virgin olive oil

2

cups

of water

1

tsp

of salt

2

cups

of chopped walnuts
Instructions
Heat the oven at 350F.

Start by mixing together 1/3 of a cup of all purpose flour with 1/3 of cup of chestnut flour. Add the yeast and 1/2 of the water. Mix well, kneed and make a ball. Cover it with a clean kitchen towel and let rise in a warm, dry place, until it doubles in size.

Once ready, kneed the dough with the rest of the flour and water, adding also the extra virgin olive oil and the salt. Cover again and let rise for another 2 hours, or until the dough doubles in size once more.

Then, add the walnuts and kneed to incorporate them into the dough. Shape the dough into an oval-shaped long loaf, poking its surface with your fingers, much the way you'd do when preparing focaccia. Let it rest for 20 to 30 minutes.

Bake at 350F for 40 minutes and serve warm.
Notes
This bread is hearty and flavorsome and should be eaten warm. It's perfect to accompany cheeses and cold cuts, especially lardo. Pane Martino is very good with honey (try it with chestnut honey, if you like its strong flavor), butter and jam, of course. A delicious Fall treat.
A note about chestnut flour. In Italy, it's widely available a bit everywhere starting from the end of September throughout the cold season. In the US, it's avalaible online and in healthstores, and you should be able to find it in specialty deli stores, too. Among the brands you should look out for: Down and Rogers, Amisa (both organic) and Shipton Mill (more economic).