In Venice risotto is a religion that must be practiced daily, with careful attention paid to ritual. "Venetians insist that you need at least 10 years of experience to make a good risotto, and then be prepared to attend to it for 18 minutes," Francesco says. "You can't make a phone call." Instead of 10 years, take the time to tend the rice carefully, regulate the heat as the liquid is added, and keep stirring. This risotto, with its elegant burgundy color, balances the sweet richness of seafood with the temptingly bitter edge of radicchio. It is one of the glories of Francesco's repertory.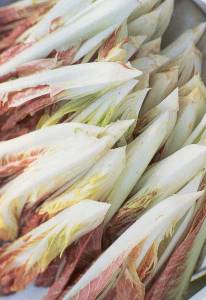 Risotto with Shrimp and Radicchio
Ingredients
20

large shrimp (prawns), shelled and deveined

350

gr

Arborio or Vialone Nano rice

6

tbsp

(90 g) unsalted butter

4

tbsp

(60 g) finely chopped onion

5

cups

hot seafood stock (approximately)

1/3

cup

(80 ml) dry white wine

10

large radicchio leaves, coarsely chopped

1

tbsp

cognac or brandy

Salt and freshly ground black pepper to taste

1

tbsp

finely chopped flat-leaf Italian parsley
Instructions
Bring a pot with 2 quarts (2 L) of water to a boil. Add the shrimp, blanch 30 seconds, then drain.

In a large, heavy saucepan, melt 4 tablespoons (60g) of the butter. Add the onion and cook over medium-low heat until it is translucent. Stir in the rice. Cook, stirring, about 5 minutes, until the rice is well coated with the butter and begins to whiten. Have the stock barely simmering in another saucepan. Add the wine to the rice, stir, then add 2 ladles of the hot stock.

Continue adding stock, a couple of ladles at a time, stirring and adding more as the stock is absorbed by the rice.

Regulate the heat so the rice and stock become somewhat tender but still a bit hard in the middle. There should still be some stock left at this point.

Add all but 4 of the shrimp.

Stir, then continue adding stock for another few minutes, as needed, until the rice is plump, offers only the slightest resistance to the bite, and there is just enough thickened, creamy, sauce-like broth to moisten the rice.

Stir in the cognac and remaining butter.

Season with salt and pepper. Pour the risotto into plates, garnish each serving with a shrimp, top with a bit of parsley, and serve at once.