It is essential to peel and mash the potatoes while they are very hot because you want them to be light and floury, not gluey," Francesco points out. He prefers Idaho potatoes for these lovely cloud-like gnocchi because they have a very dry texture. To retain the starch he does not peel them before boiling them.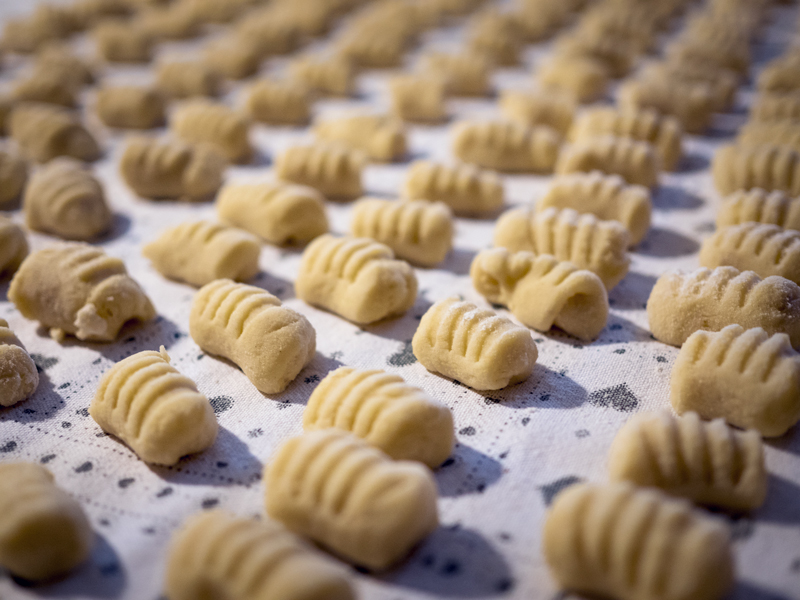 Potato gnocchi
Ingredients
4

Idaho baking potatoes

1/2

cup

(60) g grated Parmesan cheese

Pinch

of grated nutmeg

2

large eggs

beaten

1

large egg yolk

beaten

1

cup

(125 g) flour

Salt to taste
Instructions
Place the potatoes in a saucepan, cover with water, and boil until they are tender, about 40 minutes.

Remove the potatoes from the pan and, protecting your hands with a clean towel, peel them. Mash them into a bowl using a potato ricer.

Cover and set aside to cool about 15 minutes.

Make a well in the center of the potatoes and add the cheese, nutmeg, eggs, and egg yolk. Begin working them into the potatoes, gradually adding the flour and salt, until the mixture makes a soft dough that holds its shape well.

Using about a cup (250 g) of the dough at a time, roll the dough on a lightly floured board to make a rope about 3/4 inch (2 cm) in diameter. Cut it into 1-inch (2.5-cm) lengths, then lightly imprint each piece with the tines of a fork.

To cook, bring a large pot of salted water to a boil. Lower the heat to a lively simmer and drop in 2 or 3 of the gnocchi to test the cooking time. Just after they rise to the surface, taste them. If they are too soft, remove the gnocchi from the boiling water sooner. If they are too firm, allow the gnocchi to cook longer.

Cook the rest of the gnocchi, adding only as many to the pot as will not be crowded on the surface when they rise. You may have to cook them in several batches.

Drain the gnocchi and serve them with butter or a sauce. They can be allowed to cool, then reheated by plunging them into simmering water or baking them with a sauce.