The pairing of creamy polenta with a ragout of earthy wild mushrooms has to be one of the glories of northern Italian cooking. Mid-autumn when a profusion of wild mushrooms begin to appear in the Rialto market, is the best time to prepare this dish in Venice. "Now you have all these mushrooms all the time in America," Francesco says. So he's happy to be able to prepare polenta with wild (or exotic) mushrooms any time.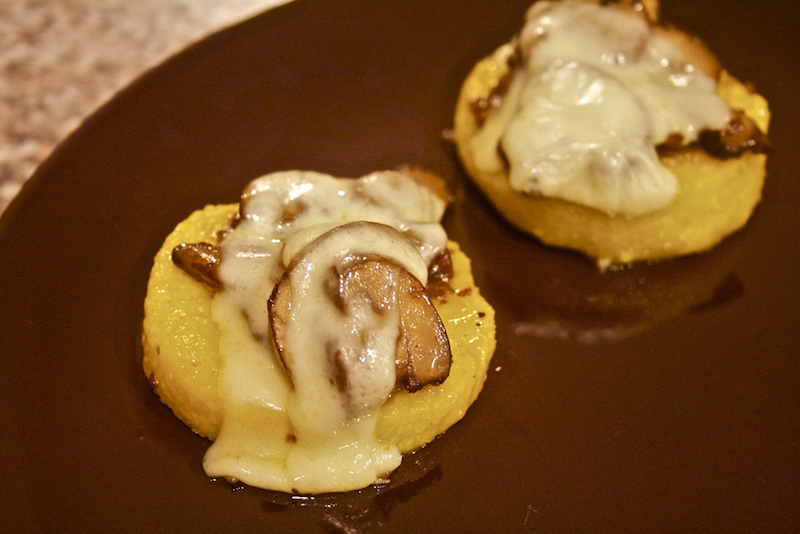 Venetian Polenta
Ingredients
4

oz

(125 gr) dried porcini mushrooms

8

oz

(250 gr) fresh oyster mushrooms

8

oz

(250 gr) shiitake mushrooms roasted

3

tbsp

(45 ml) Extra Virgin Olive Oil

4

cloves

4 cloves garlic, finely chopped

1

tbsp

1 tablespoon fresh rosemary leaves

Salt and freshly ground black pepper to taste

1

tbsp

hopped flat-leaf (Italian) parsley

Basic soft yellow polenta
Instructions
Place the dried porcini in a bowl, cover with warm water, and set aside to soak for 1 hour.

Drain and pat dry on paper towels.

Cut any very large oyster mushrooms into 1 1/2- to 2-inch (4 to 5 cm) pieces. Cut any very large shiitake mushrooms into halves or quarters.

Heat the oil in a large, heavy skillet. Add all the mushrooms and garlic and saute over medium heat until they are lightly browned and tender, about 10 minutes. Halfway through the cooking, add the rosemary.

Season with salt and pepper, stir in the parsley, and set aside while preparing the polenta.

When the polenta is done, briefly reheat the mushroom mixture and serve hot over the hot polenta.