In the countryside dishes like this are a way to use up the odds and ends. It's a dish more from the mountains around Venice than from the city. Francesco's interpretation is rustic and flavorful, and a splendid dish for a party buffet. The herbaceous green sauce provides an elegant counterpoint.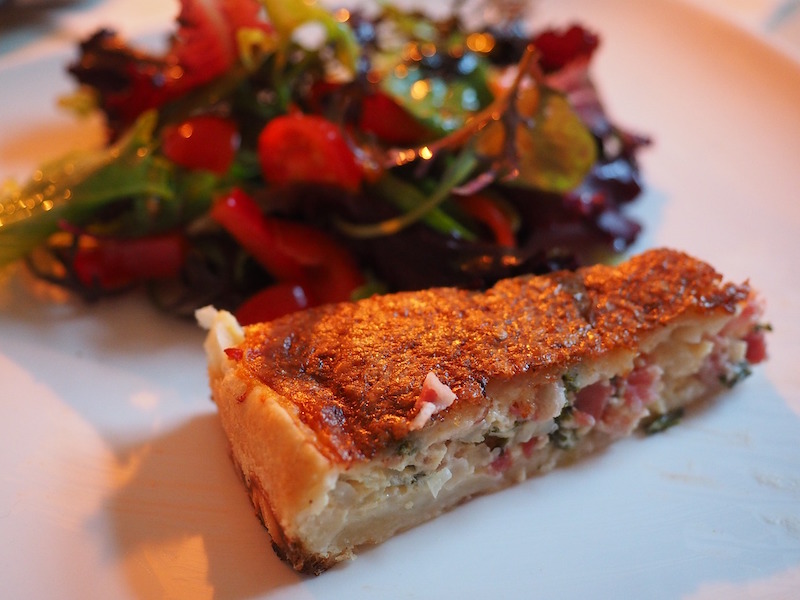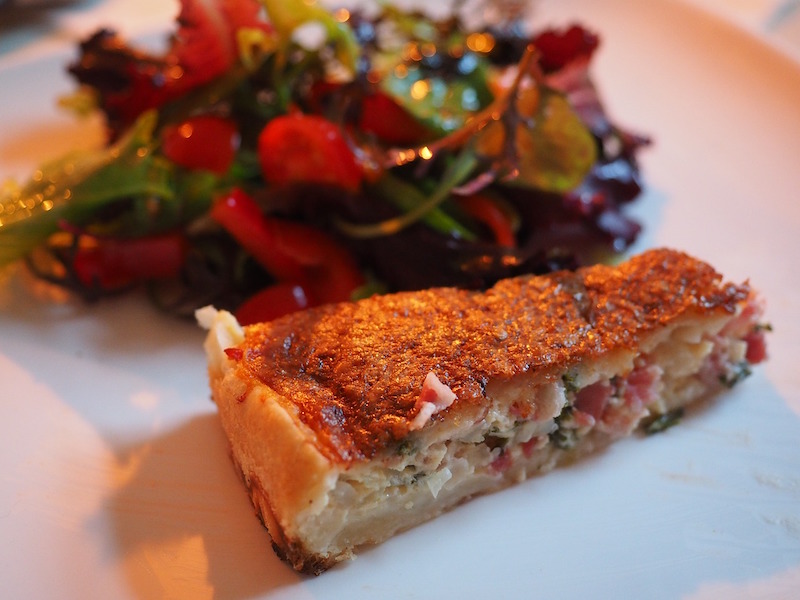 Country Terrine
Ingredients
1

pound

(500g) boneless pork neck or shoulder (blade), cubed

4

oz

(125 g) boneless veal neck or shoulder blade, cubed

8

oz

(250 g) pork fat, cubed

3

tbsp

chopped fresh rosemary leaves

2

tbsp

chopped fresh marjoram leaves

2

tbsp

chopped fresh sage leaves

1

tbsp

crumbled bay leaves

2

tbsp

finely chopped garlic

1

tsp

juniper berries

1

cup

(250 ml) dry white wine

4

oz

(125 g) slab bacon diced

8

oz

(250 g) cooked beef tongue

finely diced

8

oz

(250 g) boneless smoked pork

finely diced

60

gr

shelled unsalted pistachio nuts

Kosher salt and freshly ground black pepper

375

gr

green sauce
Instructions
Combine the boneless pork, boneless veal, and pork fat in large bowl. Add the rosemary, marjoram, sage, bay leaves, garlic, and juniper berries and toss the ingredients together to distribute them evenly. Add the white wine, toss again, cover, and refrigerate 24 hours.

Grind the herbed meats fairly fine in a meat grinder or by pulsing in a food processor.

Cook the bacon in a skillet until it is brown and crisp. Drain it well. Mix it in a bowl with the tongue, smoked pork, and pistachio nuts. Add the ground meats and using your hands or a large spoon, mix all the ingredients together.

Season them with pepper and a light sprinkling of coarse salt.

Because there is raw pork in the mixture, do not taste it for seasoning.

You can make a small mound of it and simmer it for 10 minutes in water to see if it needs more salt.

Preheat the oven to 300°F (150°C). Pack the mixture into a 6-cup (1.5L) terrine. Place the terrine in a larger baking dish and pour boiling water into the larger dish until it comes halfway up the sides of the terrine.

Bake the terrine for 2 hours. Remove the terrine from the oven and place a double thickness of foil on top. Allow it to cool for about 30 minutes.

Using your hands, press down on the top of the meat to compress it and force out excess fat.

Weight the top of the terrine with some heavy objects, allow it to cool to room temperature, then, refrigerate it, still weighted, overnight.

Remove the terrine from the refrigerator 1 hour before serving with green sauce as an accompaniment.