"In different regions of the North, we have different kinds of polenta," Francesco explains. "In Bergamo they make it very firm. In Venice it's often white, made with white cornmeal, which is more refined but takes longer to cook. Polenta is really food for the poor. In poor families with lots of children you would be served a big polenta for dinner with one sausage sitting in the middle."
Francesco also says that most people make polenta starting with boiling water. You can also start it in cold water, which is easier, "but you have to bring it to a boil very fast," he says. Use a little less water if the polenta is meant to be firmer so it can be spread in a pan, allowed to cool, then cut in rectangles to grill or sauté.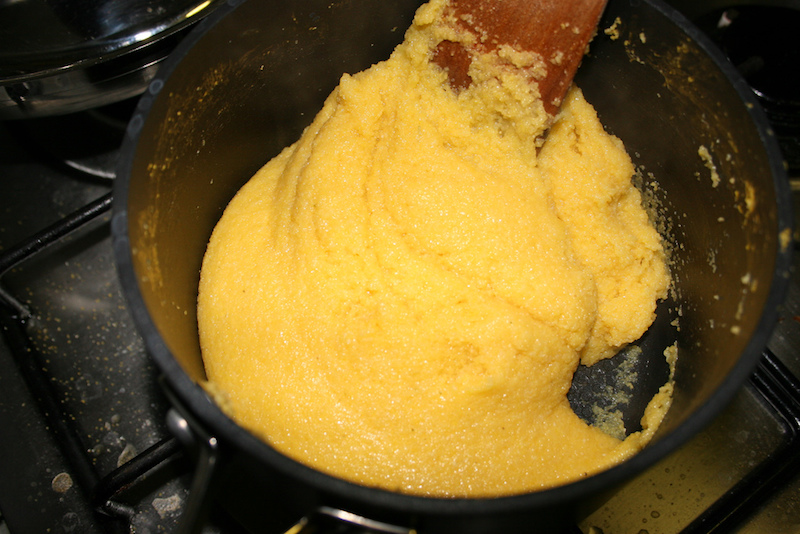 Polenta
Ingredients
6

cups

(1.5 L) water

1 1/2

cup

(220 g) yellow or white cornmeal for polenta, preferably stone-ground

1/4

cup

(60 g) unsalted butter

1

pinch

Sea salt
Instructions
Bring the water to a boil in a heavy saucepan. Add about a teaspoon of salt.

Very gradually add the polenta by taking handfuls of it and letting it fall in a thin stream into the pan.

Stir it constantly. After all the polenta has been added, continue to cook it, stirring for 10 minutes.

Add the butter, season to taste with salt, and serve.