When going to Italy during the summer, some 'seasonal' terms can turn out to be quite useful for those who want to plunge into Italian culture, as well as into the deep blue Italian sea.
By doing so, you'll be able to get familiar with local culture through language, and make the most of a lovely holiday.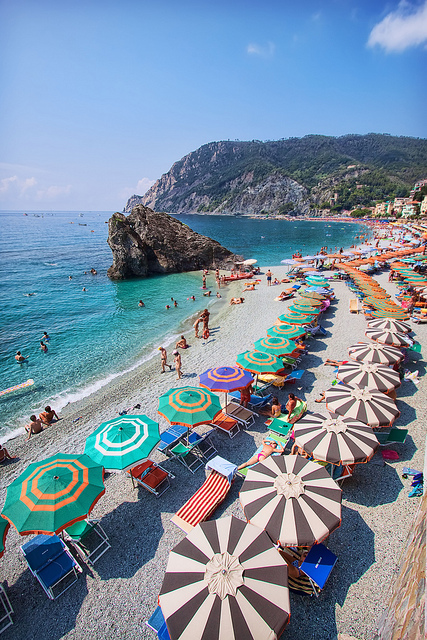 Not finding anyone speaking in English in touristic spots is quite unlikely, especially if you visit well known locations, nevertheless, learning some new Italian words is always a good idea.
Here are some of the most common summer Italian words and expressions (you can also listen to the audio file)!
The Sea and the Beach
Mare: sea
Spiaggia: beach. In Italy, you'll come across several types of spiagge (plural of spiaggia) and all are well worth a visit, before you pick your favorite: we have spiagge con la sabbia (sand beaches), spiagge con ghiaia (gravel beaches), spiaggia con rocce (rock beaches).
Ombrellone e lettino: beach umbrella and sunbed. These are usually rented on a daily, weekly, or even seasonal basis, if you choose to use a private beach (stabilimento balneare). Tariffs change from place to place, but usually the longer you stay, the better deals you get. Keep in mind not all beaches are private, so you won't be able to rent sunbeds and umbrellas everywhere. Public beaches are called spiagge libere and are free to use. Remember, though, you'll need to bring your own beach towels!
Crema solare: Sun cream. You can buy them at the pharmacy or at the profumeria, perfume shops, and often at souvenir shops by the beach; there are several types of protezione, UV protection: bassa (low), media (medium), alta (high).
Salvagente: life jacket
Braccioli: armbands
Materassino: air bed
Bagnino: lifeguard. Lifeguards usually have a red t-shirt with the word 'bagnino' written in white on the back. There's always at least one bagnino on duty on Italian beaches, who'll also assist you in case of jellyfish sting or other minor ailments. If there is no lifeguard on a particular beach, warnings are placed around, informing that the beach is not supervised.
Traghetto: ferry. Traghetti allow tourists to visit islands off the Italian coast. Depending on the size and type of island, you may be allowed to travel on the ferry with your car. Keep in mind not all islands allow cars: if you are planning to take a ferry to Capri, for instance, you won't be able to bring your car, as cars are not used on the island. Departures are usually hourly, or every half an hour, but always check whether the sea is mosso (rough) or calmo (calm) before jumping on a ferry, especially if you tend to get seasick!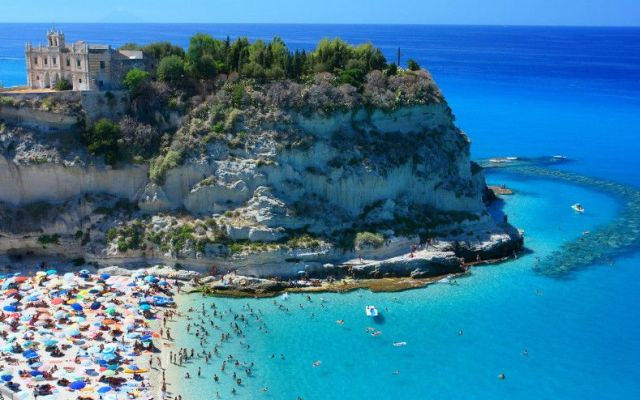 Holiday Apartments
The easiest way to enjoy a relaxing week by the sea in Italy is to rent your own place. Holiday apartments are just as your standard apartments for rent, with the difference you can get them for as little as a week, or as long as the whole summer season. Depending on their size, they're called monolocale (studio), bilocale (two-room apartment), trilocale (three-room apartment) and quadrilocale (four-room apartment). Very often, they are situated in condos with piscina (swimming pool) and  daily or weekly cleaning service is offered. Another popular option is renting a villa by the seaside: although more expensive than your average flat, it may be worth it, especially in name of the often amazing location of some.
When renting a holiday flat, make sure to check the required minimum stay: it is usually one week, but there are places requiring a minimum rental of two.
Food
Some dishes and fruit are frequently served in restaurants by the sea, and even on the beach:
Bruschette: toasted bread with tomatoes, basil and oil. This is the traditional recipe but other alternatives, mixing up different ingredients, are often invented.
Calamari and seppie: squid.
Cocco: coconut. This fruit, though not typically Italian is, along with anguria (watermelon) and melone (melon) the real protagonist on Italian beaches. Large quantities of these types of fruit are sold everywhere during summertime, and cocco in particular is frequently eaten on Italian beaches along with pineapple and watermelon. If you're on the beach, you'll often hear pedlars shouting: "Cocco bello, cocco fresco" (translation: lovely coconut, fresh coconut). It almost sounds like a nursery rhyme or a tongue twist, but in truth, it is nothing more than a popular line, used to facilitate sales!
Insalata di mare: seafood salad. It is called 'salad' but you won't find much greens and lettuce in it. It is a dish based on a mixture of seafood like shrimps, squid and octopus, dressed with aromatic herbs and olive oil.
Macedonia: Fruit salad.
Prosciutto e melone: Parma ham and melon. This is one of the better loved summertime dishes and fantastic if you love sweet and savory combinations.
Risotto ai frutti di mare: seafood risotto. One of Italy's favorite mains during the summer.
Spaghetti alle vongole: spaghetti with clams. There are two versions of this delicious dish: one with tomatoes, which is known in some parts of Italy as 'macchiato', and another 'in bianco', without tomatoes.
Health mishaps on the beach
Holidays are synonym with relax and fun, and some little, easily solved mishap should not change the status quo: some things are likely to happen more frequently during the Summer and especially on beaches. Here are three useful words you may need to use at the chemist, or in the Emergency Room:
Ustione: burn
Puntura di insetto: insect bite
Morso di medusa: jellyfish sting
Take note of all these words  and bring them with you on holiday this year: they might be of help if you travel to Italy, and a good occasion to learn a little more about the Italian language.