Pansotti are a dish typical of the region Liguria, similar to ravioli.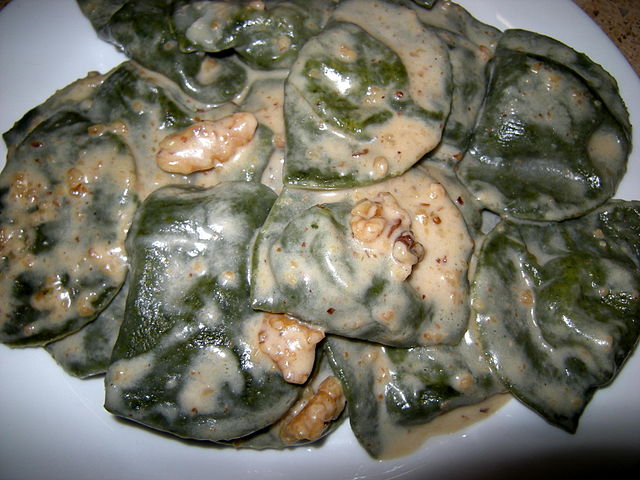 Pansotti
Ingredients
For the pasta:
400

g

of flour

1/2 

cup

of water

1

tsp

of white wine

Salt
For the filling:
1000

g

of borage

200

g

of ricotta cheese

1/2

clove

of garlic

2

eggs

Parmesan cheese
For the sauce:
70

g

EV olive oil

160

g

whole milk

160

g

walnuts

20

g

peanuts

4

g

marjoram

30

g

bread

30

g

parmesan cheese

1

clove

garlic
Instructions
Mix the flour, water, white wine and the salt for the pasta.

For the filling, start by boiling the borage and draining it. When it is well dried, cut it into pieces. Chop half a clove of garlic and blend together with the borage, ricotta, eggs, and grated parmesan cheese (which is necessary to give to the mixture the right consistency).

Roll out the dough and spoon small amounts of the filling on top. Cut a square of pasta around each clump of filling and fold in half, then seal the edges together.

For the sauce: put the bread in the milk until it softens; drain from the milk (and keep the extra milk). Blend bread, the peeled walnuts and peanuts together. Add the garlic, marjoram and grated parmesan cheese. With the blender on, add the oil and milk, until it's soft and creamy. Add salt and pepper

Boil the water for the pansoti and when the pasta is cooked mix it with the sauce, a small piece of butter (diluted in a little bit of pasta water) and extra parmesan cheese, if you like.
Buon Appetito!
By Anna Merulla