Although this is a dish one can find in Venice today, it is essentially a recipe from the south, around Naples. "Things move around more now than they did when I was growing up," Francesco says. "And with the wonderful clams we have in Venice, there's no reason we shouldn't enjoy a dish like this." Although clams are delicious when steamed open in white wine, Francesco does not use wine in a sauce for pasta because he finds it makes the pasta taste sour. "The water from cooking the pasta is a better liquid to use," he advises.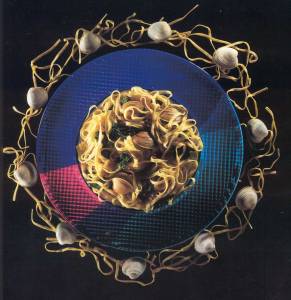 Linguine With Broccoli Rabe, Clams, And Hot Pepper
Ingredients
3

tbsp

(45 ml) extra virgin olive oil

3

cloves

garlic

1/2

bunch broccoli, chopped and stems removed

8

ounces

(250 g) cockles, Manila or littleneck clams

8

ounces

(250 g) linguine

Hot red pepper flakes to taste
Instructions
Bring a pot with 4 quarts (4 L) of water to a boil for the linguine.

Meanwhile heat the oil in a heavy 3-quart saucepan. Add the garlic, cook for a minute, then stir in the broccoli rabe. When the rabe has wilted, stir in the clams, cover, and cook over low heat until they have opened, about 10 minutes.

When the water for the linguine is boiling add the pasta, stir it, and cook until it is al dente, about 8 minutes.

Drain the pasta, reserving about 2 cups (500 ml) of the cooking water, and return the pasta to the pot.

Stir about a cup (250 ml) of the pasta cooking liquid in with the clams, then transfer the clams and broccoli rabe to the pot with the linguine.

Mix the ingredients well.

Add more liquid from the linguine if necessary.

Sprinkle with hot red pepper flakes and serve.
Other broccoli recipe from Italy to make: Orecchiette ai Broccoli.