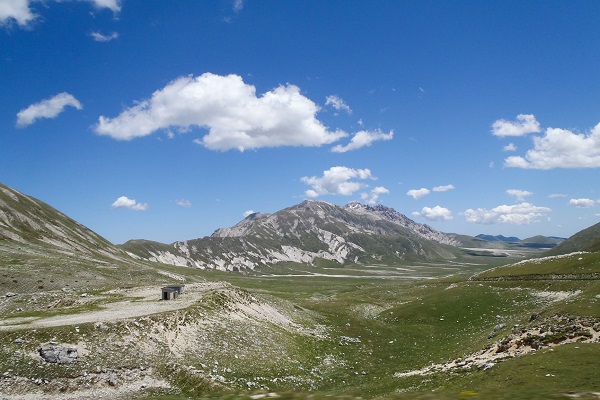 Please Note: In 2009 L'Aquila and most of the region were heavily damaged by tragic earthquakes in Abruzzo, Italy. Until reconstruction is completed it would be best to carefully plan any vacations in the area and thoroughly research where you plan to visit.
Laid out behind ancient walls, on the top of a hill in a valley of the River Aterno and surrounded by the Gran Sasso and the Apennine Mountains, you will find the city of L'Aquila, the capital of the Abruzzo region. This city has a population of about 73,000 and is a hub of tourism, education, and industry.
In the historical part of the town, visitors will be delighted to find many narrow streets and lanes (perfect for foot traffic) that are lined with magnificent Renaissance and Baroque buildings, churches, and several large piazzas. The city is well known for its university, symphony orchestra, and film institute, and is certainly a place that offers visitors an array of things to see and do.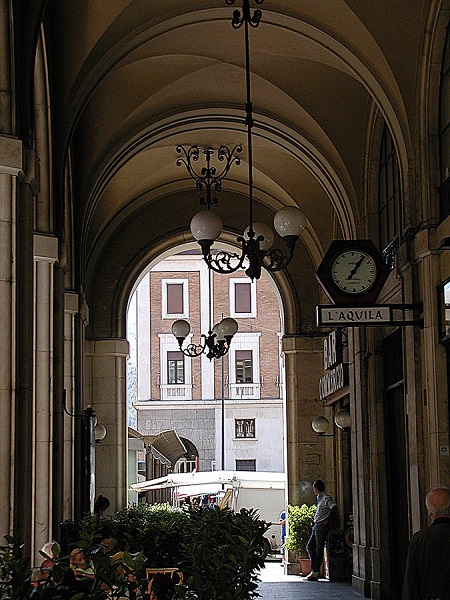 Sightseeing in L'Aquila
The city's large Spanish Fort is located at the highest point in the town. Constructed by Don Pedro de Toledo, the Spanish Viceroy in 1534, the fort is quite large and was built on a square plan. Known for its beautiful architecture the fort is now home to the National Museum.
L'Aquila's cathedral or Duomo is dedicated to San Massimo and was built in the 13th century. During the earthquake of 1703, the structure was badly damaged and had to be rebuilt, which explains why the present-day façade is from the 19th century. In the recent devastating earthquake that took place in April of 2009 the historical building was again damaged.
The Saint Bernardino of Siena Church was built in 1472 and features beautiful Renaissance architecture designed by Nicolò Filotesio. The monumental tomb of Saint Bernardino is located within and was decorated with sculptures created by Silvestro Ariscola in the 15th century.
In the center of town, you will find Santa Maria di Collemaggio Church, which was built out of red and white marble in a simple Romanesque style in the 13th century. If you visit the church, be sure to view the wonderfully decorated portals, above each of which is a rose window. Inside the church, you will find a mausoleum that belongs to Pope Celestine V that was built in the 16th century.
For more noteworthy architecture head to the small, but intricately made Palazzo Dragonetti. Today home to a private collection, the building shouldn't be missed. Just a little outside the main city center is the beautiful Fontana delle Novantanove Cannelle or Fountain of Ninety-Nine Jets.
Built in 1272 this fountain distributes water evenly through ninety-nine jets on three different walls. Another gorgeous fountain in L'Aquila is the Fontana Luminosa or Luminous Fountain, which is an important landmark in the city recognizable by its sculpture of two women holding jugs.
Getting to L'Aquila
Many people travel to and from L'Aquila every day so there are plenty of options for reaching the city. Those who have a car can take the A24 highway, which connects Rome to Teramo and passes through the city. There are also several other small provincial roads that can be used if you're traveling from other destinations.
If you're without a car don't fret, the city is easily reached by bus and train as well. There is an intercity bus that departs several times daily from Rome and which will deposit you directly at L'Aquila's bus terminal. Similarly, you will be able to catch trains that will take you straight into the city.
While these trains are relatively small the route to reach L'Aquila is decidedly scenic. One option, if departing from Perugia, is to go through Terni and Sulmona by train and then on to L'Aquila. If you're hoping to fly in the nearest airport is in Rome.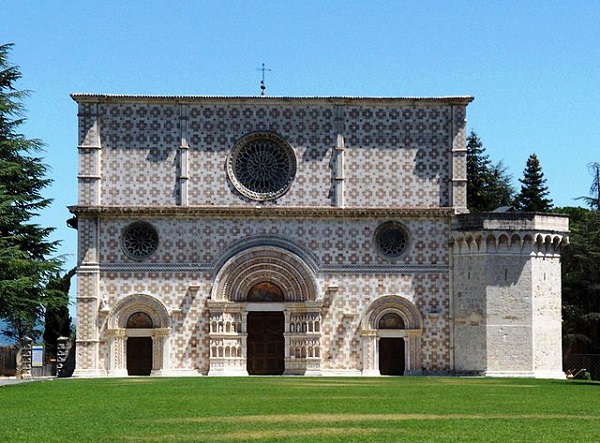 Moving Around in L'Aquila, Italy
L'Aquila is an old city and therefore not very large. The area within the medieval walls can be easily explored on foot and, in fact, walking is the best way to see the sights in this area and to maneuver through the beautiful piazzas and winding streets.
The city's main station is located a bit away from the center and on a hill that may be hard to climb on foot. There is a public bus system that can easily take you where you need to go within the city and there are several shops that rent bicycles if your feet get tired of touring the sights. Bikes are not only a healthy alternative to driving, they are also much more economical than hopping into a taxi.
For a great L'Aquila walking tour to you can always roll in with local tour guides that will help you see the town in a different way!
Accommodations around L'Aquila, Italy
L'Aquila is an important tourist destination, although the majority of tourists are Italians, not foreigners. Due to the high volume of tourists, there are great accommodations options in the city. Not only are there budget hotels and inexpensive B&Bs with comfortable rooms, but there are also some more luxurious options. Some hotels to try include the Hotel Duomo, Hotel Castello, Hotel 99 Cannelle, Hotel San Michele and Hotel Campo Imperatore.
Eating Out in L'Aquila, Abruzzo, Italy
The best food in L'Aquila is local food and you will have many opportunities to immerse yourself in local culture by selecting a different trattoria, osteria, or pizzeria to eat in every day. Many of these old-fashioned places are run by local families who specialize in authentic regional cuisine at low prices. L'Aquila also offers many charming outdoor cafés, where you can sip coffee and munch on light dishes and several great gelato places to grab a delicious ice cream.
Some of the best restaurants in L'Aquila are La Meta, Trattorie La Matriciana and Ristorante L'Antico Borgo. If it's nightlife you crave head to one of the local pubs where regional wines can be sampled along with yummy cocktails and traditional appetizers.
Shopping in L'Aquila, Italy
In L'Aquila, there are a few shopping streets lined with stores selling good clothes, jewelry, shoes, and accessories. The older part of the city has many great small shops that sell handicrafts, pottery, and fabrics. The weekly food markets in the city are also a great place to visit since they are crowded and colorful. Wine and olive oils are two of the best things to purchase in L'Aquila.
Another inspiring place to visit in Italy, in the region of Abruzzo, L'Acquila.