Unique Afro-Italian Brand that Revolutionized Ballerina and Mules—a Fashion to the World!
Afro-Italian Brands
Italian fashion is amazing, and this is no longer news. With brands like Gucci, Valentino, Fendi, and Bottega Veneta, Italy has built a strong reputation for high-end craftsmanship.
Afro-Italian designer Stella Jean is making a fashion statement in Italy with her collection of African-inspired clothes. Stella Jean is a Haitian-Italian clothes designer who is trying to change the Italian fashion industry by working with African designers. Jean is a member of the Italian National Fashion Chamber, a non-profit organization that supports Italian fashion and the only Black.
Other Afro-Italian fashion designers are; Fabiola Manirakiz, was born Burundi but it was in Zaire, which became the Democratic Republic of Congo, she founded her label Frida Kiza in Italy in 2016, Joy Meribe, a Nigerian fashion stylist, Claudia Gisele Ntsama, born in Cameroon, designer and founder of GISFAB in 2016 and Mokodu Fall, Senegalese fashion designer
Another Afro-Italian fashion brand called Bizu Shoes is now making giant strides showing the beauty of East Africa.
Bizu Shoes
Bizu Shoes is a luxury brand made from the traditional East African cloth called the Kanga fabric. Bizu Shoes have several colors and designs with clear reference to African culture and style. Bizu Shoes is an Afro-Italian fashion brand created for women who embrace both casual and formal clothing styles. It is for women that appreciate everything from African fabrics to Italian design.
Bizu Shoes are handcrafted and feature the Kanga fabric, a bold colorful material that has a very special place in East African life. To increase durability and comfort each shoe is constructed using a Nappa leather lining and leather soles. Each shoe is manufactured in a family-owned factory in Florence, which has been in operation since the 1950s.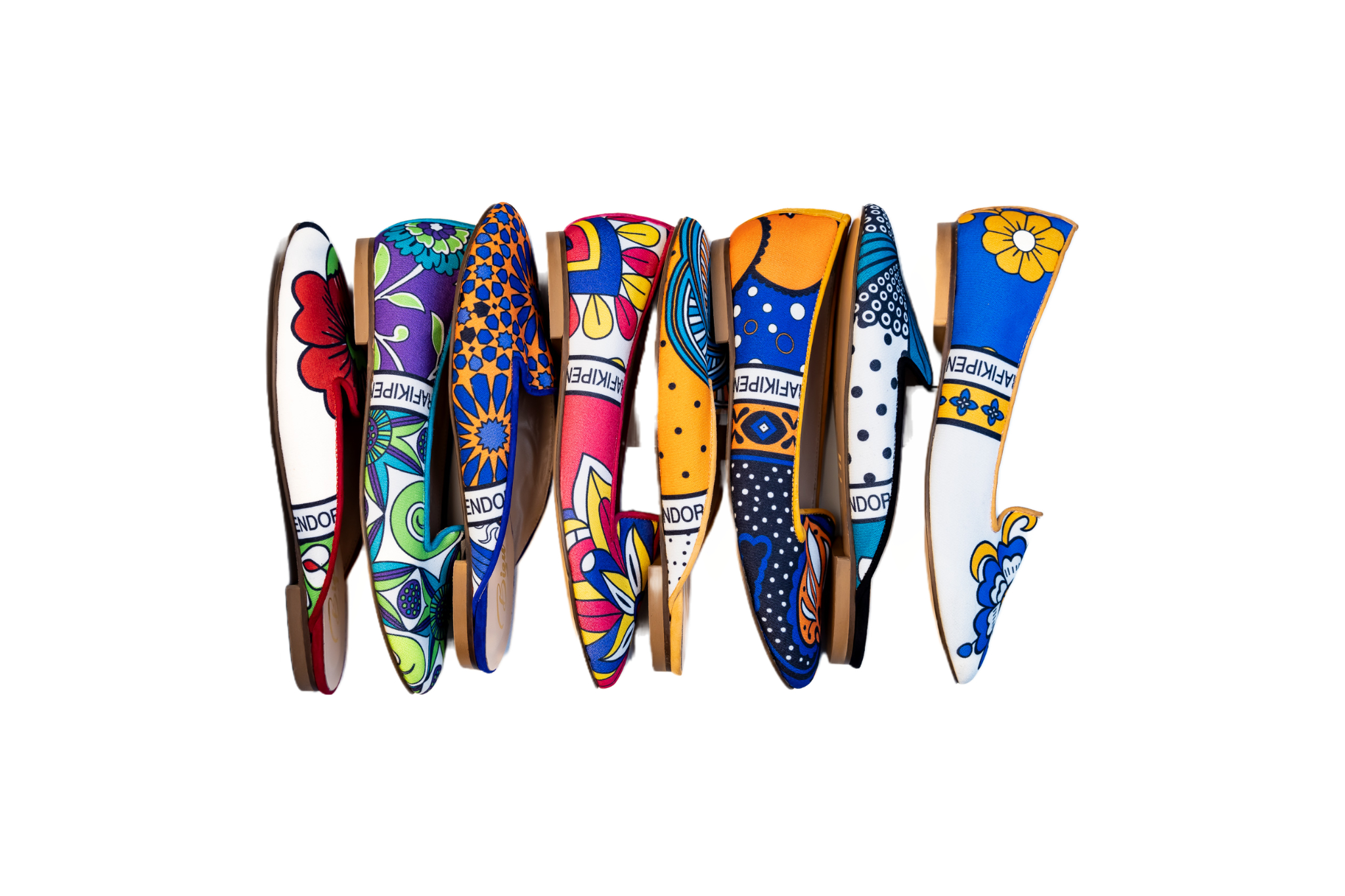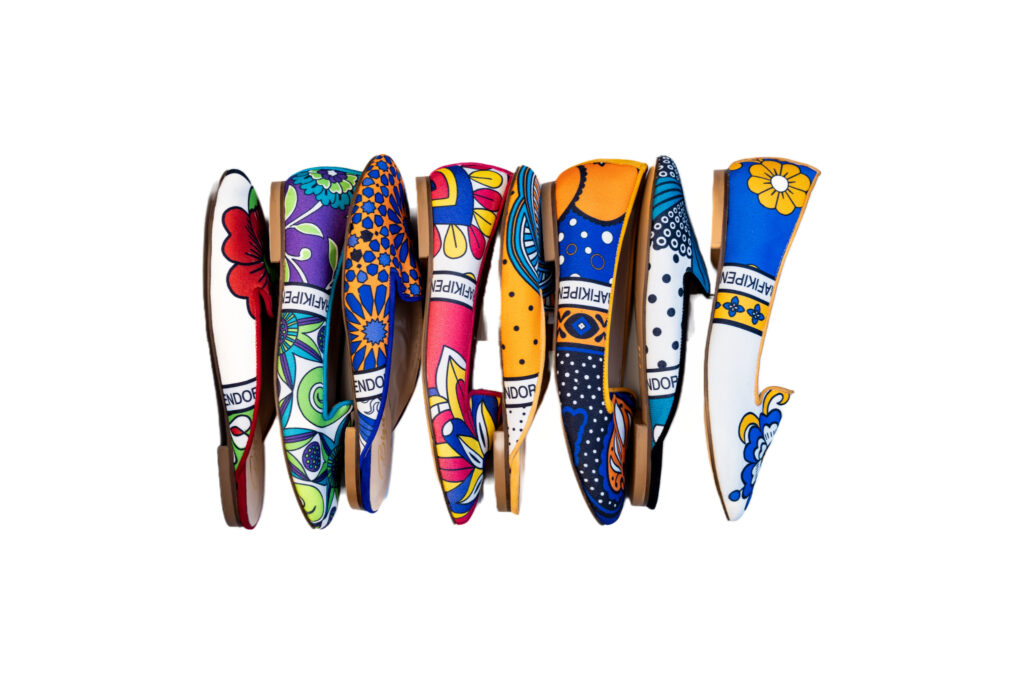 The Kanga Fabric
The Kanga is richly colored fabric that can be appreciated from all sides and has endured the test of time. The Kanga is worn by women and occasionally by men throughout the African Great Lakes region. It is a piece of printed cotton fabric, about 1.5m by 1m. It is typically multi- colored, often with a border along all four sides (called pindo in Swahili) and a central part (mji) that differs in design from the borders. They are sold in pairs, which can then be cut and hemmed to be used as a set. Wikipedia
The Founder:
Bizu was born in the East African country of Ethiopia and raised in a vibrant village culture with stunning East African ladies dressed in brilliant rich colors. She discovered her enthusiasm for the rich colors and patterns that African women wear to convey their personalities and feelings.
She moved to Italy to pursue her education and dreams. She decided that she could combine her life experiences in Africa and Italy to bring unique, high-quality shoes at an affordable price to the American market. To complete her debut collection, she gathered materials from East Africa and worked with one of the top Italian shoemakers.
Bizu Shoes Logo
The logo represents the spirit of African culture. The word 'kanga' came from the Swahili word for guinea fowl (Kenge). Guinea fowls are among the oldest gallinaceous birds and are indigenous to Africa. They are monogamous and have a black-grey body, a distinctively colored head, and a featherless crown.
Uniqueness of Bizu Shoes
Bizu's shoes combine the bold patterns and colors from authentic African kanga fabrics with Italian quality premium leather. Each pair comes in a custom kanga shoe bag produced in a limited quantity and sizes. Bizu makes mules and ballerina shoes.
Mule shoes are the definition of comfort and style. Made from a combination of fabric and leather, they are incredibly versatile. They are perfect for both the office or weekends out on the town. Mules allow users to be just as stylish as their favorite celebrities. Mules are high quality natural leather shoes. Brands with mules include Vortice Mule, Raha Mule, Sole Mule and Zawadi Mule.
Bizu mule shoes are expertly handcrafted by artisans using traditional techniques and Italian leather, with a luxurious handsewn finish. They take the best of both worlds: durability and style. Mules are the quintessential summer and winter shoe.
Ballerina shoes are made with classic feminine finish, low and flat shoes that take you on a journey of discovery. They can be worn with short or long dresses, denim or even layered skirts. Bizu has created a timeless masterpiece with her 'Florence' ballerina shoes. They are made with the best leathers from Florence, Italy. They come in a variety of colors and materials that perfectly compliment any outfit, making it easy to create an individual look with these shoes. A ballerina shoe is a sure-fire way to add a touch of fashion, comfort, and style to looks. Ballerina shoes include Moya Ballerina, Fioretta Ballerina, Neema Ballerina and Stella Ballerina shoes.
Supporting Women in East Africa
Each pair of Bizu Shoes comes with complementary made-in-Africa tote bags. These bags are handcrafted by local women in East Africa and feature Kanga fabric. Bizu Shoes contribute to the empowerment of local East African women by using handcrafted goods such as tote shoe bags in order to employ and improve the economic challenges faced in this region of the world.
Bizu Shoes are designed to complement the amazing personality of the women who wear them. The brand was founded on the belief that there are no limits in exploring different cultures and styles. visit their website bizushoes.com and instagram to learn more..