Sarah Venezia is Adam Tihany's young daughter, and this is her favorite dessert. It's simply a zabaglione that's briefly run under the broiler to brown the edges. Fresh raspberries are delicious alongside. At Remi the zabaglione is put into a star-shaped mold before broiling directly on a flameproof plate. To make the dessert at home, use shallow flameproof molds that can go directly to the table.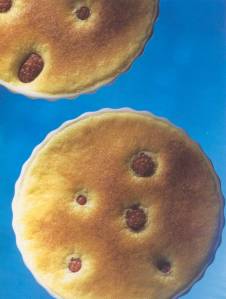 Zabaglione
Ingredients
8

large egg yolks

60

mg

sweet marsala

1/2

pint

(180 g) fresh raspberries

60

gr

sugar
Instructions
Place the egg yolks in a bowl preferably unlined copper.

Place the bowl over a saucepan of simmering water. It is important that the bottom of the bowl not touch the water.

With a whisk beat the egg yolks until they are frothy, then gradually beat in the marsala and sugar. Continue beating about 5 minutes longer, until the zabaglione mixture is hot, just beginning to give off steam, very light, frothy, and thick.

Remove the bowl from the heat and continue beating until the mixture has cooled to room temperature.

To serve, divide the raspberries among 4 shallow flameproof molds, such as creme brulee molds.

A single larger mold, such as an 8-inch (20-cm) porcelain quiche dish, can be used instead.

Preheat a broiler. Spread the zabaglione mixture over the raspberries into the mold or molds and place under the broiler for about 30 seconds, until the top has browned lightly. Serve at once.