"This is a very Venetian dish," Francesco declares. "Sardines are fish for the poor. Usually we make this dish in the restaurant for the employees, not the customers." Under appreciated in America, fresh sardines are a staple throughout southern Europe and the Middle East. These small fish, with their rich, oily, and delicious flesh, are served dozens of ways. They may be simply grilled, sauteed and seasoned with a typically Venetian sweet-and-sour marinade, or roasted with a sharp, herbaceous seasoning, the way Francesco likes them best. Fresh sardines are often sold in fish markets that cater to an Italian or Greek clientele. And when it comes to sardines, as with other oily fish, sparkling freshness is crucial. If acceptable sardines are unavailable, the recipe also works well with smelts. Francesco says the secret ingredient in the recipe is the bit of Parmesan cheese, which adds a sharpness without actually contributing its flavor.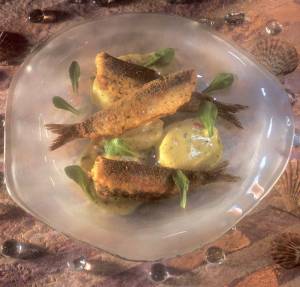 Roasted Sardines
Ingredients
1

tbsp

Extra Virgin Olive Oil

16

whole fresh sardines, cleaned

2

tbsp

minced parsley

4

cloves

garlic

minced

2

tbsp

fresh rosemary leaves

2

tbsp

fresh thyme leaves

Salt and freshly ground black pepper to taste

1/4

cup

(30 g) fine dry bread crumbs

1

tbsp

freshly grated Parmesan cheese

1

lemon, cut in 4 wedges
Instructions
Preheat the oven to 450F (200C).

Spread the oil on a baking sheet.

Rinse the sardines and pat them dry.

Remove the heads of the sardines by inserting your thumb into fish where the head joins the body and pushing the head off.

Pull out the central bone.

Flatten the sardines without separating the 2 fillets and place them, skin side down, on the baking sheet.

Briefly chop the 1½ tablespoons of the parsley with garlic, rosemary, and thyme. Season with salt and pepper.

Spread this mixture on the flesh of each sardine.

Sprinkle 1 tablespoon of the bread crumbs and the cheese over all the sardines.

Close up the sardines, sandwiching the filling inside.

Sprinkle the tops of the sardines with the remaining bread crumbs and parsley.

Place in the oven and bake about 5 minutes.

Serve at once with lemon.