These richly flavored yet delicate gnocchi are typical of dishes from the region around Venice. The recipe that follows is one that Dario Plozer, one of Francesco's sous chefs, learned from his mother in Udine. "A dish like this is a frustration for me," Francesco says. "It's really too delicate to make in a restaurant and should be prepared at home."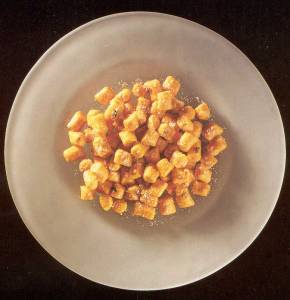 Pumpkin gnocchi
Ingredients
1 1/2

pound

(750 g) peeled, seeded pumpkin or butternut squash, cubed

1/2

cup

(60 g) freshly grated Parmesan cheese

1/2

tbsp

ground cinnamon

Salt and freshly ground black pepper to taste

2

large egg yolks beaten

3/4

cup

(90 g) flour (approximately)

3

tbsp

(45 g) unsalted butter or truffle butter (if available)
Instructions
Preheat the oven to 350 F (180 C).

Spread the pumpkin in a baking dish, cover, and bake until tender, about 20 minutes. Mash it into a bowl.

Mix the mashed pumpkin with half the cheese and all the cinnamon.

Season with salt and pepper.

Beat in the egg yolks and stir in the flour, adding enough flour to make a soft dough.

Pack the mixture into a pastry bag fitted with a plain 1/2-inch (1.3-cm) tube.

Bring a pot of salted water to a simmer.

Force the pumpkin mixture through the pastry bag, cutting off 1-inch (2.5 cm) lengths as it emerges from the bag and letting the pieces drop into the simmering water. The best way to do this is to rest the tip of the bag on the edge of the saucepan so you have one hand free to cut the gnocchi mixture as it comes out of the bag.

Simmer the gnocchi about 30 seconds. As they are cooked and rise to the surface scoop them out of the saucepan and into a bowl of ice water.

Drain them after they have been chilled. To serve, reheat the gnocchi briefly in simmering water, drain them well and serve tossed gently with plain or truffle butter.

Dust with the remaining Parmesan cheese.