Americans think of squid and its ink as the essential ingredients to make the black sauce that is served in Venice with polenta, risotto, or pasta. But Francesco points out that the sea creature with the most ink is the cuttlefish, which is a little larger than squid. Many fish markets sell cleaned squid; some sell cuttlefish. If cuttlefish is not available squid can be substituted. Lately, some specialty food stores have started carrying little packets of cuttlefish ink to use for making these recipes. "I don't entirely trust them," Francesco says. "I'm not sure what they have put in those packets."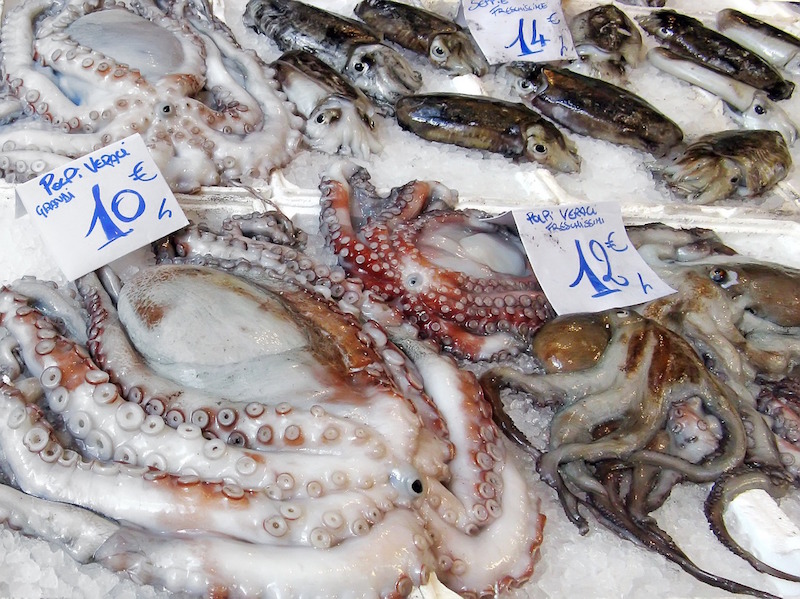 Polenta with Cuttlefish Sauce
Ingredients
3

tbsp

(45 ml) extra virgin olive oil

1/2

cup

(60 g) chopped onion

1

clove

garlic

1 1/2

pound

(750 g) cleaned cuttlefish or squid, sliced in rings

4

fresh or canned peeled plum (egg) tomatoes

1/2

cup

(125 ml) juice from the tomatoes

1 1/2

tbsp

cuttlefish or squid ink

1/3

cup

(80 ml) dry white wine

1

cup

(250 ml) water (approximately)

Salt and freshly ground black pepper to taste

Basic soft white polenta
Instructions
Heat the oil in a large, heavy skillet. Add the onion and garlic and cook until they are tender but not brown. Stir in the cuttlefish or squid and cook over medium heat about 30 minutes, until all the liquid from the cuttlefish or squid has evaporated.

Meanwhile force the tomatoes through a food mill and mix with the juice from the tomatoes and the ink. Set aside.

When the liquid has evaporated in the skillet, stir in the wine and cook until the wine has evaporated and the mixture in the skillet is beginning to color.

Stir in the tomato and ink mixture, add the water, and cook gently another 45 minutes to 1 hour, until the cuttlefish or squid is tender, adding a little more water if necessary during cooking.

Season with salt and pepper.

Prepare the polenta and serve topped with the cuttlefish or squid and its sauce.