It takes a good nonstick skillet – hardly a traditional Venetian utensil – to make a crisp, delicate shell of parmesan cheese. The shell can be filled with arugula salad, grilled or sautéed mushrooms, or even risotto. "It's sometimes crazy the things chefs think up, but that's what makes our business fun," Francesco says. For this and all the other recipes calling for Parmesan cheese, it is essential to use genuine Parmigiano-Reggiano imported from Italy. The name is stamped on the rind. The only passable substitute is Grana Padano imported from Italy, a cheese from the neighboring district. The following recipe makes four medium-size shells.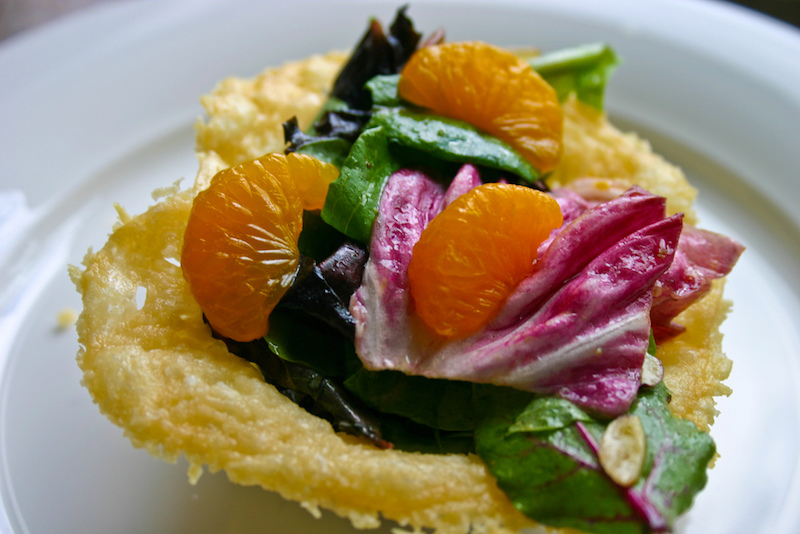 Parmesan Shell
Ingredients
1

cup

(125 g) freshly grated parmesan cheese
Instructions
Place a 7-inch (18-cm) nonstick skillet over medium heat.

Have a small bowl, 4 to 5 inches (10 to 13 cm) in diameter, ready on the counter. Turn the bowl upside down.

When the pan is moderately hot, pour ¼ cup (30g) of the cheese and quickly tip the pan to coat the bottom, as if making a crepe. Shake out any excess. Cook briefly until any little white bubbles have disappeared and the cheese begins to color around the edges.

Carefully lift up the layer of Parmesan and turn it over.

Cook it for a few seconds longer, then lift it out and place it briefly on the small overturned bowl to form it into a shell.

Allow it to cool a minute or so then gently lift it off.

Repeat with the remaining cheese to make 3 more shells.

Set aside at room temperature up to 2 hours, until ready to serve. The crisped cheese can also be cooled flat, then broken into large pieces to serve as a snack.