This is one of the recipes that Francesco remembers his mother preparing for him when he was a child and that he now makes for his little son, Jacopo. It's simply risotto with milk. But add some butter and Parmesan cheese and it becomes sophisticated enough for adult meals.
Spread the risotto in a baking dish and gratinee it with bread crumbs to transform it into a deliciously simple accompaniment for roasted meats. "The one thing you have to remember about making risotto for children," says Francesco, "is that you want it soft, not al dente." For that reason the proportion of liquid to rice in this recipe is larger than usual. Another clever kitchen tip is to keep a metal spoon in the pot while the milk is heating. It prevents the milk from boiling over.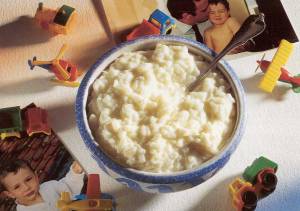 Milk Risotto
Ingredients
1/3

cup

(45 g) dry bread crumbs

optional

1

cup

(150 g) arborio rice

2

cups

(500 ml) regular or low-fat milk

4

cups

(1 L) water

Salt and freshly ground black pepper to taste

2

tbsp

(30 g) unsalted butter

1/4

cup

(30 g) freshly grated Parmesan cheese

optional
Instructions
Place the rice and 1 cup (250 ml) of the milk in a heavy saucepan.

Over low heat, gradually bring the milk to a boil. To keep the milk from boiling over, place a metal spoon in the pan as the milk is heating. Remove the metal spoon, and stirring the rice, gradually add the remaining milk.

After all the milk has been incorporated, gradually add the water, about 1/2 cup (125 ml) at a time, stirring constantly.

The rice should be very tender after about 20 to 25 minutes.

Season it with salt and pepper.

Stir in the butter and, if desired, the cheese and serve.

At this point, if desired, the rice can be spread in a buttered flameproof baking dish and topped with the bread crumbs.

Just before serving, place the dish under a broiler to brown the top lightly.