Old-fashioned bread pudding, a way of using leftover bread, is as typical of Venice as it is of the other frugal regions of Italy, the rest of Europe, and America. But adding some polenta to the bread dough used for the basis of the pudding gives it a distinctive character, a bit of an appealing texture, "It's amazing how polenta and other foods of the poor, like beans, have become so stylish," Francesco observes.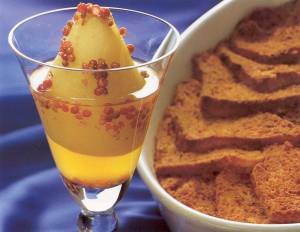 Cornmeal Brioche Bread Pudding
Ingredients
1

loaf

polenta brioche

2

cups

(500 ml) milk

2

cups

(500 ml) heavy (double) cream

1

vanilla bean

4

large eggs

2

large egg yolks

1

cup

(250 g) sugar

Butter for the baking dish

1

tbsp

cinnamon
Instructions
Slice the brioche ½ inch (1.3 cm) thick and lightly toast the slices. Set aside.

Combine the milk and cream in a saucepan, add the vanilla bean, and heat just to the scalding point.

In a mixing bowl, beat the eggs and egg yolks with the sugar.

Slowly whisk in the warm milk and cream mixture.

Butter a baking dish preferably glass or ceramic.

Cut each slice of brioche in half and line the bottom of the baking dish, with the slices overlapping them slightly.

Spoon about 1/3 of the egg mixture over the slices.

Top with a second layer of slices and pour the remaining egg mixture evenly over them.

Set aside for 30 minutes.

Preheat the oven to 300°F (150°C).

Sprinkle the top of the pudding with cinnamon.

Place in the oven and bake for 1 hour, until the pudding is set.

Serve while still warm with poached pears or apricots alongside if desired.