Abruzzo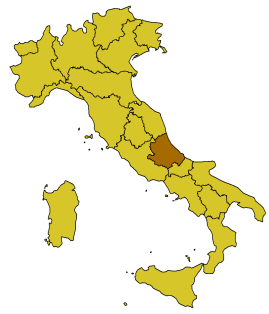 Abruzzo: a land of tradition
Despite the terrible earthquake that hit L'Aquila and the Abruzzo in 2009, this region deserves a visit, like a leap in the past.
While many areas of Italy have changed significantly over time, Abruzzo remains largely the same. Abruzzo, which is also known as Abruzzi, is located in south central Italy between the central Apennines and the Adriatic coast.
The vaguely rectangular shaped region covers 10,794km² and is bordered by Marche, Umbria, Lazio, Molise, and the Adriatic Sea. With a population of only 1.3 million Abruzzo is one of the least populated regions in Italy.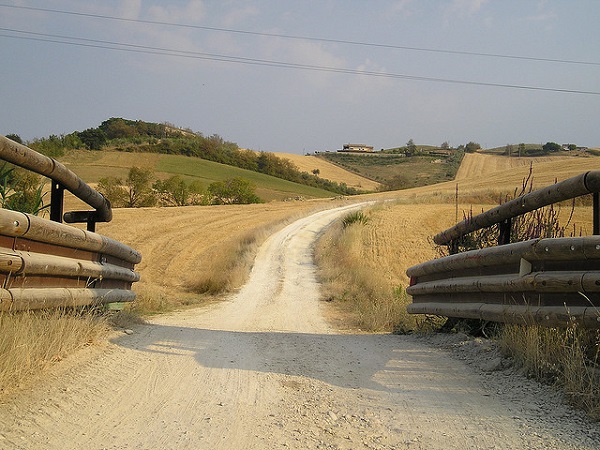 Abruzzo: its cities, lands, and economy
The regional capital is L'Aquila. There are four provinces in Abruzzo: Pescara, Chieti, Teramo, and L'Aquila. The first persons to settle in Abruzzo belonged to an Italic tribe called the Picenians. Early settlers formed small communities based mainly on agriculture and fishing. Little in the way of trade or commerce flowed through Abruzzo for quite some time because the nearby sea was difficult to negotiate.
The economy of Abruzzo is still largely based on agriculture and animal husbandry. Chief crops include carrots, potatoes, spinach, peppers, tomatoes, figs and plums.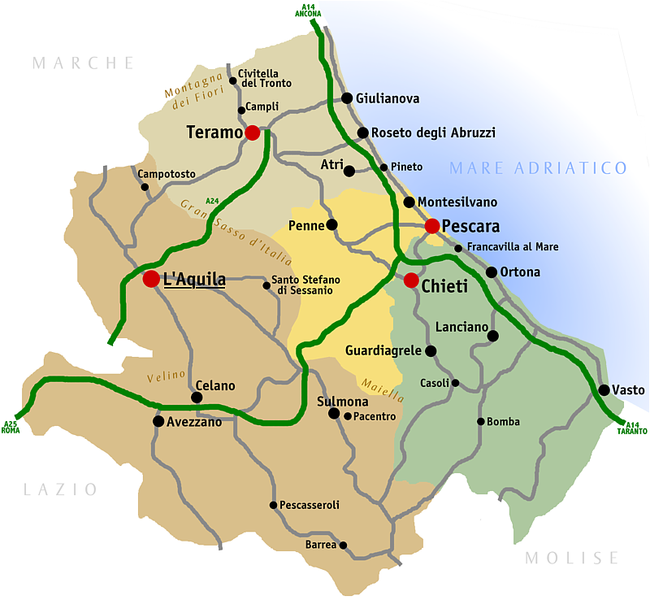 There is a significant amount of olives and table grape farming but less wine production than what seems appropriate for the area. Sheep herding and rearing in its traditional migratory form (transumanza) is still practiced, however it is becoming less and less common as sheep are being replaced by cattle in many areas. Fishing is still widely practiced. Though Abruzzo has dense forests there is little logging conducted because there are few tall trees. There are industries in selected areas including engineering, electrotechnicals, chemicals, paper, textiles, clothing, building materials, glass, tanning, and foodstuffs.
The Abruzzo economy is fairly modest at present but is expanding due to the addition of hydroelectric power and modern road and rail systems post WWII and current improvements in communication and information technologies. The agricultural industry is also noticing a shift from small privately owned farms to larger farming cooperatives. This change, as well as improvements in production technologies has lead to an increase in revenues generated from agriculture in the region. Tourism in Abruzzo is also increasing as people are discovering its old world charms.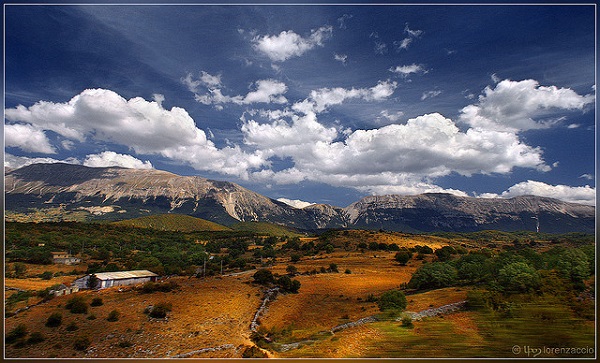 The beauties of the region
Abruzzo is picturesque in its scenery. Many old villages were abandoned and remain largely intact and the country side is rich with historic sites. It is often said that Abruzzo has as many castles as it does sheep. Most of this sleepy region has remained lock in medieval times making Abruzzo the first stop for those seeking to take a glance at the past or a chance to see nature as it was hundreds of years ago, unspoiled and perfect.
The region can be divided into two parts. The western part of the region is mountainous; the eastern portion of the region consists mostly of rolling foothills slowly sloping down to long stretches of wide, sandy coastline. The three main rivers in Abruzzo, the Aterno-Pescara, the Sangro and the Vomano flow from the mountains down to the Adriatic Sea carving deep gorges into the country side.
Because of the proximity to the Tyrrhenian Sea the mountains endure heavy rain and snowfall and low temperatures all year round. There is excellent skiing in the region.
The Parco Nazionale d'Abruzzo
The Parco Nazionale d'Abruzzo, an impressive national park founded in 1922, is host to every variety plant and animal imaginable and considered the most important park in Italy. No other park in Italy is better developed for camping and recreational activities.
Great stands of beech, oak, and birch can be found in the park along with beautiful wild flowers of every color and design. The brown bear of the region along with wolves, eagles, and large wild cats find refuge in the park, making Parco Nazionale d'Abruzzo a haven for vanishing species.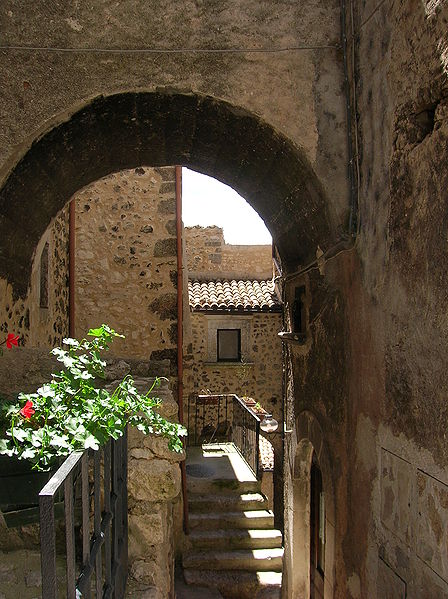 Abruzzo: from snow to sand, without forgetting castles and fortresses
While Abruzzo is well known for its wonderful ski resorts it also hosts many lavish beach resorts on its many sandy beaches. Tourists can be delighted by any number of adventurous activites. Local restaurants serve only the best in fresh caught fish and mollusks prepared in every imaginable way.
Those who wish to avoid well developed holiday resort areas will find solace in any number of small attractive towns scattered throughout the region. Modern roads have made it possible for tourists to enjoy all the sites and visit any of the gorgeous stone castles dotting the country side.
Medieval fortresses built for the protection of the village inhabitants have remain untouched and unchanged for many generations making them an important link to Abruzzo's past. Small chapels are also sprinkled over the land, each one home to stunning architecture and beautiful religious relics. It is amazing that in Abruzzo one can see Italy as it was during the height of the Renaissance area.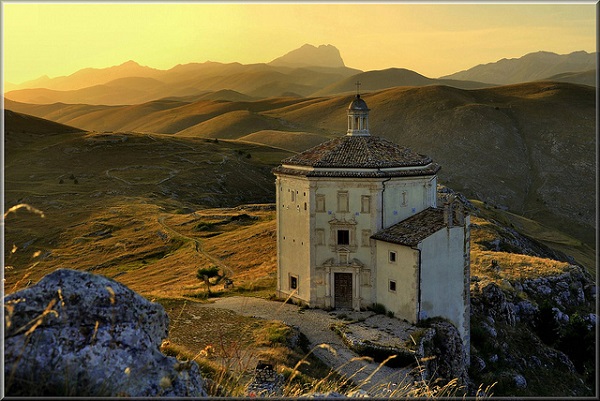 Festivals and pageants of Abruzzo
For being such an underpopulated region Abruzzo is alive with festival and pageant activities all year round. Unlike festivals tailored to the likes of tourists the festivals in Abruzzo are rich with local culture and traditions and proceed at a more relaxed pace. There is no safer place in Italy to enjoy a festival with the family or to enjoy the festivities alone. A partial list of the Abruzzo festivals includes:
Lanciano hosts a medieval pageant and horse race in September.
Cappelli Sul Tavo hosts the Palio del Pupo Costumed Races in August.
Cocullo hosts the Snake Handlers' Procession during which a statue of St. Dominic covered in live snakes is carried through the town. The festival is in May.
Villa Santa Mariah hosts an annual Culinary Festival during which world class chefs in the region demonstrate their skills over a three day period in October.
Francavilla a Mare hosts carnival festivities in February.
San Valentino hosts a Good Friday festival called the Frittata Festival.
Picciano hosts thier Traditional Befana Festival in January.
Citta Sant'Angelo hosts a carnival parade of floats in February.
Villamagna hosts The Turks and St. Margerite historical reenactment festival in July.
Rivisondoli hosts a living nativity scene during which hundreds of reenact the events in January.
Loreto Aprutino hosts the Procession of the Ox on the Monday after Pentecost.
Scanno hosts Bonfire Festival to commemorate St. Martin in November.
Cepagatti hosts a historical parade with floats, fireworks and celebrations in August.
Popoli host the Trout and Shrimp Festival in August.
Fara Filiorum Petri hosts the Farchie Festival in dedication to St. Anthony during January.
Cappelle Sultano hosts the Palio of the Puppets in August.
Rocca di Mezzo hosts the Daffodil Festival to celebrate the arrival of spring in May.
Pacentro hosts the Festival of the Madonna of Loreto in September.
Celano hosts a costumed procession with fireworks in August.
Visit Abruzzo!
Abruzzo is the perfect place to enjoy the convinces of modern technology without being inundated with tourists crowds. The slow paced relaxed environment coupled with the beautiful scenery makes Abruzzo a necessary stop during an Italian vacation.
As Abruzzo expands and grows it is likely that some of its beauty will be lost so it is best to visit now before it becomes a tourist hot spot. You won't find luxury hotel chains and fast food restaurants in Abruzzo, but you will find friendly people with good character, pristine natural environments, charming towns, majestic mountains, sandy beaches, fine food, and medieval history as close as your fingertips.

By Jamie Sue Austin