This recipe for is for the Sicilian appetizer Eggplant Caponata, also known in some areas as "Garbliadena". This recipe comes from my grandmother and like many Italian grandmothers it is done from memory. Measurements are virtually non-existant so you can adjust the ingredients to your personal taste.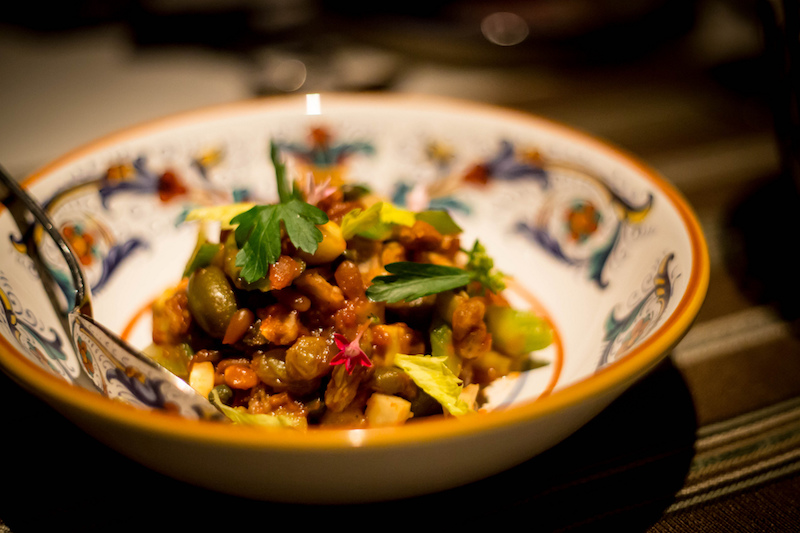 Sicilian Eggplant Caponata
Ingredients
Extra Virgin Olive Oil

Red Wine Vinegar

Sugar, just a couple of pinches

Salt and pepper

Eggplants, cubed (preferably with skin on)

1

can

stewed tomatoes

Green Sicilian olives, pitted and chopped

1

bunch

raisins

Celery, chopped

Pinenuts, about a handfull or more

Capers (salt packed if you can get them)

1

large onion
Instructions
Sautee eggplant, onion and celery in olive oil until softened.

Add stewed tomatoes, olives, capers, raisins and pinenuts.

Bring to a boil then add salt, pepper, red wine vinegar and sugar.

Simmer until ingredients are well blended.

Caponata should have a good eggplant flavor that has bit of a sweet and sour undertone from the sugar, vinegar, capers and raisins.
Notes
You can serve this warm or cold on Italian bread, bruschetta, crostini etc... and it gets even better the next day.