This is a delicious Roman Ricotta Pie. If you've been looking for traditional Italian pies and Italian dessert recipes, you might just want to try this delicious Roman Ricotta Pie for a sunday lunch dessert.
The ricotta cheese is used in Italy for many different salty and sweet recipes. Everything from the torta salata to pies and ricotta cookies, as well as different pasta dishes, such as the panzerotti al forno. Ricotta cheese is an Italian cheese product. A specialty, an unsalted type of cottage cheese that's great for many different recipes with cottage cheese, or well the Italian version, for ricotta recipes.
A perfect lunch with the whole family is tradition in Italy. It's also tradition for any types of family and friend unions and events to eat different dishes, that are topped with a great cake, or pie. So, here's the recipe for the traditional Roman Crostata di Ricotta, that will make the whole family fall in love with it!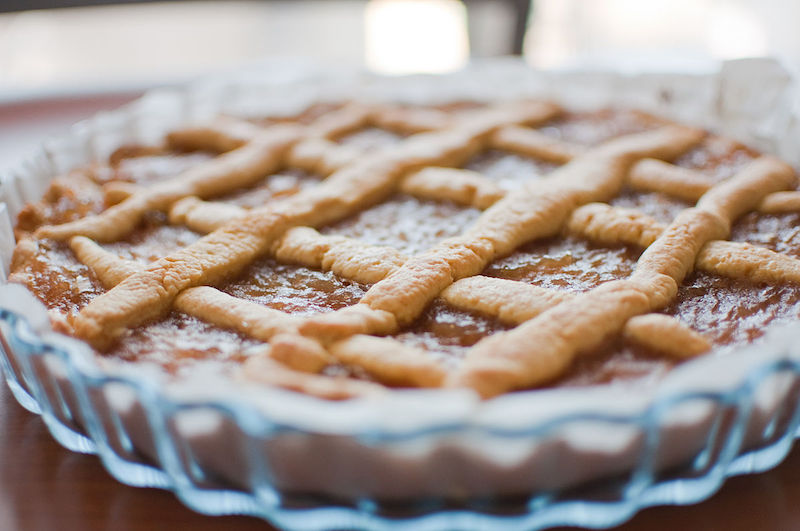 Roman Crostata di Ricotta
Ingredients
300

gr

white flour

400

gr

sugar

150

gr

butter

2

egg yolks

Pinch of salt

1

lemon

1

orange

500

gr

fresh ricotta

50

gr

chocolate

Rhum

Cinnamon
Instructions
With the flour, butter, 1 egg and 2 yolks prepare a dough with a dash of salt and the zest of 12 a lemon. Let it rest for a while.

In a tureen prepare a mixture with the ricotta (drained), sugar, egg yolks, whole egg, the lemon and orange zest, a dash of cinnamon and a cup of rhum.

Roll out the dough into a deep round buttered dish leaving a bit of a medium border around the edges and a bit for the top striped crust and pour in your filling.

Brush the top crust strips with egg wash and cook on medium heat 180°C until the crust is a light brown.
Notes
Accompany with a sweet spumante like l'Asti.