10 Terrific Italian-Made T-Shirts for Ladies
I love my t-shirts. They're young. Hip. Trendy. They can also be worn under a business suit to add some funk to an otherwise drab look. Of course, we know they can be worn with jeans. Whether casual, flirty, sexy or just plain old comfortable, t-shirts are a must-have in anyone's wardrobe. C'mon. Admit it. We all have them.
In this article, I'm going to focus on ten t-shirts from Italy's best and brightest fashion houses that show that t-shirts don't have to be grungy. They are often quite fashionable. And, as I firmly believe, they'll never go out of style!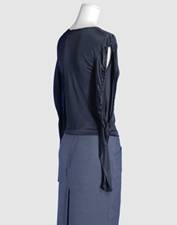 1) Hey, who says a t-shirt has to look casual! Hmm? I know I didn't. This long-sleeve jersey from Blumarine has a boat-slit neckline. The fabric is smooth and looks almost silky. The piece is unlined and made of 100% rayon! I love the little shoe-string laces on the sides and the sexy peek-a-boo sleeves that show a hint of skin! You can pair this shirt with a skirt of any length, dressy or casual pants and; of course, jeans. It's so versatile you will probably want to buy more than one!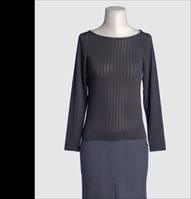 2) From the Armani Collezione, we get yet another gorgeous, designer t-shirt. This stretch jersey tee has a boat slit neck. Its sheer print gives the hint of skin while covering you up in complete comfort. The long sleeves are great for winter or spring.
The item is beautiful enough to be worn dressed up and can also look great with a pair of tight jeans and stiletto hills. This piece is hot!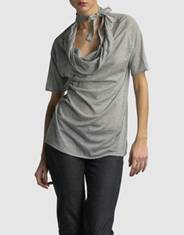 3) Marni is a designer label that knows women. Just look at this t-shirt. This isn't your boyfriend's (or husband's) t-shirt, is it? It's soft and supple. The cowl-neck is loose and oh-so-feminine. It's comfortable and skims your curves without clinging to them too tightly. This is a piece that travels well whether you wear it on the plane or pack it in your best luggage. This cotton tee looks – and feels – fantastic!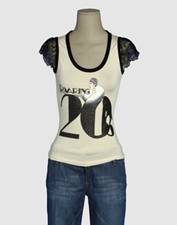 4) Don't you just love Dolce & Gabbana? Yes, this is a D&G t-shirt! Can you believe it? Sleek. Sexy. Form-fitting. Curve-hugging – and with a touch of feminine lace. This may be the perfect t-shirt. It's almost dressy. However, the Elastane and Viscose combination make this tee one that will fit you like a second skin. It looks great with jeans as seen in this picture; but, could work well with a teeny-weeny black mini – what a perfect club outfit, right?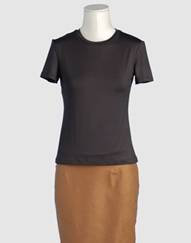 5) From Alberta Ferretti we have this classic t-shirt. The lines are simple as is the design, the cut and the fabric. This tee is smooth – made mostly of Rayon. It will glide over your curves. You can wear it with a business suit, a skirt or dress pants for work. You can pair it with jeans or capris for a casual, summery look. Do what you will with it – this t-shirt can take whatever you can dish out!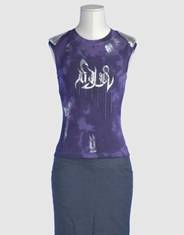 6) Who better than Versace to create a t-shirt fit for a rock goddess? This sleeveless piece is perfect to show off your toned arms. The metallic silver on the shoulder is picked up throughout the piece in the logo in the front and in chunks of color on the back. The color splashes vary between lighter purple and a deep, dark purple. This shirt oozes sex appeal and begs to be worn when you are sure to take center stage. It's an attention-grabber!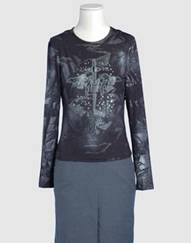 7) I loved the last tee so much that I stuck with Versace for this piece! I guess it's the little bit of rock n' roll that grabs me so. I really love the look and feel of this piece. It's just cool. Did you know that the t-shirt is encrusted with studs! How great is that? I love the long-sleeves and the color scheme. If you love the front, though – the back is even better. See the sexy cutouts. Aren't they awesome?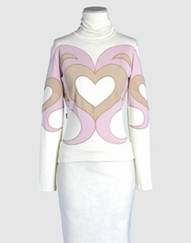 8) From Moschino Jeans we have this lovely turtleneck t-shirt. The heart-shaped design with the pretty pink embellishments is really what caught my eye. Of course, I also love the t-shirt turtleneck. It's comfortable and warm – great for a cold winter day or night. This t-shirt brings me back to my upbringing in Boston. I love the way it feels. I love its sleek look. The sassy design makes me feel like I'm wearing a painting. It looks great with a white wool skirt – or any a-line skirt you can find. I also love to wear it with jeans for a casual yet elegant look.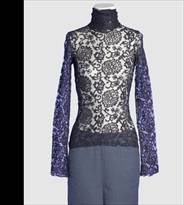 9) This turtle-neck t-shirt may be my favorite piece in this article. It comes to us from Daniela Vecchi. Daniela knows beauty. She's not afraid to shy away from it even with a t-shirt. Look at the lace accents with the sheer, wool/nylon jersey underneath! The high-color of the turtleneck is exquisite and the rear-zip enclosure is sexy and chic. The two-tone lace is a touch of design genius. I really can't say enough about this piece. I absolutely adore it!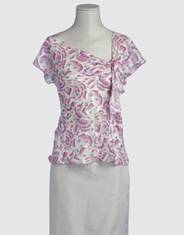 10) I was going to include a basic white short-sleeved tee for the last item. Then, I spotted this Marni t-shirt and fell in love. Yes, I am a fickle, fickle girl when it comes to fashion. There is nothing basic about this t-shirt. It's short-sleeved and made of poplin. The neckline is asymmetrical. The cut is flowing – and flattering to most body types. The design is romantic and feminine. It's an exquisite piece that belongs in anyone's collection, really.
There you have it – ten terrific Italian-made t-shirts. They're not your mamma's or your boyfriend's t-shirts. They're feminine. Flirty. Fun – and fashionable. They work with jeans, skirts and more.
By Domenica DiPiero