Skirt Styles and Types Continued
In case you missed part one of skirt types and pictures, find it here.
Pencil Skirts
These knee-length skirts are fitted to the body from the waist to slightly above the knee, usually in stretchy fabrics or with a slit at the back. They are for you only if you are skinny or slim, because they curve in at the hip, emphasizing the hips and the derriere. The black leather Roberto Cavalli skirt is a classic pencil skirt that could be worn to formal occasions for sensual elegance. Great for a svelte figure.

You can wear the high-waisted white Danielle Scutt if you want to show off the curve of your hips, and shorten your torso. To gently play the hips down a little, you would need a shape like that of the golden hipster pencil skirt from Blumarine which is perfect for a smaller frame with a short torso.



Danielle Scutt on left Blumarine on right
The woolen black pencil skirt teamed with the jacket is perfect for office wear, especially for thin women. Though the pencil is commonly worn plain, you can also wear embroidered versions like the charming 6267 pencil skirt flared at the knee. This would look especially good on you if you are trying to distract attention from a long torso or small bust, because the entire attention will be focused on your lower body. Pencil skirts usually look nicer with close-toed heeled shoes including patent leather point shoes. As can be seen from the pictures, a little strap detail at the ankle is flattering as well. These skirts usually do not look nice with boots.



Office pencil skirt 6267 pencil skirt
Tube skirts
Tube skirts are longer versions of the pencil skirts, fitted at the hip and tapered at the hem: the only difference is that they fall below the knee. The true ankle-length tube skirt, like the black front slit by Martin Grant, flatters the legs; and is perfect for a slim or hourglass figure. The smooth beige Richard Nicoll calf-length tube can be worn to office with a long jacket, and would complement a petite, thin, slim or curvy figure very well. Calf length tube skirts are also great for women with legs that are thin below the knee.


For a more casual look for the tube skirt, check out the Maxamara tube skirt with pockets, or the slit grey knit skirt by Maison Margiela. These would exaggerate the hip, but their color and styling keep them casual. Wedge heels are great for back slit tube skirts and open-toed heeled sandals usually look better with these skirts than close toed shoes. Knee-length boots would work for calf length tube skirts with front or side slits especially for women with heavier legs.

Uneven hem and asymmetric hem skirts
These skirts come in different shapes and are wonderful for a variety of figures. The hem moves and swishes rhythmically at different levels with a woman's gait, thus distracting from any body flaws at the hip, thigh or leg.
The bias-checkered skirt with different hem lengths on both sides is great for tall or medium curvy figures, as it skims the hips. It will also flatter thin legs. The blue Christopher Kane frilly skirt is great for tall and slim as well as petite figures. Both of them are good for day wear and casual outings. The red skirt by Y3 is ideal for pear shaped figures of all heights, and can be worn for casual or formal occasions. They are shown below.
The mustard Oscar de la Renta long skirt is great for thin, slim or curvy figures with a good height because it hugs the hip and then spreads out in dramatic volume, a perfect number for a theatrical entrance at a party. Below right.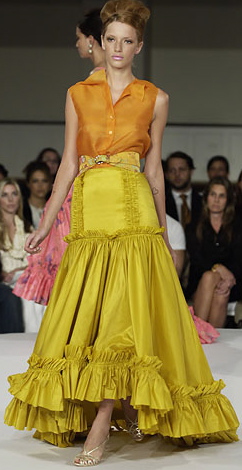 Christopher Cane Y3 Oscar De La Renta
The shape of the Chloe handkerchief hem skirt is beautiful for tall, full-figured women, because the hem distracts from a heavy figure, and is shown here on the left below.


A variety of shoes work with the asymmetrical hem, and these can all be seen in the pictures here. For fall, these skirts would look hip with knee-length boots as well.
Circle, peasant and gypsy skirts
These skirts flatter a tall figure, and conceal body flaws like heavy thighs and legs. The blue long circle skirt by Roksanda Ilincic is a great number for a dramatic entrance, and would look good with flats or wrap sandals, as would the calf-length circle skirt by Vera Wang, which would specially look nice on thin, tall women.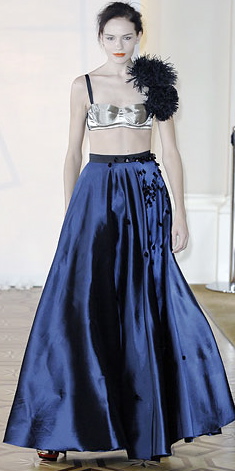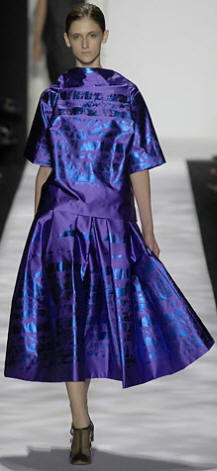 The beige gypsy skirt seen here looks great with the chunky belt, and is ideal for pairing with tall boots for day wear. The shiny green peasant skirt is an easy style to carry off for tall women with thin to heavy figures, and would look smashing with flat, open-toed sandals.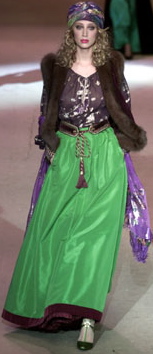 Volume silhouette skirts:
Skirts that follow the recent popularity of the volume silhouette are flattering only for the very thin, whether tall or petite in stature. Some of the skirts seen here like the beige frilly number from Anna Molinari can give a petite feminine air, whereas the high-waisted Lanvin black skirt has more of a chic-intellectual look. These would look great on thin-hipped figures, as would the whimsical volume mini in red by Moschino. They are also perfect for concealing flat derrieres.



For a graceful yet casual look one can't do better than the Carlos Miele skirt fluffed at the knee (shown above), which gives the right amount of volume to balance the hip, and creates a post-modern look. Volume skirts are to be handled with flair, and paired intelligently with defining or flattering tops to perfectly complement the excess of volume below the waist. Dainty open-toed or close-toed shoes look good with this silhouette.
Mini skirts:
Finally, the most talked about of all skirts, that have endlessly fascinated men, fashionistas and trend-savvy teens alike. The minis are the shortest of short skirts and can come in leather like the snake-printed Dolce and Gabbana piece, or in treated denim like the tube mini with buttons by the designer Malo. They are casual and sexy, and look ever so nice with flat sandals.


The cute, flare-pleated Danielle Scutt is great if you want to exude a little-girl look that is nevertheless scorchingly sexy. For a no-nonsense, don't-mess-with-me but I-am-still-hot image, go for a mini like the one by Phi, which look almost like a pair of shorts worn with sloppy boots.


Minis are great for short women and women with long torsos, because they elongate the legs, adding to an impression of height as well as proportion. In any case, if you have shapely legs and want to show them off, there is no better skirt than a mini.
In addition, all sorts of shoes work with this glamorous skirt, as well as various types of leggings. The mini-skirted look is largely limited to pubs and nightspots, not really for social outings.
Women come in all sizes and shapes, and all of them can be equally beautiful and attractive with the right clothes choices. Skirts are sometimes tricky to select but with the tips given here, it should be easy to find the skirts that are just right for you.
By Damyanti Ghosh
In case you missed part one of skirt types and pictures, find it here.