In Italy, art is alive. Viewers should enjoy art every day. Like the example of the Toledo station shows.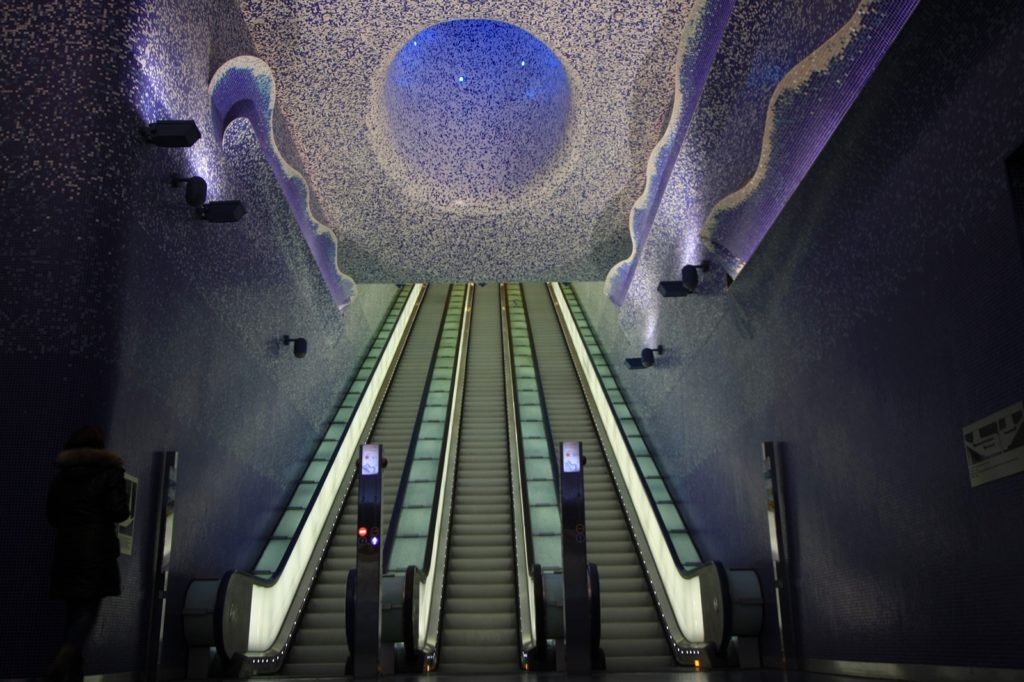 This is the philosophy underlying the building that the Daily Telegraph defined as the "most impressive underground railway station in Europe." Indeed, it's the Toledo underground station in Naples.
The Toledo station
The Toledo underground was born within the project Stazioni dell'Arte, Arts' Stations. It's full of light, despite being underground. Thanks to the skylights that link the station with the sunny, outside world of Naples. Also, each area of the station has a colored-themed motif, which enhances its architectural shape.
Black as protagonist
In the lowest level, black is protagonist. It's the black of the earth, inspired by the history of Naples. The background features images from the history of the city's railways. The color also recalls the asphalt of contemporary cities.
William Kentridge created all the art, using ancient mosaic techniques. The main piece, Naples Procession, is a juxtaposition of classical images, recalling the ancient pottery of Magna Grecia. Another stunning mosaic, entitled Bonifica dei quartieri bassi di Napoli, shows the recovery of Naples' slums. It's dedicated to the workers who helped create Toledo the station.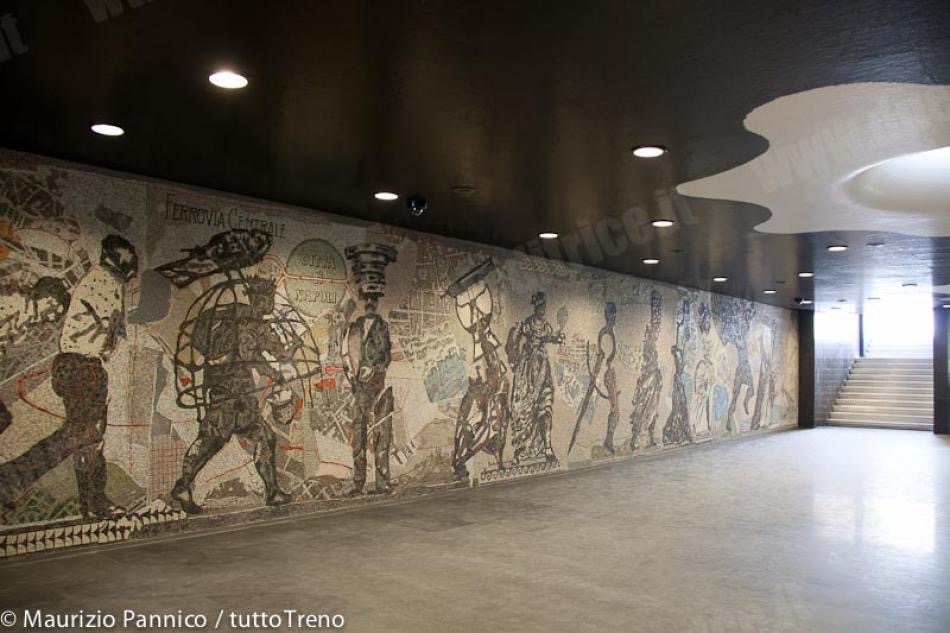 The Crater de Luz and the colors
Yellow is the main color of the second level. It evokes the warmth of the sun, land, and local tuff stone. At its deepest, blues and greens dominate the Toledo Station. Indeed, these nuances recall the Mediterranean Sea.
A LED light piece, ideated and programmed by Robert Wilson, creates a bright beam of light. The beam goes through the oval mouth of the Crater de Luz.
It's a volcano-shaped cone that goes through all three levels of the station, linking the street with the main hall.
More art in the station
Indeed, photography is the latest art form at this underground station. The walls feature images from Achille Cevoli and Oliviero Toscani.
The former created a piece called Men at Work, dedicated to all those who contributed to the excavation of the underground galleries. While the latter photographer Razza Umana to explore the morphology of human beings.
Another beautiful installation is a meta-artistic piece called Theatre is life. Life is threatre is dedicated to the role and relevance of Naples. It features nine black and white portraits of famous Neapolitan theatre actors, portrayed by Shirin Neshat and Luciano Romano.
Edited and updated by Francesca Bezzone