Seaching for Vintage Clothing in Italy
The vintage look , the style of today is greatly inspired by the past. At the recent showings in Milan for the spring and summer collections, it became apparent that there are no longer hard and fast rules, so that one has complete freedom of self-expression in matters of personal style. Nowadays there is a strong trend toward vintage pieces. Vintage mania has already won over models, actresses, and style reporters. The hunt is on in small specialized markets for authentic accessories and dresses of the 30s, 40s and 50s.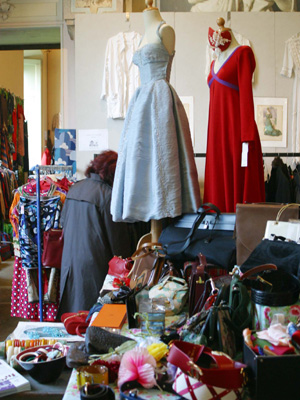 These pieces provide a unique, distinguishing characteristic to the wearer who can say 'I am the only one who has this'. Ever increasing success is being reaped by stores with little known addresses, specializing in designer dresses in perfect condition. These stores are visited by famous stylists who find inspiration as well as by many ladies searching for designer dresses of the 50s and 60s. In Milan, the best showrooms feature handbags, accessories, and vintage dresses from designers such as Pucci, Missoni, Valentino and Gucci – designers who have shaped the story of Italian style.
Milano DIFFERENT DISTRICTS: Discover Milan even the Milanese don't know. We unveil hidden secrets even to those that love and know this town well.
CENTRO
Milan owes its international fame to the "golden quadrilateral", the best shopping area in town, that encompasses Via Montenapoleone, Via Sant'Andrea Via Bigli and Via della Spiga. This area boasts a concentration of top-quality shops and ateliers which has no equal in any other city in the world.Yet, the town-centre offers plenty of other things too: shops, restaurants, beautiful homes that often hide magnificent internal gardens, and small cloisters.
BRERA
Brera is one of the best preserved corners of the old town of Milan. Brera's poetry and Risorgimento charm are in no way inferior to the Trastevere area of Rome, or certain parts of Paris or London. Corso Como and Corso Garibaldi shops are becoming more and more alluring to the extent that they are privileged by visits from those who seek out the most innovative and original soul of the metropolis.
PORTA GENOVA e PORTA TICINESE
The old Milanese tenement buildings, that were once the homes of poor artisans of the city, now host art-ateliers, while shops full of curious objects overlook the canals. Corso di Porta Ticinese, with its caffés and restaurants, is becoming one of the trendiest night-life zones in town.
MAGENTA
An old neighbourhood, rich in museums and art including The Madonna delle Grazie church, Leonardo da Vinci's Last Supper and Sant' Ambrogio cathedral.This area is one of the most elegant shopping areas that the Milanese like best in terms of the presence of famous "labels" .