10 of the Hottest Italian Skirts
A skirt is so feminine. It's sexy. It can hug the curves or caress them gently as the fabric cascades over the skin. Italian skirts come three ways. There are gonnellone (long skirt), gonna (mid-length, usually just at or slightly above the knee) and a mini gonna (mini, or short skirt). Many people equate the mini skirt with sex appeal. In this article, I'll show you that a skirt of any length can be both feminine and sexy.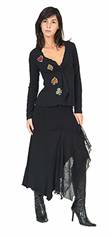 1) From Mantani's Autumn 2005 collection, we have this lovely long skirt with an asymmetrical cut. The fabric is part jersey, part polyester and all stretch. It's sheer in the right spots but never indecent.
You flash a hint of leg – and in, some places, more than a hint with the slit and a bit of a lace. You can wear this skirt in either black or brown. Pair it with dark stockings and boots like the model in the image does for a deep, rich and couture effect or use fishnets or lace stockings and high heels for a softer, more feminine look.
This skirt shows that sometimes what you're hiding is sexier than what you show. It's the hint, the tease of skin that makes this skirt so fantastic.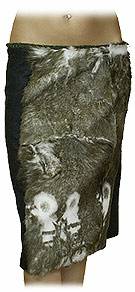 2) This Prada skirt is worn low on the hips and is perfect for the woman who has a sleek and sexy midriff. This skirt has great lines and an eye-catching print which includes dyed goat fur on the front. There is a zip closure on the side that's oh-so sexy and subtle.
Of course, the back view is just as nice. It hugs the rump and clings to you in all the right places. The hemline is slightly asymmetrical too!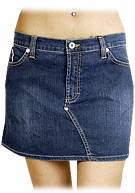 3) What would a list of the ten hottest and sexiest Italian-made skirts be without a hot and sexy denim mini? It wouldn't be good. I can tell you that. Here from Dolce & Gabbana (D&G) we have a 5-pocket, button-fly mini that hangs below the rump and well-above the knee. The skirt is a stretchy denim and has a fantastic seam going off in a diagonal direction from the zipper down to the bottom hem. It brings your eyes to the best place the legs. There's nothing like a mini skirt to emphasize a pair of fantastic thighs, right?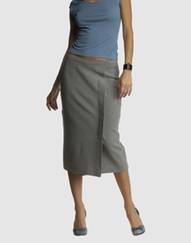 4) In combination with Yoox, Taviani has brought this fantastic gray skirt with the wrap-around detail to you. The elasticized waist is both forgiving and comfortable. The fit is flawless and goes just below the knee, which is quite flattering to a variety of body types. The fabric is a light-weight jumper material and the interior is lined. I like this skirt because it's comfortable and lush-looking. There's nothing sexier sometimes than being comfortable, no?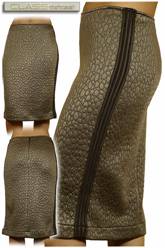 5) This Roberto Cavalli stunner is an animal print mid-length gonna. The side detail with the elongating strips screams sexy appeal to me. The fit is fantastic! Look how it tones the tummy and caresses the derriere. This skirt looks just as good coming as it does going. You can wear it with pride just about anywhere. Did I mention the animal print? Of course I did but it bears repeating. Nothing awakens animalistic urges like a sexy, animal print skirt. Am I right, or am I right?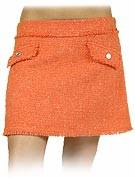 6) This Versace mini has great pocket details. The buttons are a burnished gold. The metal shimmers and adds a nice contrast to the fruity tangerine color of the piece. This mini isn't as fitted as some others; but, it's so much sexier. It leads the eye away from the middle and puts the focus on the legs. The midriff has a wide band which detracts from a less-than-perfect tummy. This may just be the perfect mini-skirt!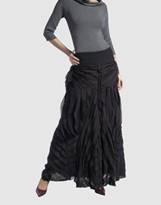 7) Here's another Roberto Cavalli. I couldn't resist. This is an haute couture take on a gypsy skirt, complete with beaded details, an elasticized waist, unfinished hem and Georgette silk. I love this piece. It's comfortable. It's forgiving – and flattering. It's sexy. I envision myself as an exotic gypsy woman dancing with a tambourine and captivating my audience with my beauty and appeal. This is a gorgeous piece that will make you feel beautiful and special. Now, that's sexy!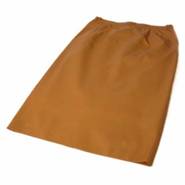 8) Leather skirts are hot. They're sexy. They make you look and feel like a rock star. Who better to wear a leather skirt by than Piero Tucci? This soft leather skirt is a classic. It's knee-length. It's shaped to give you a beautiful silhouette and has an elastic waist so the fit is fantastic and comfortable for everyone! There's a slit and a zipper in the back for added sex appeal. You can wear this any time of day and in any season. It's so versatile. A definite must-have!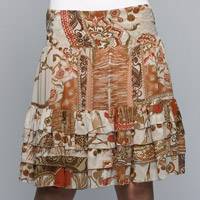 9) This gypsy-print skirt from Blumarine has a ruffled bottom. It's tiered for added softness. This piece looks like it's ready to fly away. It has a size zipper and gently lands right above the knee making it not quite a mini and not quite mid-length. The fabric is made of sexy and smooth satin that feels so good against the skin. It's a wonderful piece to add to any collection.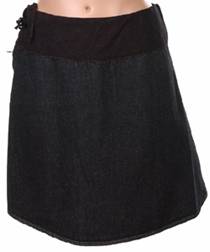 10) I wasn't going to do it. I had no intention of including a third piece by Roberto Cavalli; but… I had to. Look at this skirt. It's gorgeous. It's sexy. It's stunning. This denim glitter stunner in black is just fantastic. I love it. You get a side-zipped entry with a side-laced waist band. That's oh-so-sexy. You can't even imagine!
Just look at the image! It really speaks for itself. So, there you have it ten of the hottest and sexiest Italian-made and designed skirts that you can find anywhere. No matter what length is your favorite, mini, mid-length or long, there's something here for everyone. The fabrics run the gamut from silk and cotton to leather and fur. Each is very sexy and would make a great addition to your wardrobe. Viva le gonne!
By Domenica DiPiero