Shopping for Clothes in Italy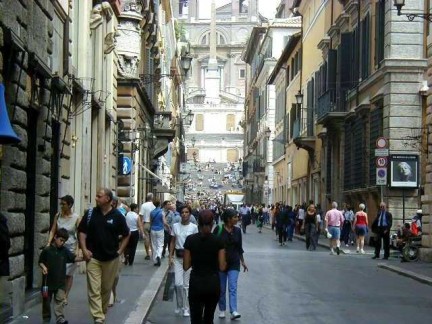 On a sunny winter's day in Italy, my eyes lit up when I saw the sign 'Solde' or 'sale' above most of the shop windows. The sales are on during the months of January/ February and July/ August and this is the best time to shop in Italy as even designer items can be found at inexpensive prices. Even if you aren't there during the sales, however, there are still inexpensive boutiques and street markets with elegant clothes and accessories.
Italy is a fashion-lover's paradise at any time of the year with its wonderful hand-crafted leather goods, beautifully made clothes, luxurious lingerie, and silk and cashmere scarves. Even though the fashion centre is Milan, there are designer stores in all the major cities and lovely Italian clothes and accessories are available everywhere in Italy. In this article I focus on the main tourist cities, Rome, Florence and Milan.
Shopping in Rome
The very expensive designer shops, such as Ferragamo, Armani, and Prada, can be found on the streets around the Piazza de Spagna, especially the Via Condotti. The Via Veneto is also famously expensive. Smaller, inexpensive boutiques and the famous Benetton can are found on the main shopping street, the Via Del Corso. There are also attractive clothes boutiques in the huge shopping centre of the central railway station, the Termini, and the area around the Vatican. The notorious pickpockets are more active here, so be more careful.
Designer Outlets:
The Castel Romano is a large fashion outlet with many famous labels that is 25 kilometers south of Rome.
Another one is the Fashion District, a factory outlet mall in Valmontone, which has famous names such as Dolce & Gabbana, Valentino and Gucci.
Outdoor Markets:
The Portoportese at fashionable Trastavere is the largest market in Rome. It is open every Sunday and everything can be found here – clothes, antiques, jewellery, china, etc. The market in Via Sannio ( S Giovanni ) is open 8am to 1pm Mon-Friday and 8am to 6pm on Saturday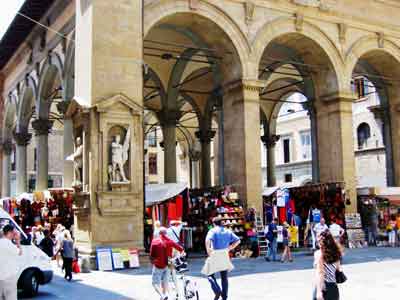 Shopping in Florence
The beautiful city of Florence is justly famous for its lovely hand-crafted leather accessories and fine clothes. Some of Italy's most famous designers, such as Roberto Cavalli and Salvatore Ferragamo, came from here. The expensive designer stores including Cavalli's wild prints and the more conservative clothes of Armani can mainly be found on the busy Via de' Tournabuoni and Via della Vigna Nuova. Cheaper clothes are available on Florence's main shopping street, the Via dei Calzaiuoli, which has the big chains such as Benetton.
Factory Outlets:
Most of the famous designers have outlet stores about half an hour's drive away from Florence. These include the Prada outlet which has a large collection of clothes and accessories, such as Helmut Lang sunglasses, and the Mall, which has many designer outlets, such as Armani and Gucci, at much cheaper prices than in their stores in Florence.
PRADA
Levanella, 52025 Montevarchi (AR) – Tel : +39 055 91 901
Opening hours: Normally seven days a week. Please call ahead to check opening hours as they are subject to sudden changes.
Saturday is the busiest day. Admission is possible until 1/2 an hour before closing time.
It is best to arrive at Prada before it opens at 9.30.
You can find Prada, Miu Miu, Helmut Lang. The place is very large and offers the top fashion pieces. Avoid going on weekends, public holidays or during the peak sale periods (when the best old stock is sent to the stores) Better call before going because sometimes there is a line just to get in.
Outdoor Markets:
The San Lorenzo market near the San Lorenzo church (between Via Cavour and Via Navoni) is the largest market in Florence. This is especially good for leather handbags, wallets, and scarves, but clothes are also sold here. I bought a soft leather wallet here for 15.00 USD.
Shopping in Venice
The shops in Venice are almost more delightful than those in Rome and Florence with their exquisite glass jewellery,
intricate lace from Burano and lovely apparel. The elegant designer stores and expensive boutiques can be found around Saint Mark's Square, but there are smaller boutiques with cheaper clothes on the Frezzeria which is not far away from here. Unfortunately some of the shops in Venice are tacky and the stores here are generally more expensive than Rome and Florence. The best lace and glass costs a lot.
The Cannaregio as well as the Frezzeria has stores with clothing at reasonable prices.
The markets in Venice are not noted for their clothing but souvenirs are available at the large Rialto market. Sometimes there are street stalls with inexpensive goods, but I've only seen this in the summer. Whatever your budget, shopping in Italy is a pleasure with so many chic clothes and accessories from which to choose!
By Lisa-Anne Sanderson