Buying Prada at the Prada Factory Outlet in Italy
Italy with all its colors reminds me of a kaleidoscope. There is probably no other country in the world that can offer many things for every age and taste. Italy has beautiful and very diverse landscapes for hikers, delicious wine and food for gourmet eaters, art and architecture for tourists, many Universities and language schools for students, cooking and pottery classes for those who want to advance or learn new skills and of course shopping. Even though I proudly cherish many different memories of Italy, I will use this opportunity to share only one – about the Prada outlet.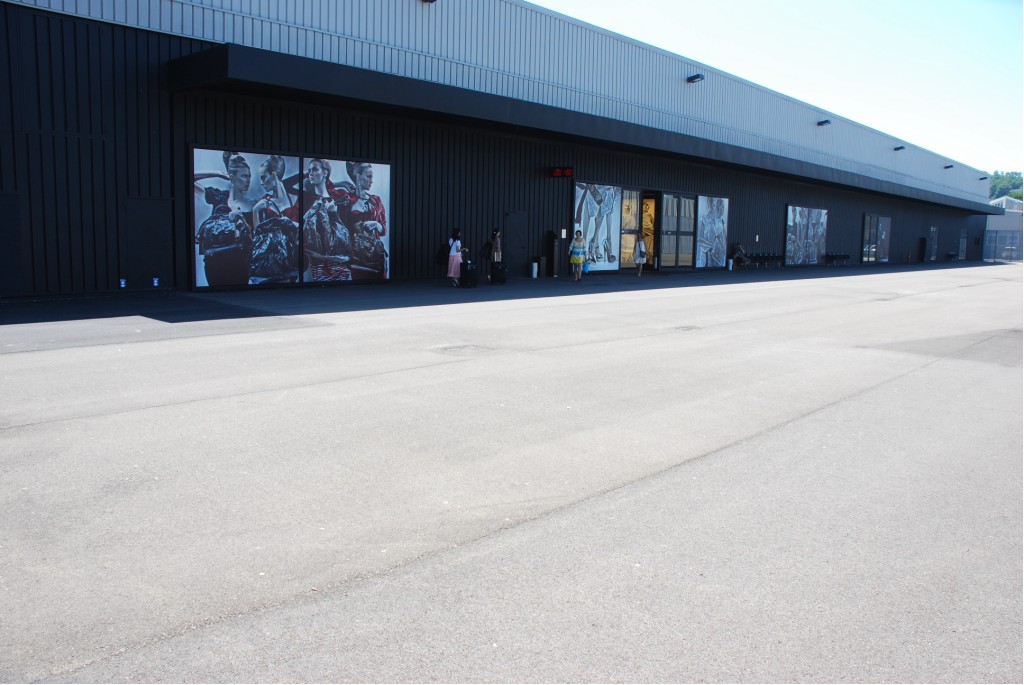 Prada is the famous Italian shoe brand known and respected world-wide. Many know and admire Prada's unique design, but not many know that Prada brand innovated shoe soles with special cushions that support the feet and make it easier to wear shoes with high hills. As Prada shoes cost a lot I shop for them in the Prada outlet which is located along the side of Highway 1 outside of Florence in the little city called Montevarchi. Prada outlet is a shopping paradise for those who appreciate high quality and most recent design but are not willing or able to pay fortune for it.
Prada outlet is a blue warehouse with well-organized shopping areas broken down into men's clothing and shoes, women's purses, shoes and clothing, and sports and children's ware and shoes. There is a wide selection of products in each category. The staff is helpful and many speak good English. Prices are much lower compare to regular stores. The average price that I pay for a pair of shoes there is about $100 compare to $299-$399 in DSW discount store in Bethesda, MD, USA and to $400 and higher in the regular retail giants like Neiman Marcus, Bloomingdales and Nordstrom. All purchases are tax free for non Europeans. Prada outlet provides all necessary documentation to claim tax refunds at the customs or in the designated offices.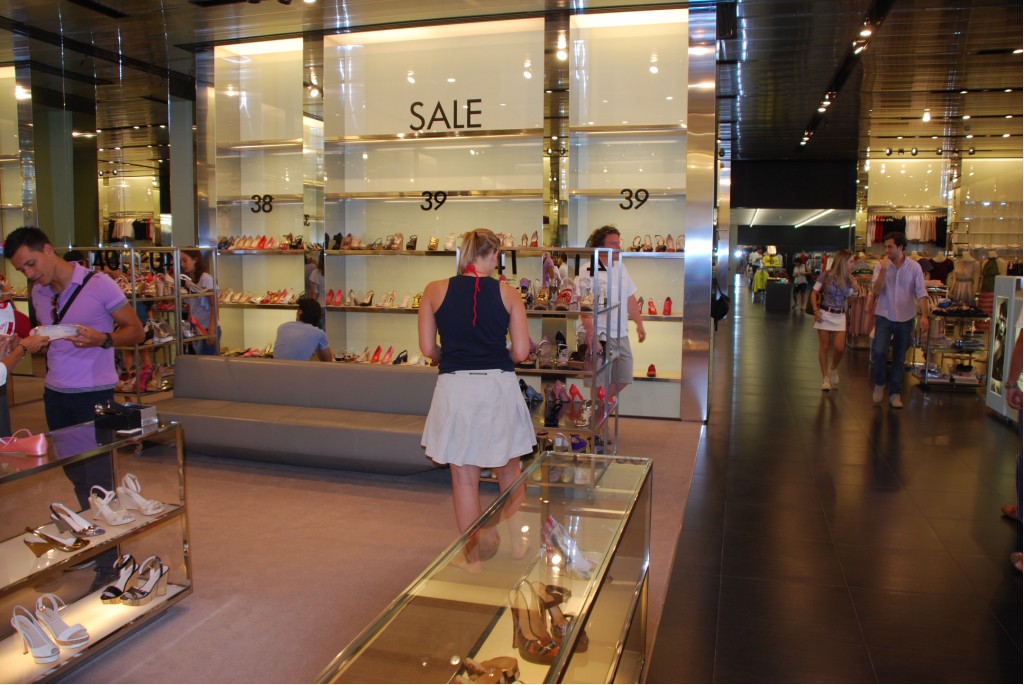 I went to Prada outlet many times and every time my experience was different depending on the day of the week and a season of the year. One time I went there on a summer Saturday. There was no place to park the car and there was a line to enter the place. It was a truly international experience as I stood in line with women from all over the world. There were Italians and Russians like myself, a group of Japanese women and a few women from Turkey. The line was pretty long and the wait to get into the store was about an hour. So I got a chance to talk to those who were in the line close to me. It started to rain but nobody left. Women clenched closer to one another sharing umbrellas and raincoats. Of course there were some fights as the wait started to wear people down. Some women claimed that they should have been in the front of the line as they stood their longer than others. It was entertaining to watch.
I made many purchases in the Prada outlet. And I wasn't disappointed even once. More over all the time I get complements for my stylish shoes. There are many pairs that I associate with the special occasions, but there is one pair that truly became a part of my life.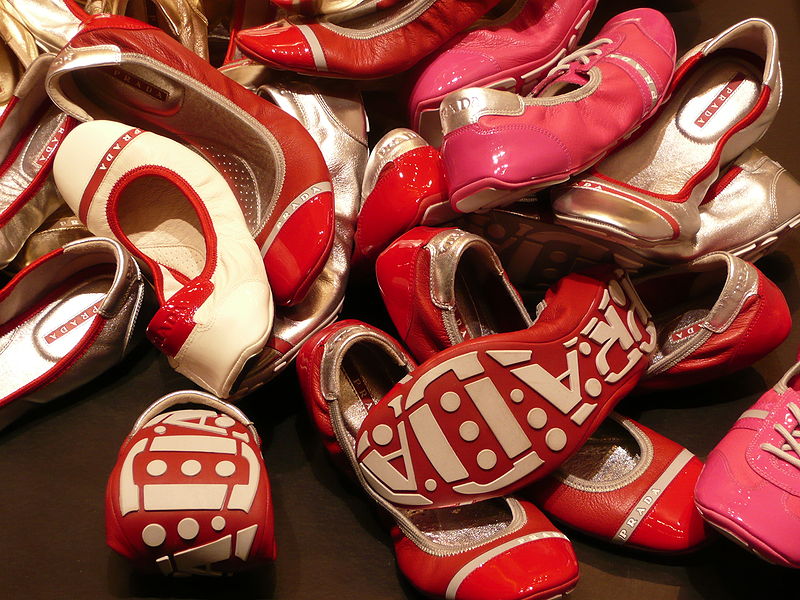 I'm into high and sometimes very high hills but this passage is dedicated to a pair of casual sports snickers in metallic silver color. I wore them in over 20 countries around the globe. As the shoes were really comfortable in contrast to the rest of my collection, I wore them on plans, I passed in them through customs and I did lots of sightseeing. I wore them in the US after I tore my ICL skiing. And only four months later I wore them in China where I climbed the Great Wall reaching the highest summit near Beijing. These shoes walked through the Forbidden City in Beijing and the Museum of Modern Arts in New York, through the Royal Museum of China in Taiwan and at the wedding rehearsal of my royal friend from Bangkok, and of course these shoes were where it all began – in the Prada outlet. The pair lasted for about ten years which speaks very highly of the quality of Prada shoes. And in all these times and hardships the shoes didn't lose their original glory and silver metallic shine. I received countless number of compliments in many languages and even had guys trying to express their interests using the shoes as an ice breaker.
As I stated at the start of this article, Italy shines with many colors and gives their natives and tourists many experiences. So I hope this article will add to your recollections of memories or will create ideas on how to make new ones. In any case, please enjoy the truly beautiful country in the world – Italy.
PS: Please note, I don't work for Prada and I won't benefit in any way from praising its products.