From New York to Paris, from Toronto to Milan, Christmas is the time when boutiques and department stores allow their creativity to flow right onto the sidewalks outside their shops. Whether designers are making statements or stores are trying to draw in customers, Christmas windows (or vetrine di Natale as they are called in Italian) are usually the talk of the town because of their glitz and glamour. Milan, a city famous for fashion, is obviously no different. From designers like Armani and Moschino, to department stores and international companies like Cartier and Ralph Lauren, the Christmas windows in Milan are always full of beauty, creativity, humor and messages.
Christmas windows in Milan
"Fotografa la tua vetrina di Natale e vinci"
This is the name of a competition organized by the Camera di Commercio di Milano for the second year in a row, which aims at expanding shop and business owners' awareness of web and social media's relevance in promoting their activity. All they need to do is to take a photo of their Christmas window and upload it to a dedicated photo album on the Camera di Commercio di Milano's facebook page, YouCamera. 
The competition has begun on the first of December and submissions will be accepted until the 23rd. Votes can be cast from now until the 7th of January, when the winner will be chosen on the basis on how many "likes" each picture has received: yes, voting is that simple, just "like" your favorite shot and you are golden.
As mentioned, the Camera di Commercio di Milano aims at improving businesses' attitude towards web and social media as a means of publicity and promotion, both much needed, especially in a time of crisis. For this reason, the ultimate price for Fotografa la tua vetrina di Natale e vinci is a professionally-made promotional video for the shop or activity with the best window, as well as a place in a workshop dedicated to online businesses promotion. Of course, the competition has also the aim to make local businesses visible to a wider public, and potentially increase visits and revenue during the Christmas holidays.
But how many shops and activities could potentially participate to this competition? Well, quite a lot. According to the Camera di Commercio di  Milano, the city and its province are home to a staggering 31.470 commercial businesses. Of them, about 4000 sell foodstuff, the same amount retails in clothing and accessories, whereas those selling homeware and furniture are almost 3000. Bookshops, stationary shops and newsagents reach a happy 2000 and are closely followed by perfume and make up shops. Art stores are 1000, jewellers are 800 and 500 shop owners proudly sell flowers. 2000 are the supermarkets and 8000 are stall owners, who travel around the province to open up their stall each day in a different square.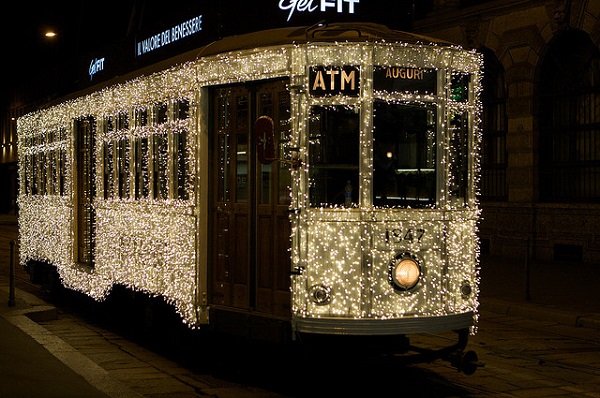 Some among this year's best
La Rinascente in Milan is probably as iconic as Selfridges in London or Macy's in New York. Ubicated in one of the most picturesque spots in the city, in Piazza del Duomo, La Rinascente is not only known as a great shopping hub, but also for its creative Christmas window displays. This year, for instance, the store has transformed all of its windows in pop-up children books. Young Italian artists have collaborated with one another for the creation of children literature-inspired pieces, all focusing on the beauty and magic of Christmas.
Beautiful and unique, you will be able to check them out until the end of the January sales. You can take a virtual look here, if you like!
Of course, the windows of Milan fashion district are breathtaking, at Christmas as at any other time of the year: Dolce e Gabbana has dressed its own Via della Spiga windows in a lavish baroque style, used to depict a richly set Sicilian Christmas dinner table. Marc Jacobs, in piazza del Carmine in Brera, the artsy and trendy centre of the city, chose a Nutcracker themed window display, complete of lifesize toy soldier and gigantic metal swan.
Christmas shopping in Milan is a truly special experience, not only for the amazing quality and variety of what is on offer, but also for the sheer amount of creative effort placed into making each and every shop window a little work of art. In the end, it is, very often, the window that attract us into a shop, and business people know that well. It is always, however, nice to believe in the magic of some of these displays and forget for a moment they are  just selling instruments: it is Christmas, in the end, let's believe in magic, at least until the end of the sales!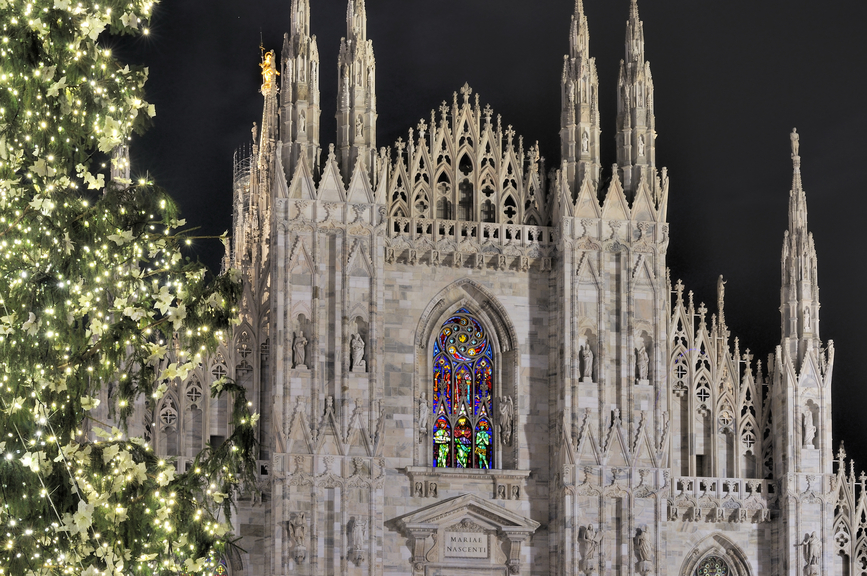 From everyone here at Life in Italy we wish you a very Merry Christmas!
Buon Natale!