Dressing up the Three Male Body Types
Dressing to Conceal Male Body Flaws Part I
Dressing to Conceal Male Body Flaws Part II
Dressing up Tips for Men According to Height
Dressing up Tips for Men According to Shape
As discussed in the introduction page to men's body types, men's bodies differ in shape, and can be classified into a few types. They can also be broadly categorized according to build: those with a heavy build, those with medium build, and those with a slim to very slim build. Usually, it is easy to dress the medium and slim builds, because they have only a slight variation from the coveted V-shaped male body described in the article on dressing up the three male body types. It is the men with heavy build and the very slim build who need to pay particular attention to dressing.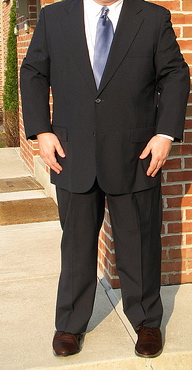 Dressing up Tips for Men of Heavy Build
Just because you have a heavy build, it does not mean that you give up on a sophisticated image. There are ways to dress a heavy build that can bring it an air of balance and good proportions.
Dressing up dos
Wear:
– suits fitted with darts, in dark fabrics
– two-buttoned suits, with single vent at back
– suits and shirts with vertical pinstripes
– suits with slim-fitted European Cut, waist suppression and set-in sleeves
– v-neck t-shirts
– monochrome clothing
– fitted clothes, neither tight nor loose
– made-to-measure suits and other work clothing, if possible
– trousers with straight ankles, no taper or flare
– trousers at the proper waistline, neither low-rise, nor high-rise
– raised, long-pointed collars
– thin ties with stripes
– polo shirts
– straight fit jeans
Dressing up don'ts
Do not wear:
– loose clothes
– tight clothes
– shirts with prints and patterns
– light colored clothes
– horizontal-striped t-shirts
– short, wide ties
– blazers
– suits with more than two buttons
– double breasted jackets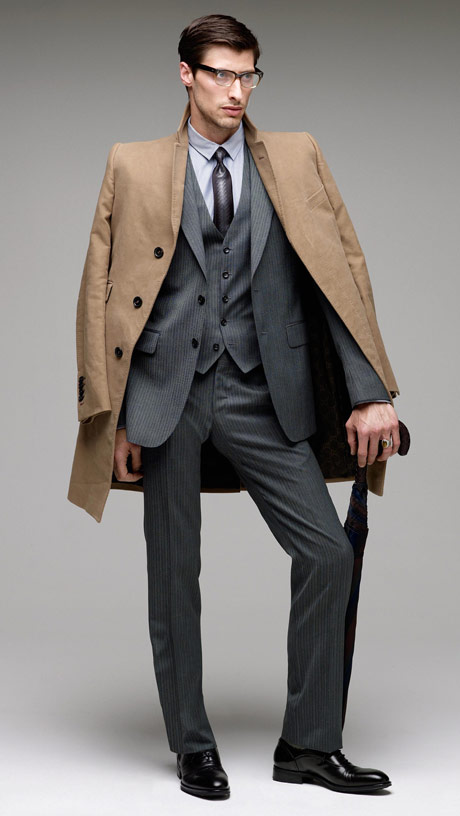 Dressing up Tips for Men of Very Slim Build
For men of thin build, the challenge is to look more fleshed out, and dressing to look bulkier than they are is the way to do it.
Dressing up dos
Wear:
– double-breasted jackets
– double rear vents in jacket
– plaids and checks in shirts
– t-shirts with graphics
– layered clothes, both casual and formal
– loose, semi-fitted cuts of shirts and trousers
– wider width pinstripes
– blazers
– suits with padded shoulders
– relaxed fit jeans
– polo-neck t-shirts
– t-shirts with horizontal sleeves
– full-sleeve shirts
Dressing up dont's
Do not wear:
– tucked in t-shirts
– shirts or t-shirts without collars
– tight-fitted jeans
– vertical stripes
Using the tips given here, men with a slim, small builds can look bigger through judicious dressing, and heavier men can look sophisticated and taller. Dressing up with your build in mind will help you choose the right types of menswear to try and attain the v-shaped ideal.
By Damyanti Ghosh