6 Seriously Sexy Italian-Made T-Shirts for Gentlemen
T-shirts are wonderful. They're comfortable – and comforting. Men look great in them too by the way. Personally, I love nothing more than seeing my man in a t-shirt and jeans on the weekend. T-shirts scream fun. They're casual. They're versatile too. In this article, we'll take a look at six of the best – and sexiest – t-shirts for men. Maybe you'll agree with my assessments; maybe you won't.
Anyway, here goes: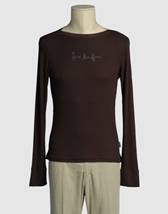 1) From Versace Jeans Couture we have this wonderful t-shirt which is available in black as well as brown (pictured here). The ribbed jersey provides a perfect contour and the Elastane material ensures a perfect fit.
The boat-neck collar emphasizes broad shoulders. The Versace Jeans Couture logo is embroidered on the front. The design is simple and elegant. It can be worn with jeans or khakis and is best for a youthful, athletic type of guy.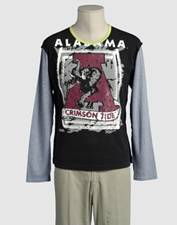 2) This long-sleeve tee comes to us from Alessandro Gherardeschi. It's a raw cut tee t-shirt with stitch detailing. It has an eye-catching design and logo. I like the yellow/green touch at the neck. The piece looks so comfortable. If my husband had one of these, you can bet I'd be borrowing it. This is a t-shirt you can wrap yourself in and feel completely comfortable – and comforted. It's the perfect accompaniment to a pair of black jeans and can work at a sporting event, out on a date or at the club. It's cool!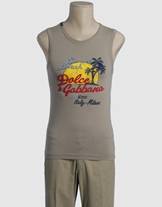 3) Get ready for the beach in this Dolce & Gabbana t-shirt! This form-fitting sleeveless tee has a palm tree and a setting summer sun set behind the D&G name. It's stylish. It's sexy. It's beach-ready. Pair it with a pair of swim trunks and hit the sand for a day of fun and sun.
This is the perfect lazy summer day tee, isn't it?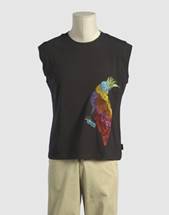 4) Ahoy mateys! From Roberto Cavalli's Freedom collection, we have this cotton and elsastane sleeveless t-shirt. I love the parrot. It screams pirate to me. The black shirt is sexy and will show off a great pair of muscled arms. I think the piece is best worn with shorts; but, you could make a case for pairing it with denim, khakis or any other casual pants. I see flip-flops and a tanned man in this piece. What do you see?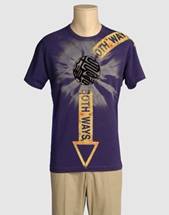 5) I find a sense of humor very sexy. This Versace Jeans Couture t-shirt is very whimsical. I love the design. It borders on the racy; but, in such a cute way. You've got to smile at it. The shirt has both eye-catching images and words. The colors are bold and beautiful. The tee is 90% comfort so it is both comfortable and durable. What else can I say about this t-shirt? It's definitely a conversation piece.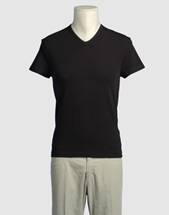 6) The last t-shirt I'll focus on in this article comes to us from Gazzarrini Uomo. This is a classic black v-neck t. You can wear it with dress pants for a casual corporate Friday or a simple date out on the town. I think it would look great with a pair of tight jeans; but, that's just me. Just about anything looks great with a pair of tight jeans – right?
It's cotton and breathable. You can wear it in spring, summer and fall. I like the versatility of this piece. You could wear it every day if you wanted to.
So, there you have it – six seriously sexy t-shirts for gentlemen. Italian designers definitely know how to combine elegance, whimsy and sex appeal into their tees. Wouldn't you agree?
By Domenica DiPiero