The Australian Model is one of Italy's favorite citizens
Described as 'Italy's hottest star since Sophia Loren', stunningly beautiful Australian model, Megan Gale, divides her time between Australia and Italy. Although she is well-known in Australia she doesn't find it too difficult to obtain some privacy but in Italy the young model is mobbed on the street every time she appears. She is loved and regarded as a goddess in Italy and needs tough looking bodyguards to protect her from would-be stalkers and the paparazzi.
At thirty most models have reached their use-by date but not this one. Still as popular as ever, Gale has many different jobs. She was retained by the Australian Tourist Commission in 2003 as 'their face of Australia in Italy'. She regards this as a great honor and loves to promote Australia to potential Italian tourists. Many Italians visit Australia every year and seeing and hearing this lovely model speak about the beauty of the country and friendliness of its people may attract several more.
She is also the main model for the large department store, David Jones, in Australia. Gale's appearances on the catwalk in the famous annual fashion parades are extremely popular and she has helped to raise David Jones's profile to the younger market and trendy fashion designers.
Born in 1976 in Perth, Western Australia, Gale's beauty comes from her Polynesian and French background. Her mother was Polynesian and she is the youngest of three children. She has the warmth and friendliness that Australians are noted for and is, in fact, so much a native that one of her hobbies is playing the Aboriginal instrument, the didgeridoo!
Gale achieved her great fame and success rather late for a model. At twenty-four, while studying at university, she won a modeling competition and appeared in a series of advertisements for the Italian telecommunications commercials, Omnitel. Flown in for a promotional tour, Gale had never been to Italy and found it an overwhelming experience at first, but now her Italian is so good that she has her own top-20 radio program.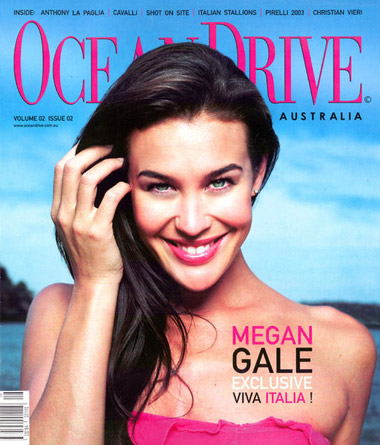 Omnitel became the huge company, Vodafone, and Gale still appears in many commercials and publicity events for them. These include her guest appearances at Formula One venues around the world because of Vodafone's involvement with Ferrari.
Gale has modeled for Italian fashion houses such as Genny and favors many Australian designers, such as Akira Isagawa, Sass & Bide, and Alex Perry. Recently she was the fashion commentator for the Australian television awards, the Logies.
She has also appeared in a few movies, but has not attracted major Hollywood attention as yet. She played herself in the very popular bedroom farce, "Vacanze di Natale" and received top billing. She was Viviana in "Stregata Dalla Luna" and spoke entirely in Italian. Last year she won a part in the science-fiction movie "Stealth" which was shot in Sydney.
In spite of her great success as a model, Megan Gale is not selfish and vain but works for many charities in Italy and Australia. She told the Mayor of Milan about her concerns that unwanted dogs were being tied up or released by the autostrada where they were likely to die a horrible death, and had a strong profile in the campaign to stop this happening. She also campaigned to reduce the awful graffiti which is ruining the exteriors of many beautiful buildings in Milan.
In Australia she is the Ambassador for Kids Help Line, a free and confidential telephone counseling service for young people. In the Press Release, she said that: "Children of today face all kinds of challenges from bullying to loneliness, sexual abuse and family breakdown and sometimes they need to reach out for support and understanding."
As protecting one's skin from the sun is so important in Australia, which has the highest rate of skin cancer in the world, and increasingly relevant in Europe, Gale decided to launch a sun care range for skin last year. At the launch in Sydney's glamorous Queen Victoria shopping complex she was surprised by a life-size cut-out of herself! "My god, I've never seen one of those before," she told the Sydney Morning Herald newspaper.
Surprisingly Megan Gale has a hard time finding lasting love. She told the interviewer at Voyeur, the Virgin Blue magazine that: "It's not very easy for a guy to be with someone like myself. Not because I'm intimidating, but because it's hard to see someone you love being hounded by photographers or the media. It's even hard for my parents and friends." In spite of this, she has recently found love with Sydney fashion model, Josh Clapp.
The young model has a big future ahead of her, both in Australia and in Italy.
By Lisa-Anne Sanderson