Luisa Casati, Fashion Pioneer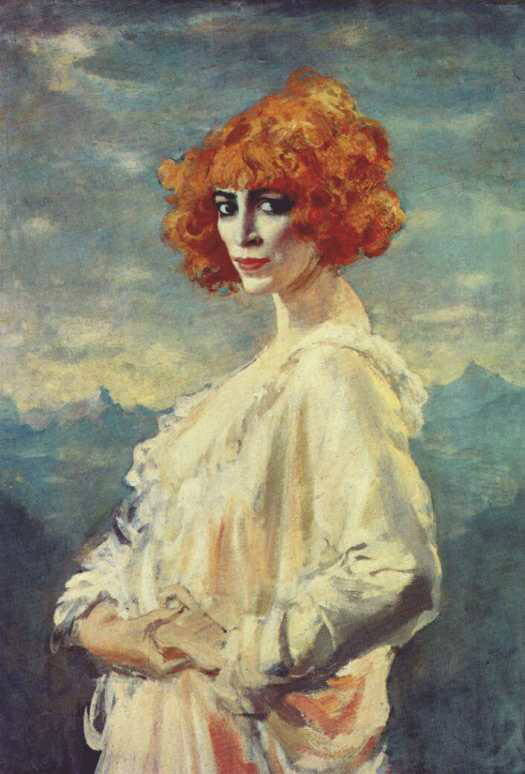 The Marchesa Casati
Marchesa Casati was painted by Boldini and John Singer Sargent, wore clothes designed by Fortuny and Poiret, held wild and extravagant parties and kept tigers as pets. A fascinating, eccentric woman, she had an excessive and extravagant lifestyle. She helped many great artists in her lifetime and  eventually became a renowned patroness of the arts as well as a fashion legend.
The daughter of a wealthy 'cottonieri' or cotton merchant, Luisa Casati was born in 1881. Her parents died young and she and her sister, Francesca, were raised by their uncle, Edouardo Amman. They were the wealthiest heiresses in Italy in the early 20th century.
Luisa was shy and quiet as a child, and loved to draw. At eighteen, she married the aristocrat, Camillo Casati, but a hitherto unseen independent and creative streak made her unsuited to the the discreet life of a wealthy wife.  She wasn't happy with her husband. This is when the famous Italian writer, D'Annunzio, who called himself her 'Ariel' (from Shakespeare's The Tempest) came into her life and eventually seduced her.
Despite the birth of her daughter Christina in 1901, Luisa continued her wild affair and she attended fox hunts, races, and parties with the great writer. It was an indiscreet relationship and Luisa was regarded as immoral in some quarters. According to An Infinite Variety: The Life and Legend of the Marchesa Casati by Scot D. Ryerson and Michael Vaccarino, D'Annunzio remarked that: "She was the only woman who ever astonished me." Her adventurous outfits and outlandish red-dyed hair didn't help her reputation.
Very tall and thin, Luisa carried her clothes well. She began to wear dresses of Venetian lace, balloon sleeves, and jeweled belts. She also whitened her face and outlined her famous big eyes with kohl, brightening them with the poisonous bella donna. She  kept greyhounds with jeweled collars as pets and caused a sensation when she walked around with them.
Her portrait by Boldini in which she wore a black satin Poiret gown, a sable muff, a large hat with ribbons and feathers, and sported a violet sash, made her famous across Europe. Artists and photographers became anxious to capture her portrait.
Luisa liked the modernity of Fortuny's creations, including pleated lace gowns,  luminescent dresses and scarves and helped popularize the designer. She also wore strident Bakst colors.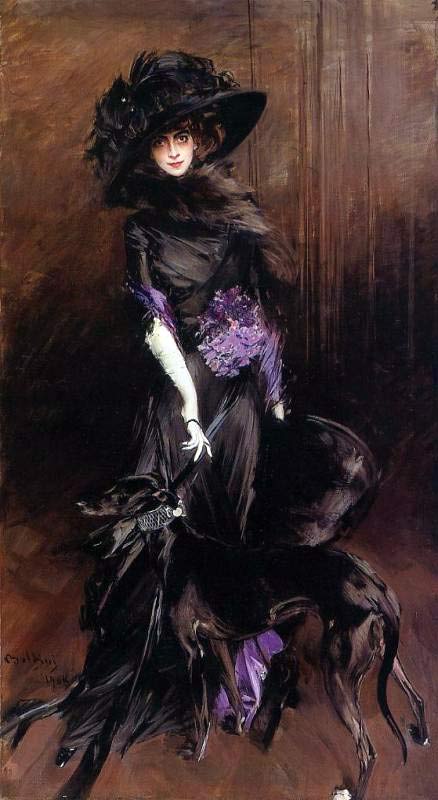 Luisa decorated houses in Venice and Rome, and restored the Palazzo Venier die Leoni to its original magnificence with marble floors and chandeliers. At one stage, she was captivated by everything Venetian, but her neighbors regarded her as 'nouveau riche' and an adulteress who associated with artists like Martini and Marinotti. One wonders what they thought of her menagerie of greyhounds, Syrian cats and cheetahs. Her cheetahs traveled in her gondola with her and she'd parade at night at Saint Mark's Square with her pet cheetahs  in jeweled leashes. She'd be naked under her cloak and attended by her black escort with flaming torches. She also held lavish parties there. This shocked people, of course, but that was the idea!
This flamboyant persona was not devoid of altruism however, especially when it came to those of the creative persuasion. Luisa supported  artists such as Rubinstein and Troubetzkoy. She posed for Troubetzkoy's sculptures. When Rubinstein was a struggling young pianist in Rome Luisa arranged a debut concert for him which helped build his reputation. The grateful pianist later remarked that she had invited true music-lovers. Although the pianist was frightened by her intimidating personality at first, he admired her 'remarkable intelligence', and according to Infinite Variety, they remained friends for many years.
Although Marchesa Casati was kind to many young artists, she could be cruel to her own family. She sent her daughter away to a strict convent school and hardly ever saw her. After her sister was disfigured by meningitis, Luisa stopped inviting her to public soirees.
Marchesa Casati's masked balls, costume parties, and extravagant shopping sprees took their toll. She died at seventy-six in London where she was living in relative poverty. Another of her famous lovers, the painter Augustus John, and other friends, helped her financially when her extravagance got her into difficulties. Her grand-daughter had liked her and arranged for a nurse to visit every day.
It was a tragic end, however, for such a legend, who had made herself into a work of art. She has been immortalized, however, in countless novels, films, and even designer collections. John Galliano dedicated his Spring/Summer collection of 1998 to the legendary Marchesa Casati and his models wore clothes inspired by her story. A well known name in the Italian fashion and shoe history.
By Lisa Anne-Sanderson
Edited/updated by Damyanti