5 Glorious Men's Watches
There are so many gift-giving opportunities throughout the year. A watch is a great gift to give or receive. Hey, it's even a great gift to give yourself. Men's watches should be rugged, sturdy and durable. Usually, those words don't scream fashionable, do they? This article will give you 5 glorious, fashionable and functional watch ideas that you could give to any man in your life – or buy for yourself. It's up to you!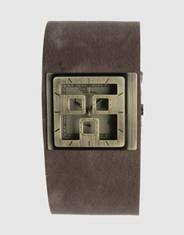 1) This fantastic timepiece from Roberto Cavalli Timewear (just one of Cavalli's jewelry lines) is eye-catching, isn't it? What first drew me to this piece were the gorgeous metallic gold-toned cutouts. Yes, the small squares are at "3", "6" and "9". I just love the funkiness of it. It's so unique.
The leather strap is in mud in this picture. What a great neutral color to go with just about any outfit you can conjure up! The face of the watch (where the time is showcased) also includes the engraved Cavalli logo. The case is stainless steel so it won't break. Quartz takes care of the movements. Quartz, if you weren't aware of this, loses the least amount of time over time so it's among the most accurate time-keeping pieces known to man – or woman! The watch is battery operated and retails for around $450.00.

2) From Gucci we have this elegant, hand-made stainless steel watch. I'm featuring the white dial; but, the piece also comes with a black dial (that has white numbering for easy viewing). It's 3 ATM water-resistant (the figure refers to the static pressure that the watch can withstand). Basically, that means that this piece can be worn comfortably daily. It can withstand splashing but not swimming. So keep it out of the pool, okay? The watch, like most other pieces on the market, has quartz movement and features sapphire crystals within the design. It's a bit pricier than the Cavalli piece at $3,000.00. However, if you're a savvy shopper or know your way around the internet, you can get a good deal on this piece. I've seen them marked down as much as 50% of the list price. Now, that's a good deal!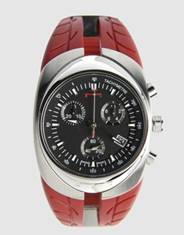 3)Pirelli, a Milanese conglomerate that's a true global innovator in various technologies including tires and communications, brings us this fantastic watch – the Pzero Tempo. The dimensions of this piece are practically aerodynamic. The length is 6.6 inches and the height 1.2. It's really a performance time piece. The strap is made of leather; and, the case is comprised of stainless steel so it's strong. It's battery-operated and features quartz movement. Of course! The Pirelli logo is engraved inside the time-piece and you'll also see some great detailed etchings. Oh yes – it's water resistant up to 100 meters of water (that's 330 feet for those of you not savvy to the metric system)! Currently, the piece can be purchased for around $800.00.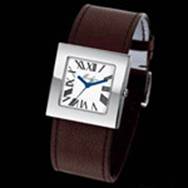 4) Moschino gives us this fantastic piece for a very affordable price – it's around $150.00. This timepiece is called Time 4 Peace. Isn't that clever?
It has a leather strap, shown in chocolate brown. It's 3 ATM water resistant. (Again that means that it's perfect for daily use unless you're a lifeguard or swimmer!) The case is stainless steel and snaps back. The piece is featured in both Roman and Arabic numerals (Roman numerals are featured of course!). Need I say more?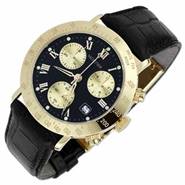 5) Finally, we feature this Forzieri wristwatch. The golden sundials measure seconds, minutes and 1/10 of a second! How's that for accuracy!?! I know I'm getting ahead of myself; but, I just thought that was such a cool feature. This watch is 18K yellow gold. There's a date window at 4 o'clock. The strap is crocodile-embossed black leather. There's a deployment clasp for easy on and easy off! There are three knobs on the watch case which control all the chronograph functions. It's a high-end timepiece that retails for around $2,000.00. Personally, I think it's worth every penny. Check this article for more Italian watches.
So there you have it – 5 glorious, fantastic, functional and fashionable time pieces all made by Italian designers!
By Domenica DiPiero