Sexy Italian-Made Men's Underwear
So many times we only notice women's undergarments. There's not a
lot of focus put on men's boxers or briefs. That's unfortunate. A great
pair of underwear is a solid foundation to fashion. It must comfortable
and durable, at the very least. Hopefully, it makes the man feel sexy
too. In this article, we'll take a peek underneath and check out these
fantastic pieces of Italian-made men's underwear.
These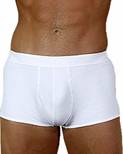 aren't any old tightey-whiteys. They're underwear Gianfranco Ferre style.
This white boxer fits the model like a glove. They're 95% cotton and
5% spandex. They gently cup the undercarriage and create a lean, sleek
line that is very sexy. Don't you agree?
This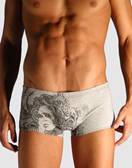 boxer-brief from Roberto Cavalli is fantastic. It's 95% cotton/5% elastane.
It moves with you like a second skin. The interior is partially lined.
There's a great stitch detail on the waist; and, the eye-catching pattern
on this light-gray underpants is just wonderful. This is an undergarment
that's made to take center stage, wouldn't you agree?
Gucci

brings us these cotton briefs. They're black but there's nothing basic
about them. I love the way they frame the body. They highlight and enhance
the male form. These can be worn under jeans, suits or regular casual
shorts. They're a versatile piece that's sexy and stunning.
Emporio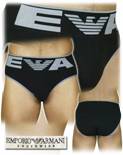 Armani proves that they know more about men's clothing than just suits
with this bikini-style brief. It looks almost like a swim trunk. It's
got a snug fit and a great stretch-waistband that's supportive without
being too constrictive. The cotton-blend is breathable and can be worn
under a variety of different outfits and in just about any weather (or
situation!).
The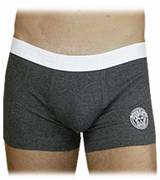 final
piece I'll talk about in this article is this basic gray boxer from
Versace. It's form-fitting and snug – but not too snug. It's 100% cotton.
You can't get more comfortable than that. The white detail provides
a great contrast to the dark gray color of the piece. I bought a bunch
of these for my husband. I love them – almost as much as he does.
So there you have it: some sexy, practical and durable underwear
from Italian designers. These pieces prove that style starts from the
inside out!
By Domenica DiPiero